Why Clovis Oncology Was The Short Trade Of The Day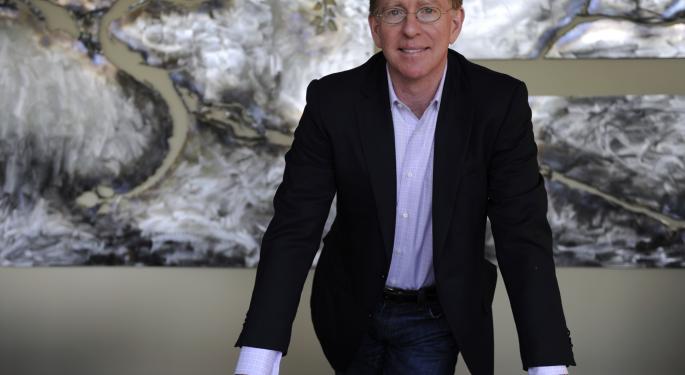 ---
A short of Clovis Oncology (NASDAQ: CLVS) was today's Trade of the Day as the faltering Biotechnology stock faces an imminent technical peril - the filling of an open gap to the downside.
After a hot start to the year, Biotechnology stocks took a major hit in early October and have struggled ever since (see: (NYSE: XBI)). Clovis was the subject of some serious M&A activity back in late-September, but after that fell through, the stock sold off sharply on a September 25 gap down. Unfortunately for Clovis, Biotech stocks got hammered the very next week, sending the stock down even further.
Clovis appeared to be basing just above $48 after holding there in mid-October, and again in early-November. However, after a sharp selloff yesterday afternoon, Clovis fell below recent support and now faces a dire technical set-up.
Looking back to June 3, you'll see that Clovis gapped significantly higher up to $50 from $37. While the stock entered the gap in October, the double-bottom base above $48-50 over the last month was enough to hold off the short-sellers piling on. Now that CLovis has broken down again, it is firmly entrenched in an intermediate-term downtrend and could fill the gap down to $37 moving forward. Analysts aren't exuberant about Clovis either following a lackluster October 31 Q3 earnings announcement and a subsequent initiation of "Neutral" at H.C. Wainwright.
While $37.10 would be the next logical move for Clovis, the price target should be set at $44.75 for a couple of reasons. First, shorting stocks in a bull market is difficult, and finding stocks that can sustain significant periods of selling while the market rallies is rare. While the technical analysis behind this trade may be "right" and the stock is likely to experience further downside action, expecting a 22.05 percent gain in order to reach your subjective goal is ridiculous. 
Clovis is breaking down and has entered a weekly gap to the downside. While I wouldn't get too greedy and play an entire fill of the 22 percent gap, Clovis should be good for a quick six percent gain on a short trade to $44.75. Given its dire technical picture, a lack of bullish chatter due to weak intermediate-term price action and soft Q3 earnings, and weakness in Biotech, Clovis looks like a great short opportunity at current prices.
When to Consider Entering the Trade:
At current prices (~$47.60) or below.
When to Consider Exiting the Trade:
At a close above $48.34 (Cover) / A close below $44.75 (Profit-Taking)
Disclosure: At the time of publication the editor and affiliated companies own the following positions: None
Note: Positions may be bought or sold while this publication is in circulation without notice.
Clovis Oncology Inc - Last 30 Days

Clovis Oncology Inc - Last 3 Months

Clovis Oncology Inc - Last 6 Months

Tags: oncology
Posted in: Biotech Education Short Ideas Trading Ideas General Best of Benzinga