How to Know When Wendy's Is Poised To Fill The Gap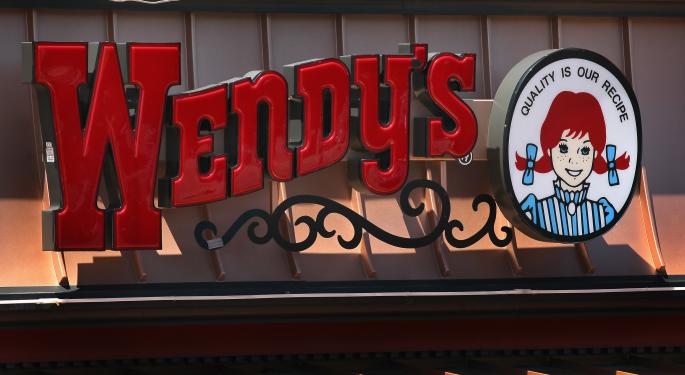 ---
Today's Trade of the Day is a short-term buy of Wendy's Co (NYSE: WEN), as it looks poised for a classic gap fill.
Wendy's reported earnings on November 7 before the open. Obviously, there was something in the call that traders did not like, as the stock dropped 8.14 percent lower at the open from $9.09 to $8.35. After a volatile session of trading, Wendy's closed the day down at $8.05, which was an additional 3.6 percent drop intraday.
However, taking a quick glance at Wendy's major metrics reveals that the announcement wasn't half-bad. Wendy's beat EPS estimates $0.08 vs. $0.06, beat revenues $640.8M vs. $640.4M, beat adjusted EBITDA $98.7M vs. $95.8M, guided Q4 WPS higher to ~$0.25 vs. prior guidance $0.20-0.22 and consensus $0.23, and finally guided Q4 adjusted EBITDA to ~$365M vs. prior $350-360M and consensus $364.6M. So across the board, the metrics didn't look too shabby.
Traders took note of the inconsistency in the price action, and have responded driving Wendy's higher for four straight sessions since the earnings announcement. After the quick spurt higher, two things become obvious: 1) The initial drop in price was an overreaction to the earnings announcement, and 2) Wendy's set up for a classic gap fill up to the close on November 6.
From current prices, a filling of the gap would net a quick gain of 5.45 percent. With a stop set at November 7th's $8.35 open, which would represent a failure to fill the gap if closed below, the downside risk is 3.35 percent. Thus, the reward to risk ratio is roughly 1.6, which is good enough to take a shot, especially if a nice mix of fundamentals and technicals are driving the price action.
From current prices, Wendy's has a favorable set-up and a good amount of short-term upside, so taking a shot here seems like a decent bet.
When to Consider Entering the Trade:
At the current price (~$8.63).
When to Consider Exiting the Trade:
At a close below $8.35 (Breakdown) / An intraday price of $9.05 or above (Profit-Taking)
Disclosure: At the time of publication the editor and affiliated companies own the following positions: None
Note: Positions may be bought or sold while this publication is in circulation without notice.
The Wendy's Co - Last 30 Days

The Wendy's Co - Last 3 Months

The Wendy's Co - Last 6 Months

Posted in: Long Ideas Education Trading Ideas General Best of Benzinga