Why Netflix Was The Long Trade Of The Day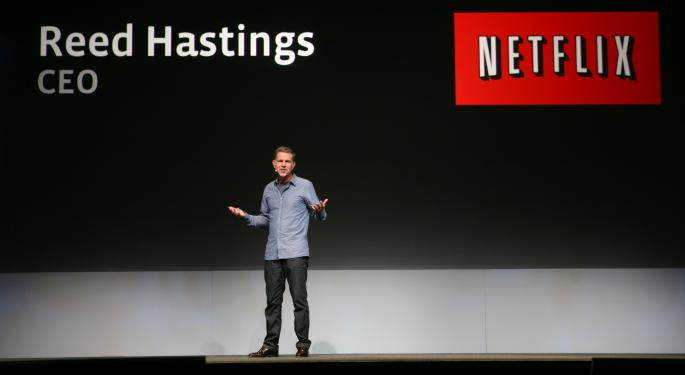 ---
Netflix (NASDAQ: NFLX) has been 2013's Tech darling. The company made a significant change to their business model in 2012 and it turned out to be the saving grace of the company. Since then, Netflix has been on a tear and is up over 250 percent in 2013.
However, Netflix has had an interesting couple of weeks. Its October 22nd pre-market earnings announcement had the stock trading up big in the early going. However, after an incredible -20.25% intraday reversal move, many traders believed that Netflix's great bull run had come to a close. Increased volatility in the Internet stocks space (see: FDN) followed Netflix's wild session, and more conservative traders such as myself had given it the cold-shoulder, thinking the stock would be nothing more than a wacky hot money play moving forward.
Well, it turns out I was wrong. Volatility in the Internet space has waned, and Netflix has actually displayed quite favorable price action since the October 22 madness.
In recent weeks, Netflix has consolidated modestly and formed a base at $314. The stock has been operating well above its 50-day moving average since mid-July, which is also bullish sign in the intermediate- and long-term. Looking at Netflix on a weekly basis, it's easy to see that the long term trend is a strong (straight) up-trend, but the fact that it tends to operate above its 50-day moving average shows just how consistent a trender it has been this year.
Netflix traded as high as $389.16 on October 22, but don't call that the "immediate upside potential" for a swing-trade on Netflix since that price was likely an algo-induced over-reaction to the earnings announcement. Instead, we would set the price target to a more realistic short-term target - $355.42. While setting a stop down just below $300 makes sense, we like to keep our reward/risk ratios high, so we would set a tight stop on NFLX around $313.05, just below recent support.
This morning, it is looking like a favorite swing-trading idea. Don't let the recent volatility or long bull run irk you, as Netflix has a sterling technical picture and great bullish price action since October 22's disaster day.
When to Consider Entering the Trade:
Buy at the current price (~$333.90).
When to Consider Exiting the Trade:
At a close below $313.50 (Breakdown) / A close of $355.42 or above (Profit-Taking)
Disclosure: At the time of publication the editor and affiliated companies own the following positions: None
Note: Positions may be bought or sold while this publication is in circulation without notice.
Netflix Inc - Last 30 Days

Netflix Inc - Last 3 Months

Netflix Inc - Last 6 Months

Posted in: Long Ideas Education Trading Ideas General Best of Benzinga