Why FLIR Systems Was The Short Trade Of The Day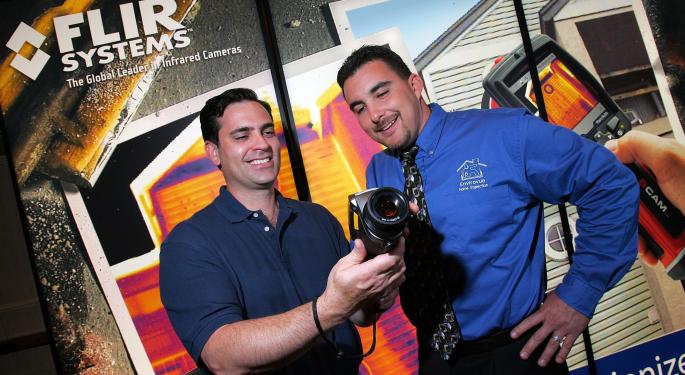 ---
Fighting the tape is a tough game, and shorting stocks in a bull market is not usually the greatest idea.
However, some short set-ups are simply too good to ignore. Despite the broader market moving to new all-time highs this week, FLIR Systems (NASDAQ: FLIR) is a clear-cut short opportunity heading into the weekend.
FLIR Systems Inc was having a decent year until October 15, when the company reported a preliminary Q3 revenue range that was well below consensus expectations ($358-360M vs $369.9M). This caused a gap down at the open and a subsequent intraday flush. Since then, the stock bounced a relatively small amount, but failed to recover even half of the October 15 intraday losses, not to mention the move from the October 14s close.
While normally it would be pretty clear that the failed bounce meant the time to short was at hand, FLIR's situation was a bit different. The October 15th preliminary revenue announcement wasn't the proper Q3 earnings announcement, so there was still too much risk to play FLIR ahead of the actual announcement, despite the poor expectations and the dismal price action.
Well, FLIR finally reported Q3 earnings yesterday, and there was nothing good. EPS fell to the low range of prior guidance ($0.32 vs. $0.32-0.33), as did revenues ($358.1M vs $358-360M), guidance was blasé, and year-to-year orders were down. FLIR's price action since the announcement has been modestly negative, and now the stock is teetering on the edge of a major technical breakdown.
So, the stock is a technical disaster, and the primary driver of the negative action is fundamentals-oriented. The $28 level, though a round number, is not a significant level of support for FLIR either. The stock was in technical no-man's land on October 16, and $28 happened to be the intraday low. October 24's "test" of this level actually took place in the first half hour of intraday trading in a frenzied response to the earnings announcement, as FLIR swung violently back and forth 3.5% at a time. So, whether this is actual support, or mere price action coincidence is arguable, though one thing looks pretty clear - a dip below $28 is big trouble for FLIR. Looking at a weekly chart, it is clear that the next logical stop for the stock is around $27 on a push lower, though it could flush much lower should momentum traders hop on board.
Covering at $29.05 on a short of FLIR makes sense, as that would indicate some real buyers have stepped in following the poor earnings announcement. If not, look for the selling to continue and push FLIR below $27.
When to Consider Entering the Trade:
Short at current prices (~$28.20) or below.
When to Consider Exiting the Trade:
At a close above $29.05 (Cover) / A close below $27.00 (Profit-Taking)
Disclosure: At the time of publication the editor and affiliated companies own the following positions: None
Note: Positions may be bought or sold while this publication is in circulation without notice.
FLIR Systems Inc - Last 30 Days

FLIR Systems Inc - Last 3 Months

FLIR Systems Inc - Last 6 Months

Posted in: Education Short Ideas Trading Ideas General Best of Benzinga