Obamacare Launch Day Questions Answered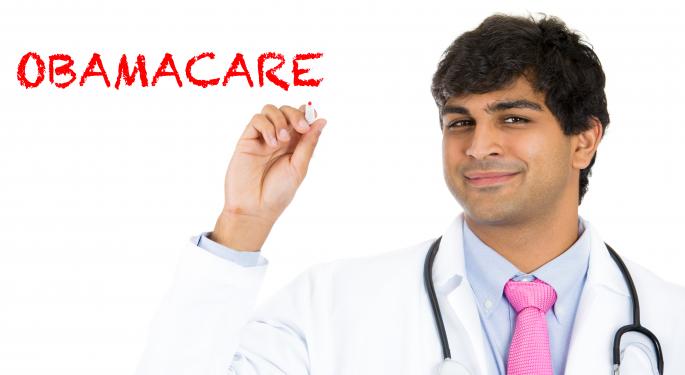 With slightly less fanfare than a BlackBerry product premiere, Obamacare launch day arrived Tuesday.
There are, of course, no long lines outside Obamacare stores – because there are no Obamacare stores. There are, however, questions.
Is Obamacare for me?
The big question has a two-word answer: "It depends." Reuters reported that as many as 7 million Americans were expected to sign up for Obamacare in 2014. In a nation of nearly 314 million people that works out to a little more than two percent of the population.
NBC News pointed out that 58 percent of Americans have employer-provided health care insurance. An additional 32 percent are covered by Medicare or Medicaid. Allowing for a little overlap, somewhere between 10 and 15 percent of the population is uninsured or would otherwise benefit from signing up on the new exchanges or enrolling in an expanded state Medicaid program.
So, if I have job-based health insurance, should I sign up?
Probably not. You can always check out plans under the marketplace, but be careful. Most people with work-related coverage would not qualify for a government subsidy meaning you would pay the full retail cost of coverage under the marketplace. In addition, you would stand to lose any portion of your coverage paid for by your employer.
Does my employer have to provide health insurance?
This is another one of those "it depends" situations. Large employers (those with 50 or more full-time employees) are required to provide affordable health insurance coverage. However, this mandate has been postponed until 2015. Small employers are exempt.
What if I am a part-time employee?
If you work less than 30 hours per week, you are considered part-time. If you are part-time (and your employer does not provide health insurance), you may be able to make use of the marketplace exchange and, based on your pay, may even be able to obtain a subsidy to lower the cost of that insurance. Many part-time employees also qualify for low-cost or free coverage through Medicaid.
What if I am self-employed?
If you are self-employed and have health insurance, you can keep it. At the same time, you can (and probably should) check out the exchange prices and plans to see if you can get a better deal – or qualify for a subsidy. One word of caution from Bloomberg. Take care when estimating income. If you overestimate, you may cut yourself off from a subsidy. On the other hand, if you underestimate, you may have to pay back all or part of any subsidy based on that error.
What if I am on Medicare?
Medicare isn't part of Obamacare. If you already are covered by Medicare, your benefits will not change. It doesn't matter if you have original Medicare or a Medicare Advantage Plan. Medicare is Medicare. You are covered.
I am young and healthy. What are my options?
If you are under 26, you can be added to (or stay on) your parents' health insurance plan. If you are 26 or older, and do not get insurance through your job, you have a decision to make. You can sign up through the exchanges and you will be covered. If you don't sign up, you will pay a fine.
This year the fine is about $95 for the year. Eventually, it will rise to as much as $750. The amount you will pay for insurance (even basic coverage) varies based on your location and income but is generally estimated to be between $1200 and $1500 per year. The government hopes you believe paying $450 to $750 more per year for something is better than paying $750 for nothing.
How much will I have to pay through the exchanges?
The best way to determine your cost is to use an online calculator like the one at the Kaiser Family Foundation.
Related: Kaiser Study Reveals The True Cost Of Obamacare
How do I sign up?
Anyone can go to Healthcare.gov to sign up or learn more about their options under the Affordable Care Act. If you need help, you can type in your ZIP code here and you will be directed to local resources that can provide assistance.
Posted-In: Affordable Care Act Blackberry employer-provided health care insurance exchangeEducation Politics Personal Finance General Best of Benzinga
View Comments and Join the Discussion!