How Long Have You Waited In Line for Something?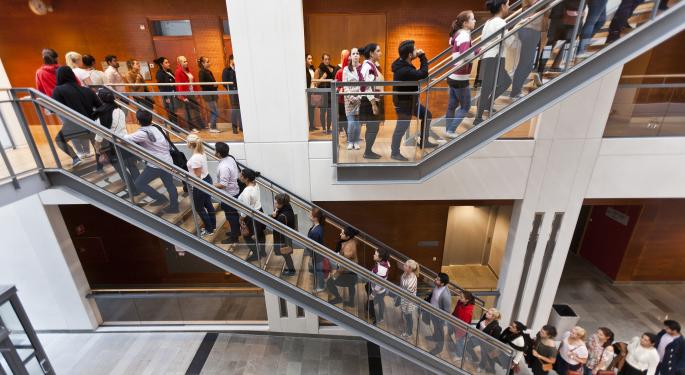 Nearly 13 years ago, thousands of consumers lined up to purchase Sony's (NYSE: SNE) second game console, PlayStation 2.
On a per store basis, the lines were rather short. Most Target (NYSE: TGT) locations, for example, received no more than a couple dozen people who were willing to wait overnight for the new device. But that was because Target, like most stores throughout the United States, had no more than a couple dozen consoles to sell.
By comparison, when Best Buy (NYSE: BBY) hosts a midnight event for a new Halo or Call of Duty game, the lines are enormous. Hundreds of individuals flock to each location in celebration of a new game release.
In 2006, 750 people lined up to purchase the PlayStation 3 at Sony's ill-fated Metreon (which was once a multi-story arcade and entertainment complex). This set a new record for single-store hardware sales.
During that same year, Nintendo (OTC: NTDOY) released -- and immediately sold out of -- the original Wii. In the weeks following its release, many Toys 'R' Us locations received as many as 200 units per shipment. This inspired long lines through Christmas and beyond.
In 2011, Apple's (NASDAQ: AAPL) second-generation iPad experienced a similar degree of success. The sellouts and shortages continued well beyond the device's release, but the biggest headlines were made after hundreds of individuals lined up to buy the device in New York City, Las Vegas and other flagship Apple Stores throughout the country.
Even the smaller Apple Stores are able to draw enormous crowds for new iDevices.
Not every major product receives long lines, however. When the original Xbox arrived in 2001, the lines were relatively modest. When Wii U was released last fall, few consumers rushed to the nearest GameStop (NYSE: GME) to pick up the console immediately when the stores opened. Most retailers sold out of their allotment within a day, but the lack of urgency to buy the console spoke to consumers' lack of excitement toward the console.
In 1999, Dreamcast -- the last console from Sega before it became a third-party developer -- achieved long lines and sold a couple hundred thousand units during its first day of release. Before the month was over, Sega announced that it had sold 500,000 units.
At the time this was a new record for the tech industry. The PSone was on store shelves for four months before it sold that many units. It took Nintendo 64 two months to achieve that sales number.
Sega was quick to brag that Dreamcast had also outsold DVD players (which only moved 430,000 units during their first year of availability) and the late '90s iMac (which sold 278,000 units in six weeks).
Despite its initial success, Dreamcast sales quickly plummeted in 2000 as consumers shifted their attention to PlayStation 2. While the slower-selling PSone was ultimately purchased by 100 million people, Dreamcast was retired after selling just eight million units.
Nonetheless, tech companies will continue to hope for long lines. That's a nice goal to reach for, but investors must remember that they are not a guarantee of long-term success.
Create your free online surveys with SurveyMonkey , the world's leading questionnaire tool.
Louis Bedigian is the Senior Tech Analyst and Features Writer of Benzinga. You can reach him at 248-636-1322 or louis(at)benzingapro(dot)com. Follow him @LouisBedigianBZ
View Comments and Join the Discussion!
Posted-In: Apple Dreamcast iMac iPad NintendoCrowdsourcing Tech General Best of Benzinga