The Daily Biotech Pulse: Sorrento Submits EUA Application For Rapid Coronavirus Test, Decision Day For Viela, Lantern Pharma IPO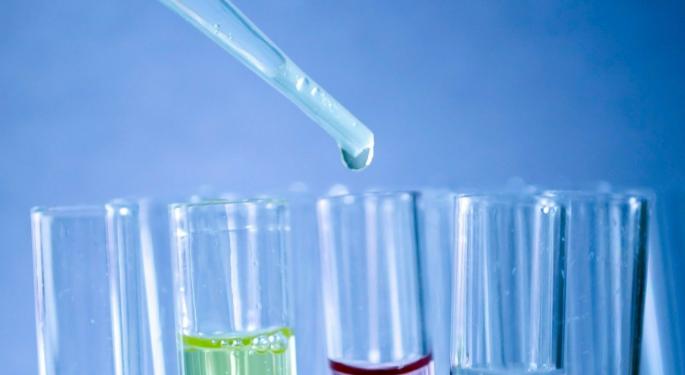 Here's a roundup of top developments in the biotech space over the last 24 hours:
Scaling The Peaks
(Biotech Stocks Hitting 52-week Highs June 10)
Down In The Dumps
(Biotech Stocks Hitting 52-week Lows June 10)
Stocks In Focus
Sorrento Applies For Emergency Use Authorization For Rapid COVID-19 Diagnostic Test Kit
Sorrento Therapeutics Inc (NASDAQ: SRNE) said it has submitted to the FDA an Application for Emergency Use Authorization for its COVI-TRACK in vitro diagnostic test kit for the independent detection of IgG and IgM antibodies in sera of patients exposed to the SARS-CoV-2 virus.
The company said the test allows results to be available in 8 minutes or less.
The stock was jumping 10.35% to $5.01 in premarket trading Thursday.
Bristol-Myers' Opdivo Receives Another FDA Approval
Bristol-Myers Squibb Co (NYSE: BMY) announced FDA approval for its Opdivo for the treatment of patients with unresectable advanced, recurrent or metastatic esophageal squamous cell carcinoma after prior fluoropyrimidine- and platinum-based chemotherapy.
The stock was moving down 0.93% to $59.60 in premarket trading Thursday.
Grifols Starts Production of Hyperimmune Immunoglobins For Clinical Study In COVID-19
Spanish biopharma Grifols SA - ADR ADR Class B (NASDAQ: GRFS) said it has started production of its anti-SARS-CoV-2 hyperimmune immunoglobulin with specific antibodies using the plasma of people who have overcome the disease. It is the first specific drug developed to combat COVID-19.
The company, which is part of a collaboration agreement with entities such as the FDA, NIH and BARDA to produce potential anti-COVID-19 passive immune therapy, said the hyperimmune immunoglobins are being produced in its U.S. facility, and the first doses are expected to be available in July 2020 for clinical trials.
See also: The Week Ahead In Biotech: Viela FDA Decision, Hematology Conference Take Center Stage
Amag Announces Abrupt Departure Of CFO
AMAG Pharmaceuticals, Inc. (NASDAQ: AMAG) said CFO and COO Edward Myles is leaving the company effective immediately. It named senior vice president of finance Brian Piekos as interim CFO.
In premarket trading Thursday, the stock was climbing 10.91% to $9.
FDA Approves Label Update For Novartis Wet Age-Related Macular Degeneration Treatment
Novartis AG (NYSE: NVS) said the FDA approved a label update for its wet age-related macular degeneration treatment Beovu to include additional safety information regarding retinal vasculitis and retinal vascular occlusion.
This approval follows the company's announcement that it would pursue worldwide label updates after a review and further characterization of rare post-marketing safety events reported to Novartis.
The stock was down 0.66% at $87.42 premarket Thursday.
Clovis Completes Enrollment In Pivotal Trial For Rubraca-Opdivo Combo
Clovis Oncology Inc (NASDAQ: CLVS) announced the completion of target patient enrollment in the Phase 3 ATHENA trial evaluating the combination of Rubraca, and Bristol-Myers Squibb's Opdivo as front-line maintenance treatment of newly diagnosed advanced ovarian cancer.
The company expects to release top-line data from the monotherapy arm in the second-half of 2021, with the results likely to support a potential BLA filing. The combo arm is likely to read out one year or more later.
In premarket trading Thursday, Clovis Oncology stock was down 3.36% at $6.90.
Zynex To Join S&P SmallCap 600 Index
Medical device maker Zynex Inc. (NASDAQ: ZYXI) said it will replace KEMET Corp. (NYSE: KEM) in the S&P SmallCap 600 effective prior to the opening of trading Tuesday, June 16. KEMET has agreed to be acquired by Yageo Corp. in a deal expected to be completed on or about June 15, pending final conditions.
In premarket trading Thursday, the stock was advancing 5.03% to $22.33.
Offerings
Mustang Bio Inc (NASDAQ: MBIO) said it is proposing to offer shares of its common stock in an underwritten public offering. All the shares are being offered by the company. It said it intends to use the net proceeds primarily for the continued development of its product candidates, the potential in‐license, acquisition, development and commercialization of other pharmaceutical products and for general corporate purposes.
The stock was down 23.91% at $3.50 premarket Thursday.
ChemoCentryx said it has priced an underwritten public offering of 5.2 million shares at $58 per share for generating gross proceeds of $301.6 million. The offering is expected to close on June 15.
Catalent Inc (NYSE: CTLT) said it has launched an underwritten public offering of $550 million of its common stock. The company said it intends to use the net proceeds primarily to pay off debt.
The stock was down 6.2% to $70 in premarket trading Thursday.
On The Radar
PDUFA Dates
The FDA is set to rule on Viela Bio Inc's (NASDAQ: VIE) BLA for inebilizumab in treating neuromyelitis optica spectrum disorder, a rare autoimmune disorder.
Earnings
Advaxis, Inc. (NASDAQ: ADXS) (before the market opens)
IPO
Dallas, Texas-based clinical-stage biotech Lantern Pharma, which uses AI, machine language and genomic data to develop drugs and identify patients who can benefit from targeted oncology therapies, priced its upsized initial public offering of 1.75 million shares of its common stock at $15 compared to the estimated price range of $15-$17. The shares of the company have been approved for listing on the Nasdaq under the ticker symbol "LTRN."
Related Link: Novavax Analyst Says DoD Funding Reflects Conviction In Platform, Ability To Deliver On Vaccine
View Comments and Join the Discussion!
Posted-In: Biotech Earnings News Penny Stocks Health Care Offerings FDA IPOs Best of Benzinga