Exclusive: Ziopharm Oncology CEO Wants To Disrupt The CAR-T Supply Chain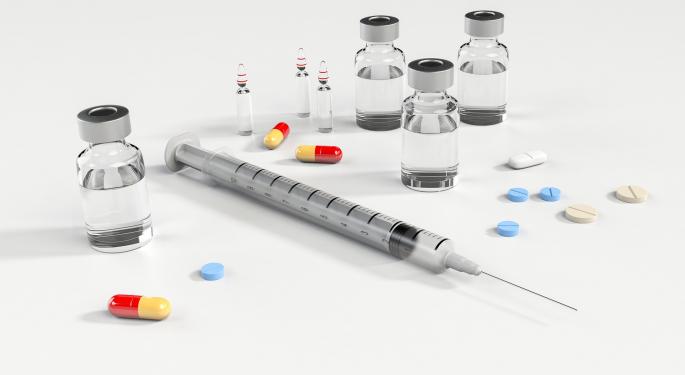 Ziopharm Oncology Inc. (NASDAQ: ZIOP) has two goals. One is to disrupt the narrative around recurrent glioblastomas. The other is to disrupt the entire pharmaceutical supply chain.
The latter pursuit isn't just a B2B revenue opportunity, it's meant to alleviate cost barriers to critical cancer therapies. The cumbersome manufacturing process and unscalable supply chain for chimeric antigen receptors, or CAR T-cells, has pressured treatment prices.
"You can't generate a manufacturing facility big enough commensurate with the nation's needs," CEO Laurence Cooper told Benzinga last month. "Americans have to do better at generating technology to reduce the cost so it doesn't cost a king's ransom, and at the same time make this highly scalable so you can get T- cells into patients when they actually need them and reach thousands of patients."
Cooper considers the problem almost a justice issue.
"Is CAR-T going to be for the privileged or reserved for dire cancers?" he said. "Or is CAR-T going to be part of the mainstream of cancer biology and the war on cancer? Is it going to sit next to chemotherapy and radiation?"
Related Link: The Companies That Led 2017's Biotech Rally
Ziopharm's B2B Solution
That's where Ziopharm's Sleeping Beauty comes in.
"I've invented some technology that turns everything around," Cooper said. "Instead of growing large numbers of T-cells outside the body in this convoluted supply chain, we can return the T-cells to the patients in under two days. This is the fastest gene therapy has gone from the bench to the bedside."
The Sleeping Beauty process involves extracting CAR-T cells, injecting them with a kill switch, cultivating and genetically modifying them outside the body and reinserting them.
"Every company in this space has this need to address the supply chain," Cooper said. "We have an opportunity now not only to compete in the CAR-T space but to fundamentally change the way people view the production of T-cells."
Ziopharm intends to test the system in point-of-care trials this year to reduce modified CAR-T manufacturing time from four weeks to two days. It already completed two clinical trials in mice and will initiate a third in human subjects in the second half of 2018.
The firm is also testing the technology in preclinical or Phase 1 studies for CAR-T therapies for leukemia or lymphoma, acute myeloid leukemia and solid tumors — diseases that respectively see 171,500, 19,950 and 1.65 million new cases annually.
That market opportunity could expand, though. Ziopharm sees potential for additional indications and signed an agreement with Merck KGaA to identify more targets.
David Connolly, Zipharm's vice president of corporate communications and investor relations, told Benzinga that Sleeping Beauty can target anything: "The upside is we can put anything we want into the T-cell."
The B2C Opportunity
That B2B segment of the business complements a more focused B2C arm.
Research suggests 90 percent of patients with glioblastoma show recurrence, and therapy or not, those patients only survive an average of five to eight months. Ziopharm intends to extend that time with AD-RTS-hIL-12, which, in a Phase 2 trial, lengthened median survival to 12.5 months.
The treatment involves injecting AD-RTS-hIL-12 into the vacated tumor site during the excision procedure.
The drug is administered through an adenovirus vector and subsequently controlled through a veledimex pill, which activates interleukin 12 (IL-12) transcription proportionate to dosing. The IL-12 then summons cytotoxic T-cells to attack and shrink tumors and promote upregulation of PD-1 and PD-L1 checkpoints critical to modulating the immune system.
"In the immunology world, being able to pull that alarm system is one of the drivers of anticancer therapy," CEO Cooper said.
The integrated RheoSwitch Therapeutic System turns production on, off, up or down, and IL-12 production ceases when veledimex is discontinued.
Ad-RTS-hIL-12 will begin Phase 3 trials in the second half of the year and recently began Phase 1 combination studies with Opdivo.
"This concept of inflammation, immune-driven activity within a tumor is a very big business and very exciting for patients," Cooper said.
The U.S. sees about 12,390 new cases of glioblastoma each year, according to Ziopharm's research.
"There's a major unmet need in glioblastoma and the competition is very thin," Cooper said. "We don't see a lot of opportunities for patients with recurrent glioblastoma to get curative therapy and we think we have that opportunity."
Where To Go From Here
While the IL-12 therapy is principally tested in glioblastomas, which was targeted for market opportunity, Cooper sees potential across the solid-tumor spectrum and in melanoma cases.
"We looked at the biology of why these patients are responding," he said. "We're confident that IL-12 can otherwise turn cold tumors hot. The platform of the IL-12 is it has a very broad essentially footprint. Every one of those patients would benefit from turning their cold tumors hot."
Ziopharm intends to explore other oncological indications and immunological features for IL-12.
Additionally, Cooper and his executive team have discussed licensing deals with large biotech companies and have identified, as he said, 15 to 30 such opportunities.
Cooper's Advantage In A Fluid Future
The company could also take on other focuses where the science dictates.
"The data at the end of the day is the arbiter of where you go," Cooper said. "The biology reveals another path. It says it's not just your patients are living longer; there's another opportunity here. That is one narrative that we still hold to, but our playbook has to adapt because our data drives a whole new set of discussions for business to business."
Flexibility isn't a problem for Cooper, a seasoned academic scientist.
"One aspect I bring is to help us remain nimble and tuned to the drumbeats of immunotherapy," he said. "This industry moves lightning fast, [so you] have to adjust constantly."
Cooper's experience in academia also lends other advantages. The now-CEO managed one of the largest labs at MD Anderson and supervised about 30 individuals pursuing distinct projects in a "clumsy, disorganized" environment common to academia, he said.
Now in industry, Cooper is managing two teams in a more structured operation.
"As a result, when you get the boat organized and they're all rowing correctly, the boat goes fast," he said. So Ziopharm leadership is a little easier than what he's been trained for.
"I'm used to managing a flotilla."
Related Link: Morgan Stanley: Epizyme Has 'Blockbuster' Cancer Drug In The Making
What Ziopharm Has To Work With
Cooper's managing $68.2 million in cash and $34.6 million in MD Anderson prepayments.
"Balance sheet security is my job," Cooper said. "That will settle out to the positive this year. We are working on the B2B, and you hear a lot of enthusiasm in our voice there."
Current resources will cover general and administrative expenses along with IL-12 work into the fourth quarter of this year. The MD Anderson payments are expected to support Sleeping Beauty development through 2019.
"We're not worried about our cash position because there's plenty of opportunity here to raise capital," Cooper said.
Posted-In: cancer Laurence Cooper Merck KGaABiotech Top Stories Exclusives Interview General Best of Benzinga
View Comments and Join the Discussion!