Exclusive: Ziopharm CEO Talks Partnerships, Balance Sheet And JPM Healthcare Conference Presentation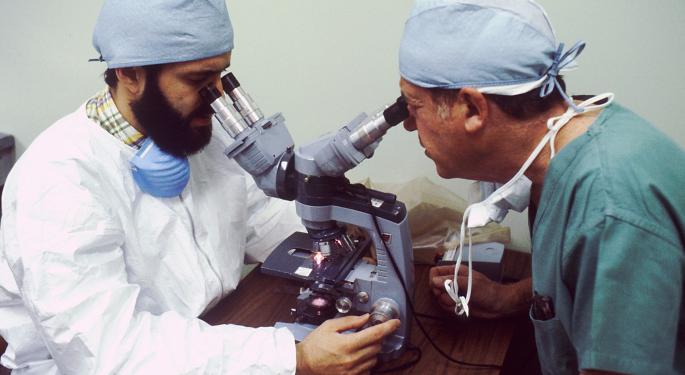 Benzinga recently had the chance to speak with ZIOPHARM Oncology Inc. (NASDAQ: ZIOP) CEO Dr. Laurence James Neil Cooper about the upcoming JPMorgan Healthcare Conference, partnerships with Intrexon Corp (NYSE: XON) and Merck & Co., Inc. (NYSE: MRK) and whether shareholders should be concerned about the company's rising expenses.
JPMorgan Conference
Cooper will be presenting at the JPMorgan Healthcare Conference on Wednesday. Cooper said that his presentation at the conference will focus on the cancer side of Ziopharm's gene therapy research.
Ziopharm's viral therapy program involves using engineered adenovirus to control delivery of a cytokine called interleukin 12, or IL-12.
"We have essentially completed the Phase 1 trial," Cooper told Benzinga. "We expect to be at the FDA to discuss that trial and the next steps, and we are anticipating that we're going to be a Phase 3 company next year."
Cooper added that a pivotal trial for glioblastoma multiforme (GBM) could be a banner moment for Ziopharm. "I can't promise, but all the indications are going in that direction," he said.
Strategic Partnerships
Last year, Ziopharm renegotiated a long-standing partnership with Intrexon for an 80/20 split of unpartnered programs in favor of Ziopharm.
"We renegotiated out relationship with Intrexon for the purposes of essentially looking more like a biotechnology company, in other words a company that if somebody is interested in us, I am not saying they are, but if they were interested in us, they would essentially be able to understand the relationship with Intrexon as a partner with us," Cooper clarified.
In addition, Merck has partnered with Ziopharm and selected a pair of undisclosed CAR targets, a project about which Cooper says he is "very happy at the moment."
R&D Spending
Cooper noted that Ziopharm has made a conscious decision to ramp-up its spending in recent quarters.
"We needed to complete essentially the adenoviral trial to get to the FDA so we could turn the corner and be in the pivotal trials," Cooper told Benzinga. "So our cash position supports all of that, supports our ability to take on the registration trial."
However, Cooper acknowledged that the cash won't last forever. When asked about the possibility of raising cash in the coming quarter, Cooper said the company will explore all options.
"We may or may not. We have not made a decision about that," he said, adding that partnering some of the programs, such as the NK cell program or the adenoviral program, could also help solve any cash issues.
Looking Ahead
When Benzinga asked what investors have in store in coming quarters, Cooper said he is hoping to provide shareholders with some important updates.
"We are really looking forward to being able to update the Street about our adenoviral program with GBM. If we can get this essentially through the next period of regulatory review, we have a complete shot on goal to make a drug and commercialize it," he said.
In addition to the adenoviral trial, Cooper said Ziopharm will continue to explore the viability of its TCR program and its NK cell programs in 2017.
Posted-In: Biotech News Health Care Previews Events Trading Ideas Interview General Best of Benzinga
View Comments and Join the Discussion!