Biofrontera Celebrates Successful IPO, Prepares For US Expansion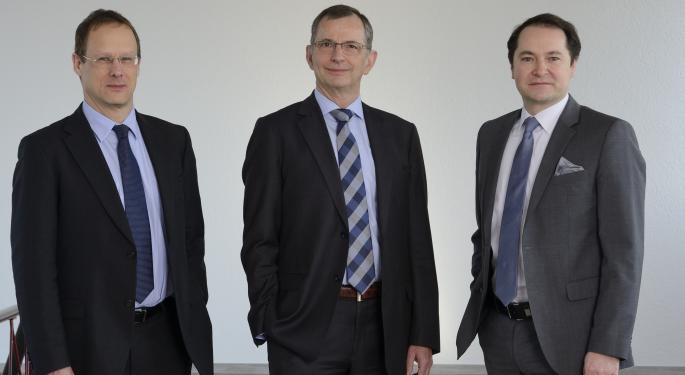 Biofrontera AG ADR (NASDAQ: BFRA) is trading 53 percent above its Feb. 14 initial public offering price, justifying the company's pursuit of a U.S. market debut.
The German company added a Nasdaq listing alongside a presence on the Frankfurt Stock Exchange to increase not only capital, but also visibility and credibility in its largest market.
The U.S. accounted for about 50 percent of global Ameluz sales after the skin cancer drug debuted in the market in October 2016.
"This is going very strongly, so we expect for this year the U.S. sales will be considerably larger already than the European sales," CEO Hermann Lübbert told Benzinga. "Since our major business is more and more moving toward the U.S. and the U.S. market, that's why we decided to go public."
The Ameluz Play
Ameluz is the firm's first prescription drug and treats non-melanoma skin cancers.
So far, the U.S. Food and Drug Administration has approved Ameluz for treatment of actinic keratosis, a superficial pre-cancer condition, but has demanded a placebo trial for basal cell carcinoma. Biofrontera is discussing trial details with the FDA and hopes to enroll patients in the late second quarter or after the summer. Ameluz already received EU approval for BCC.
"What's important here is we have been approved for field-directed treatment of actinic keratosis [in the U.S.], so we can treat large areas regardless of whether there is a tumor everywhere or whether it is the skin," Lübbert said. "That makes our product a little special."
Market Opportunity
Lübbert estimates the U.S. sees more than 12 million cases of AK per year.
"We have a huge market," he said, noting that Caucasian skin is particularly susceptible. "It affects about every other man above 60 years of age and every third woman above 60 years of age."
Differentiation
Through Ameluz, Biofrontera aims to treat AK before it penetrates the epidermis, metastasizes and becomes lethal.
By Lübbert 's assessment, the drug's mechanism uniquely addresses common problems with the active ingredient: high instability that limits formulation and creates difficulty permeating the skin. Biofrontera uses nano-emulsions, small oil droplets, to bind to and stabilize the molecules, merge with the lipid layers of the skin and temporarily increase the lipids' fluidity to allow the molecules to penetrate.
The treatment has one competitor each in the U.S. and the EU, although the former is seen to be "cumbersome" in delivery and the latter slow in process.
"Basically, our product distinguishes itself from the other two products because it is easier to apply, faster to apply and in the three trials we have gotten much better results in terms of efficacy, which we believe can be explained by the better penetration," Lübbert said.
Among the three, Ameluz is the only drug approved in both the U.S. and EU markets.
The Priority
Lübbert conceded that FDA approval for BCC is years away.
"So in the next one, two or three years, this cannot be the first priority," he said. "The first priority has to actually be to build the market for the indication which we have, and this is actinic keratosis."
Throughout the next year, then, the firm is focusing on commercializing and marketing efforts.
Biofrontera also markets Belixos and BF-RhodeLED.
Financial Position
Biofrontera considers itself well-equipped to complete pending trials and commercialization — and eventually become profitable.
"It was a relatively small IPO that we did in the U.S., but it was coupled with a capital raise also in Europe," Lübbert said. "With that, we think that, if nothing unforeseen happens, we should have sufficient money to actually bring the company to break even."
Nick Donato contributed to this report.
Related Links:
For Eleven Biotherapeutics, Cancer Trial Outcomes Could Be 'Major Catalyst'
7 Biotech Stocks With Clinical Trial Outcomes In March
Photo: Biofrontera CFO Thomas Schaffer, left, CEO Hermann Lübbert and COO Christoph Dunwald. Courtesy photo.
View Comments and Join the Discussion!
Posted-In: actinic keratosisBiotech Health Care IPOs Top Stories Exclusives Interview General Best of Benzinga