Born On The Battlefield: AcelRx Awaits FDA Ruling On Device That Delivers Potent Opioid To Wounded Soldiers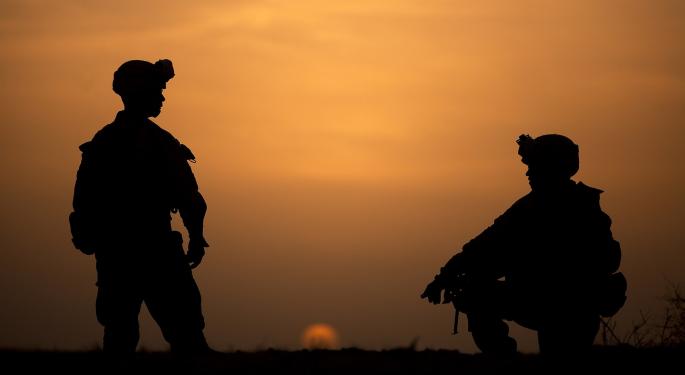 It isn't easy being a small pharmaceutical company banking on FDA approval of a painkiller product in a nation gripped by an opioid epidemic.
Consider AcelRx Pharmaceuticals Inc (NASDAQ: ACRX), which has developed a fast, under-the-tongue delivery system for the opioid called sufentanil. It's meant for medics in combat zones dealing with blown-off limbs and other first-responder trauma situations.
The product under review is DSUVIA, a tiny opioid lozenge in a syringe-like device that functions as sort of a Pez dispenser. A decision by the Food and Drug Administration is scheduled for Oct. 12.
"The FDA approval is nerve-wracking, but the bottom line is it's out of our hands at this time," said Pamela P. Palmer, M.D., AcelRx's co-founder and chief medical officer.
You're In The Army Now
Sufentanil is a synthetic opioid analgesic drug several times more powerful than its parent, fentanyl, and 500 times as potent as morphine. It's designed for extreme situations, works fast, doesn't last long and has fewer side effects than morphine. Palmer says her biotech systems reduce the risk of overdoses.
Only institutions that meet the FDA's Risk Evaluation and Mitigation Strategy guidelines, those already administering opioids, would be able to use the devices, she said.
Palmer thinks the anti-opioid fervor hasn't been a factor in that long road to FDA decision time.
"To date, the FDA has been reasonable with the approach to DSUVIA," she said.
In New Orleans in 2009, Palmer gave a presentation at the American Society of Anesthesiologists annual meeting about ZALVISO, a device AcelRx was developing that would deliver a dose of sufentanil as an alternative to a morphine IV drip.
After Palmer's talk, she says she was approached by retired Col. Chester "Trip" Buckenmaier III, M.D., director for the Uniformed Services University's Defense and Veterans Center for Integrative Pain Management in Maryland.
See Also: No Pain, No Gain: How The American Military Wants Big Pharma To Cure The Opioid Crisis
Screaming For Acupuncture
As the country's painkiller-in-chief (Buckenmaier performed the first battlefield use of a non-addictive epidural to control the pain of a soldier with a leg destroyed in Iraq), he was looking for a simple version of the ZALVISO device with combat zone applications.
"When you have your leg blown off, you're not screaming for acupuncture," he told Benzinga recently.
The result of that conversation was a $17 million contract that led to DSUVIA. ZALVISO, its in-hospital sibling, is currently in trials and the two systems are the core properties for the $150-million market cap company.
"We're a tiny company," she said, drawing a comparison with industry giant Merck & Co., Inc. (NYSE: MRK). "A Merck doesn't live or die through one approval. We don't have all our eggs in that (ZALVISO) basket. We have two eggs in that basket."
War: That Wicked Mother Of Invention
War has always influenced medicine, from the first physicals established by the 18th Century French army to the recognition of Post Traumatic Stress Disorder as an actual affliction after the Vietnam War.
The ancient Greek physician Hippocrates is best known for the Hippocratic Oath and its central precept: "First, do no harm." But he also said this: "He who would become a surgeon should join an army and follow it."
America has had an opioid problem since 1620, when the physician Samuel Fuller arrived with his fellow Pilgrims aboard the Mayflower. He carried an early form of laudanum, the opium/alcohol combo invented in the prior century by the Swiss alchemist Paracelsus.
Laudanum is derived from the opium poppy that people have been processing to get stoned for at least 5,000 years.
See Also: Every Generation Has Its Drug: How People Are Dealing With Opioids, The New (Old) Thing
Is Opioid Backlash Hurting People?
Palmer says she's concerned about the backlash against opioids that have led to a slew of new proposals to crack down on a problem that Buckenmaier said is abetted by pharmaceutical marketing, overzealous doctors and shady pharmacists. And people who abuse painkillers.
"It's frustrating to me," Palmer said. "I have been living for a decade in this world that everybody is now being introduced to. I've always known of the dependence on opioids."
She's heard of ERs that have gone opioid-free. One even employed a harpist to play heavenly music for patients in pain.
"Your femur is sticking out of your skin and you're going to get a Tylenol," she said.
Not something you can just walk off.
Posted-In: Biotech Health Care Previews Psychology Top Stories Exclusives Trading Ideas General Best of Benzinga
View Comments and Join the Discussion!