Where Does Zika Virus Vaccine Research Stand Now?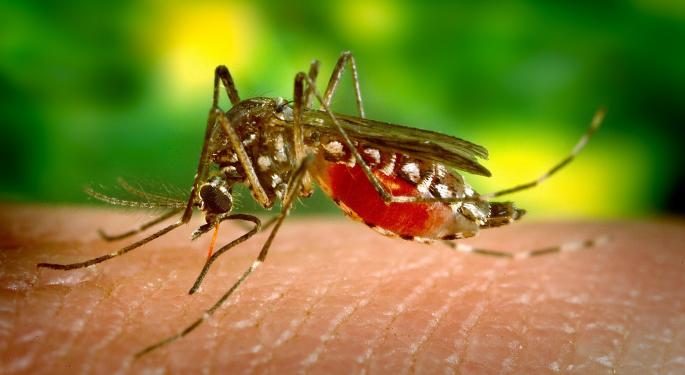 After a lull, the Zika virus was back in headlines early last week, as the Florida Department of Health confirmed the first sexually transmitted Zika case of 2017 in Pinellas County.
The release from the department said the individual who was tested positive had not traveled, but the partner had recently traveled to Cuba and was ill with symptoms consistent with Zika. Both have now tested positive for Zika. The department, however, ruled out ongoing transmission of Zika by mosquitoes anywhere in Florida.
With the outbreak, the curiosity concerning the virus, its dissemination, the effect it has on the affected people and preventive as well as curative measures, if any, are once again beginning to be aroused.
The Virus
The Zika virus is a flavivirus, a class that also includes the West Nile virus, dengue virus, tick-borne encephalitis virus, yellow fever virus and several other viruses causing encephalitis. It is transmitted by a vector called Aedes mosquitoes, belonging to the species Aegypti and albopictus. These mosquitoes are active, both during day and night.
People infected with the Zika virus show symptoms like mild fever, skin rash, conjunctivitis, muscle and joint pain, malaise or headache. However, it is said that most people do not exhibit any symptom or show only mild symptoms. If at all symptoms are exhibited, those would last for about two to seven days.
It is widely believed that the Zika virus caused microcephaly and Guillain-Barre syndrome. Microcephaly is abnormal smallness of head, a congenital condition associated with incomplete brain development.
Meanwhile, the GBS is a disorder in which the body's immune system attacks part of the peripheral nervous system, with the early symptom being varying degrees of weakness or tingling sensation in legs. When these symptoms aggravate, certain muscles cannot be used at all and the people will be totally paralyzed.
The disease is confirmed by a blood or urine test.
See also: August PDUFA Dates: Biotech Investors Stay Tuned To A Month Of Plenty
Although there are no curative medicines for the Zika virus, one can take steps to alleviate the symptoms, by resting and taking in plenty of fluids to prevent dehydration, etc.
However, as the incidence of the disease spread across geographies, governments have been pushing hard and channelizing finances to develop a preventive vaccine for this virus-borne disorder.
Some companies that are working on a vaccine for Zika include GlaxoSmithKline plc (ADR) (NYSE: GSK), Sanofi SA (ADR) (NYSE: SNY), Inovio Pharmaceuticals Inc (NASDAQ: INO), Intrexon Corp (NYSE: XON) and Novavax, Inc. (NASDAQ: NVAX).
However, it could take a significant amount time before a viable and widely-available vaccine for Zika to become a reality.
The traditional method of developing a vaccine by using a live virus from an egg and then making it chemically less virulent or inactive before injecting into a body to trigger the formation of an antigen to counter a viral attack is a time-consuming process.
Alternatively, one can develop the vaccine using DNA sequencing, which is less time-consuming:
Inovio along with its South Korean partner GeneOne Life Science has advanced their Zika virus vaccine GLS-5700 into human trials after finding success with animal testing. The company announced in mid-June enrollment of 160 people in Puerto Rico for the second phase I trial, named ZIKA-002, to test GLS-5700. The study was initiated in the third quarter of 2016.
GlaxoSmithKline announced in July 2016 it is working with the National Institutes of Health, or NIH to develop a Zika virus vaccine. The company said it would use a technology called SAM, or self-amplifying mRNA, which can produce an immune response. The vaccine would be delivered into the cytoplasm of the cell and multiply there.
Sanofi is working with U.S. Army's Walter Reed Army Institute of Research to advance an inactivated Zika virus vaccine candidate. This vaccine candidate has also moved into human testing. In fact, there was wrangling between the Army and Senators, who were averse to the granting of development rights to Sanofi for fear that the vaccine might be priced exorbitantly even as the development cost was partly borne by taxpayers' funds. This is apart from a vaccine Sanofi is solely developing, leveraging its experience in working on a vaccine for dengue.
Meanwhile, Intrexon unit Oxitec has produced Genetically Modified, or GM mosquitoes that can compete with the mosquito that can transmit the Zika virus. These GM mosquitoes transmit a gene to their offspring that would prove fatal before they can reach reproductive adult stage.
Novavax has selected a nanoparticle vaccine candidate as the lead product for treating Zika virus. The company is presently conducting IND-enabling preclinical studies in non-human primates and other animal models, with the goal of initiating a phase I clinical trial of its ZIKA envelope dimer nanoparticle vaccine candidate, or ZIKA EnvD vaccine in 2017.
Posted-In: Aedes mosquitoesBiotech News Health Care FDA Global Trading Ideas General Best of Benzinga
View Comments and Join the Discussion!