Inovio Shares Rise And Fall Like A Roller Coaster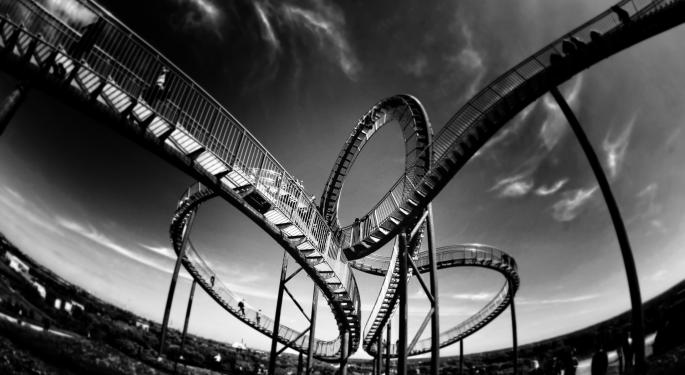 On Wednesday, Inovio Pharmaceuticals Inc (NASDAQ: INO) announced the results of a study on its HIV vaccine, PENNVAX-GP, stating the drug "produced amongst the highest overall levels of immune response rates ever demonstrated in a human study by an HIV vaccine."
Benzinga was unable to reach Inovio for comment as to what an "immune response" specifically means with regards to treating HIV.
Shares of Inovio spiked from $7.13 to a high of $9.86 (38 percent) on the news — the highest since September 21 — before pulling back and closing at $8.65.
The price continued to fall steadily Thursday.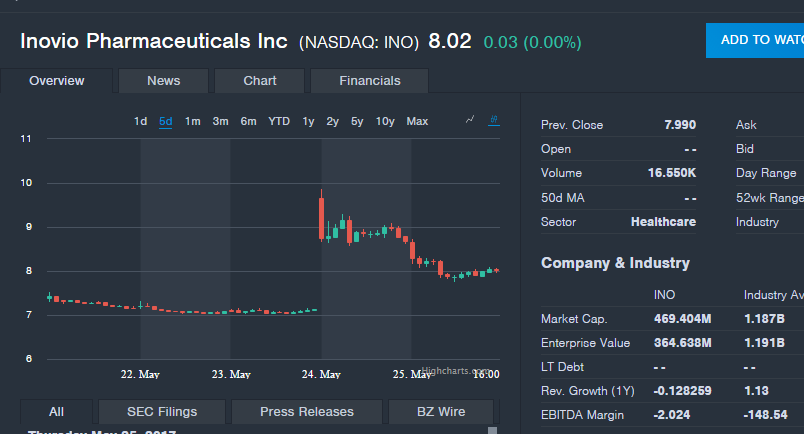 Source: Benzinga Pro Dashboard
Inovio's Roller-Coaster Share Price
Inovio works on vaccines for some of the most publicized diseases in recent years, including Ebola, MERS, and, most recently, Zika.
The company likes to publicize its study results. CEO Jong Joseph Kim, Ph.D., alluded to previous studies of other vaccines in the Wednesday press release, saying, "These results [...] are remarkably consistent with our recent data reported from our Ebola, Zika and MERS clinical trials in terms of demonstrating nearly 100-percent vaccine response rates."
Inovio shares spiked on December 21 after announcing a robust immune response from its Zika vaccine, as high as $7.64 from $6.93. The next day, shares returned to their pre-announcement price.
In the following week, Inovio's share price jumped again before returning to where it had started.
On February 23, the company reported a 100-percent response rate to the Zika vaccine and a high rate for its MERS vaccine. Just as with the December announcement, share price jumped on the news, dropped the next day, climbed again, and fell to its pre-report price just over a week later.
Related Links:
Inovio Surrenders Some Early Gains After Positive HIV Vaccine Clinical Study
Inovio's HIV Vaccine Elicits High Response Rates In Phase 1 Trial
Posted-In: HIVBiotech News Health Care Technicals FDA Trading Ideas General Best of Benzinga
View Comments and Join the Discussion!