Cramer: Small-Cap Biotechs Are Reserved For Speculative Investors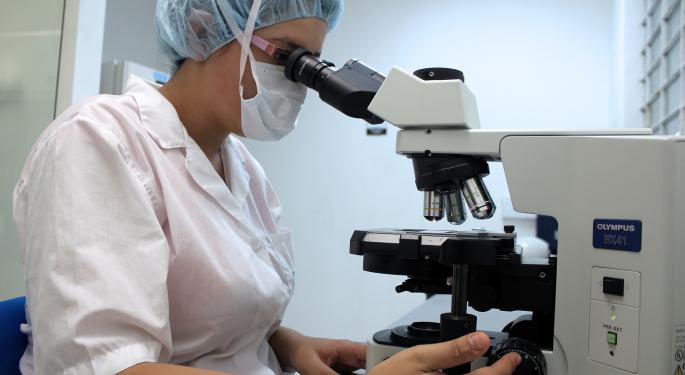 Shares of Alder Biopharmaceuticals Inc (NASDAQ: ALDR) is clinical-stage biopharmaceutical company whose lead pivotal-stage product candidate, eptinezumab, is used for the treatment of migraines. The company is also one that ordinary investors should consider passing on, according to CNBC's Jim Cramer.
Most important to consider is the fact that Alder is in the clinical stage which means it is not profitable, Cramer said during his daily "Mad Money" show on Thursday. Other products in the company's pipeline, including a migraine prevention therapy, is years away.
Granted, people suffering from chronic migraines is a big market and costs businesses $13 billion a year due to lost workdays, Cramer pointed out. So naturally, a drug that could prevent this would be "very, very valuable" for patients, their employers and investors.
Small-Cap Biotechs And Investor Psychology
But small-cap biotech stocks, especially Alder's, has a reputation of "coming down so hard and so fast that it just takes your breath away."
After peaking at around $55 two years ago the stock is now sitting near the $12 mark, although that is slightly better than its lows of $10.05 seen earlier in the week, Cramer continued.
Alder's stock has been hard hit in "late June after the company's phase 3 trial of Eptinezumab disappointed investors. Within weeks, the company then followed up with a $10 per share offering which wasn't much of a discount to where the stock was trading at.
"A $10 secondary [offering] is a huge blow when you consider Alder became public at $10 more than three years ago," Cramer said.
With that said, could the worse be over for Alder? Cramer asked. It's possible, but only for speculative investors and traders who enter the position knowing full well they can afford to lose the entire value of the position.
"I know this stock has burned people on the way down, but it's got a viable drug and we care about where a stock's going on this show, not where it's been," he concluded. "In my view, Alder's been de-risked down here, and I think it's worth speculating on."
Related Links:
Piper Jaffray Defends Alder Despite Stock Slump, Looks To What's Next In Migraine Management
Alder BioPharma Could Lead The Migraine Market; Brean Assumes With Buy Rating
Posted-In: Alder Biotech StocksBiotech Small Cap Analysis Psychology Media Trading Ideas General Best of Benzinga
View Comments and Join the Discussion!