Michael Phelps Opens Up About Struggles With ADHD, Depression: I Was Constantly Bouncing Off The Wall As A Kid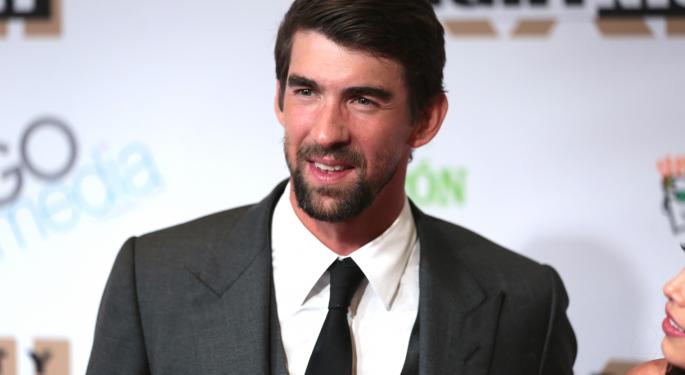 Michael Phelps has become a champion of mental health awareness.
Despite his enormous success in the Olympics, his personal struggles away from the pool led him down a path of depression.
"Growing up as a kid with ADHD, I was constantly bouncing off the wall," Phelps recently told Benzinga. "I could never sit still. I had teachers telling me I could never amount to anything and that I would never be successful in life."
Phelps is one of the most accomplished athletes in history. He successfully put his condition to good use, turning his boundless energy into a legendary training regime that helped him attain levels of success no Olympian has ever achieved.
Amid all the gold medals, however, it was the pressure of being such a visible public figure and intense build up to the Olympics that can weigh on an athlete's mental health after the competition is over.
'Where Do I Go From Here?'
"As an Olympic athlete, I can speak for a couple teammates that have gone through depression," Phelps explained. "You build up for four years, you get to that peak, and two days after the Olympics have started you're done, and then it's like, 'well where do I go from here?' That's where athletes can find themselves in trouble."
Athletes demeanor and status as tough, sometimes larger-than-life figures, can prove difficult when mental health issues arise. Phelps indicated he was reluctant to ask for help initially, but when he ultimately did, he felt better.
"It took me a long time to finally realize that it's okay to ask for help and it's okay to not be okay," Phelps said. "Once I found that out I was able to save my life and make my life exponentially better, that's something that I will forever be thankful for."
See Also: Phelps Talks Mental Health Awareness, Medibio's Algorithmic Diagnosis
'Nobody's Perfect'
The stigma regarding mental health and treatment still prevents the issue from making significant progress. Phelps has joined forces with other athletes to spread awareness of a problem that many still have trouble talking about.
He has opened up his Arizona home to two other Olympic athletes that have struggled with similar problems, to provide a safe haven and allow others to get help: eight-time Olympic medalist Allison Schmitt and former rival and three-time Olympic Gold Medalist Grant Hackett.
"For me, to open up about my story, hopefully we can have other people open up about their story as well because we know they are out there," said Phelps. "Nobody's perfect. We are all human beings, and we do go through the same things in life. For me for the longest time I could never ask for help, I am trying to encourage people to go out and ask for help."
Image credit: Gage Skidmore, Flickr
View Comments and Join the Discussion!
Posted-In: Michael Phelps OlympicsEducation Health Care Psychology Sports Interview General Best of Benzinga