Vaccine Business The Gateway To Drug Stores Providing Profitable Primary Healthcare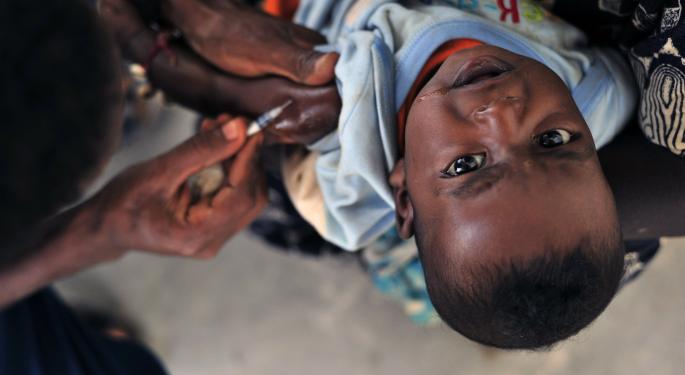 In one of the stealthiest revolutions in healthcare, the role of providing vaccinations is moving away from the doctor's office to the corner drug store and the pharmacy at your local supermarket chain, which are ultimately angling to become your primary healthcare provider.
Industry giants such as CVS Health Corp (NYSE: CVS), Walgreens Boots Alliance Inc (NASDAQ: WBA), Rite Aid Corporation (NYSE: RAD) and Wal-Mart Stores Inc (NYSE: WMT) — along with 22,000 privately owned pharmacies in the United States — have varying strategies for filling the gaps in accessible healthcare.
Just this week, there was a report that said Amazon.com, Inc. (NASDAQ: AMZN) is looking to enter the pharmacy space.
For industry giants such as CVS, grabbing a big piece of primary care away from doctors is part of a long-term strategy. At the heart of this push is to swap out the increasingly unapproachable family doctor for the local pharmacist. The way in is through vaccines.
"We are healthcare providers on the front lines," said Macary Marciniak, a doctor of pharmacy, assistant dean of experiential programs and clinical associate professor at the Eshelman School of Pharmacy at the University of North Carolina. "We're in touch with a lot of patients. There are 300,000 pharmacists administering vaccines nationwide."
"I think there are a number of different models where the pharmacist is being engaged in primary care. I think pharmacies are becoming healthcare destinations."
Healthcare Conundrums Open Path For Drug Stores
The pharmacy — where you get the medication that keeps you well, if not alive, anyway, along with counter-service advice on how to take it — has been edging into primary healthcare since the 1990s.
It wasn't until 2009, however, when doctors ran out of the flu vaccine at a time when influenza threatened to become a serious pandemic, that drug stores began seizing control of the vaccination market.
"The doctor's office is where most people are still getting their vaccines from their doctors," said Marciniak. "We are all going to have to collaborate. The doctors will continue to be the diagnosticians."
While the big, publicly-traded companies have strategic plans to create their own walk-in clinics, the privately-run drug store still is a go-to health destination, particularly in rural or urban areas where primary healthcare is less accessible.
About 67 percent of the 22,000-member National Community Pharmacists Association now provide the full range of immunizations, said spokesman John Norton.
"We're always looking to diversify our revenue streams," he said. "We definitely have dived head-first into immunizations. We have to try to tap into other things."
Doctors Can't Make A Buck Off Of Immunizations
Vaccinations are a valuable revenue stream for stores with pharmacies, which can buy in bulk. Insurance reimbursements to doctors hardly make it worth their time.
"The reimbursement for physician office immunizations is decreasing, and many physicians have reported that providing some immunizations is no longer a viable option (as they are losing money on every vaccine)," said Meghan D. Swarthout, a doctor of pharmacology and MBA at Johns Hopkins Hospital.
"Pharmacies typically can purchase immunizations at better prices (because they buy larger volumes), and these cost savings are shared with the patient and the insurance companies. Patients don't have to make appointments to get vaccinations at their pharmacy, and most pharmacies are open extended hours in the evenings and on weekends."
Doctors have better things to do than vaccinate people, who may prefer the convenience of the pharmacy.
"From an opportunity cost perspective, shifting vaccinations to pharmacies frees up physician time to take care of more complex patient needs," Swarthout said. "Pharmacies report the vaccination administration through electronic records, so the physician is aware of the administration."
Drug Stores And The Anti-Vaccine Movement
One of the hot-button issues in vaccinations is the fact that there is a movement of people who don't believe in them. Anti-vaccination fervor has been attributed to the increase of childhood measles, for example. It's essentially distrust of Big Pharma and a holier-than-holistic movement that prevents people from, say, letting their kids get the HPV vaccine that prevents sexually transmitted disease that leads to cancer.
"Pharmacists are committed to helping to dispel misinformation surrounding vaccinations," Swarthout told Benzinga. "Pharmacists perform thorough screenings before providing vaccines to ensure the vaccine is safe and appropriate for the patient. The broadening of offerings isn't directly tied to the anti-vaccination movement. Pharmacists began providing immunizations in the 1990s — in 1995 nine states allowed pharmacists to immunize. Today, all 50 states allow this practice."
Which begs the question: Are the pharmacies vying to become your primary healthcare provider?
A seminal paper published in March by Stephen C. Schimpff, MD suggests as much.
"The idea is to deliver 'episodic care' to those in need with a motto of, essentially, 'you're sick, we're quick.' The CVS model is known as MinuteClinic with 800 units nationwide and an expectation to grow to at least 1,500. The CVS health services are staffed by nurse practitioners or physician assistants," Schimpff wrote.
"Customers tended to be those who might have their own PCP but who did not want to wait days to see the doctor for a minor, but troubling, issue. They found that the cost was low, the wait short and the doctor well trained."
Related Links:
Exclusive: VBI Vaccines CEO Talks Pipeline, Investor Backing, Hep. B Vaccine Opportunity
Posted-In: CDC CVSHealth Care Top Stories Exclusives Media Interview General Best of Benzinga
View Comments and Join the Discussion!