Exclusive: VBI Vaccines CEO Talks Pipeline, Investor Backing, Hep. B Vaccine Opportunity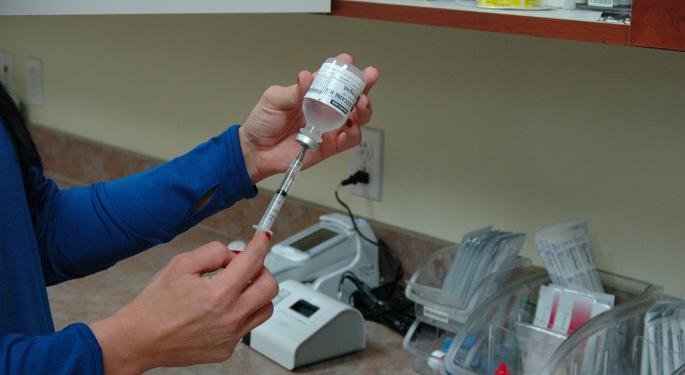 VBI Vaccines Inc. - Ordinary Shares (NASDAQ: VBIV) has emerged as one of the best performing small-cap biotech plays of the year, with shares of the Cambridge, Massachusetts-based company quietly jumping over 75 percent year-to-date.
With several new vaccines in the pipeline, analysts believe there could be more room for growth.
The company is focused on both developing vaccines to combat infectious diseases and immuno-oncology, an area that has seen some of the most interest in the biotech field given recent hematology advances. The vaccine industry has seen considerable growth over the last decade, growing over 400 percent between 2005 and 2015 to $41 billion. The industry is expected to reach $48 billion by 2021.
A key catalyst for continued growth of the company rests on its SCi-B-Vac Hepatitis B vaccine receiving approved in the United States and in key European markets.
Sci-B-Vac, which initially came to company from a merger with SCI VAC Therapeutics, Inc., is already approved in Israel and in 14 other countries but has been delayed in crucial markets due to a lack of capital resources to invest in clinical and regulatory strategies. Now that the vaccine is part of VBI's portfolio, analysts believe it will be able to streamline the process in Europe and in the United States.
The vaccine, which was initially developed in Israel with public money, has received positive feedback from both the European Medical Agency Scientific Advice regarding the vaccine in its phase 3 study and from Canada's initial valuation of its phase 3 study. The company is currently seeking FDA evaluation and approval of its phase 3 study.
"We are expecting approval for the initiation to begin enrollment in phase 3 clinical trial, in the US, Europe, and Canada. The thought or hope conservatively is that we can finish this trial by 2018 and 2019, and get on the market in these high commercial opportunity markets by 2020," VBI Vaccines CEO Jeff Baxter said in an exclusive interview with Benzinga.
Hepatitis B And VBI Vaccines
The market potential of an approval stands in the $560 million range. The Sci-B-Vac has already demonstrated safety and efficacy in over 300,000 patients, according to the company. With over 240 million people infected with the disease every year according to the World Health Organization, the opportunity for the company could be huge. Currently, the disease plagues 850,000–2.2 million individuals in the U.S.
While there are other companies developing similar drugs to combat this deadly disease, Sci-B-Vac currently expresses more hepatitis B antigens than any other vaccine currently available. The current vaccine for HBV has shown to be highly effective in young and healthy patients; it has proved to be not nearly as effective for elderly patients and those with significant ancillary health issues. VBI's latest vaccine looks to combat these issues by eliciting a more protective response from at-risk patients.
The company also boasts some notable backers, making VBI a difficult company to ignore moving forward despite a lack of coverage.
"The vaccine market has grown tremendously over the past five years. We have built a portfolio of very exciting assets, and over the last few years, we have gained a very strong suite of institutional investors, who have backed us. Although we still don't have a very big retail following, we have become very appealing for the specialist investor," Baxter said.
"When you compare us to our peers that have much more volume and liquidity and the comparability of our assets, perhaps you would think our stock would be 400 million–500 million if not higher, our stocks run has been a consequence of high institutional shareholders and the limited amount shares in the market."
The Cold Chain
As vaccine coverage continues to expand worldwide, a new issue regarding distribution has emerged: the Cold Chain. Vaccines generally require very specific storage requirements, generally in the range of 0–4 degrees Celsius. As the need for vaccines grows worldwide, the storage of vaccines in this specific temperature range makes for costly distribution challenges in the developing world.
VBI Vaccines has looked to tackle this issue, after spending the past five years compiling data that suggests it has been able to break the cold chain and remove the need for vaccines to be stored and transported at these low-temperature ranges. It's being done through a technology called LPV Thermostability Platform.
While the process has not yet been made public, it appears that VBI is moving this process along and could eventually be involved in removing the necessity for refrigeration or freezing vaccines, removing the need for a cold chain and saving pharmaceutical companies between 20 and 80 percent in the process.
"If these deals produce what both companies hope they will — a vaccine that can be removed from the cold chain — it's going to open the floodgates for a host of expanded big names to secure exclusive rights to VBI's technology in various vaccine applications," wrote James Peters of Small Cap Exclusive.
Although vaccines are generally difficult to receive approval, when they do, the market potential can be substantial. With several new exciting developments in VBI Vaccines pipeline, the company appears to have scratched the surface of its potential and remains a company to watch in the sector.
Related Links:
Meet VBI Vaccines, The Biotech Up 100% In 2017
Emerging Cannabis Industry Presents Big Opportunities For Investors
Posted-In: James PetersBiotech News Health Care Top Stories Exclusives Interview General Best of Benzinga
View Comments and Join the Discussion!