Cannabinoid-Based Therapeutics Company Nemus Just Received $20 Million To Develop Its Drugs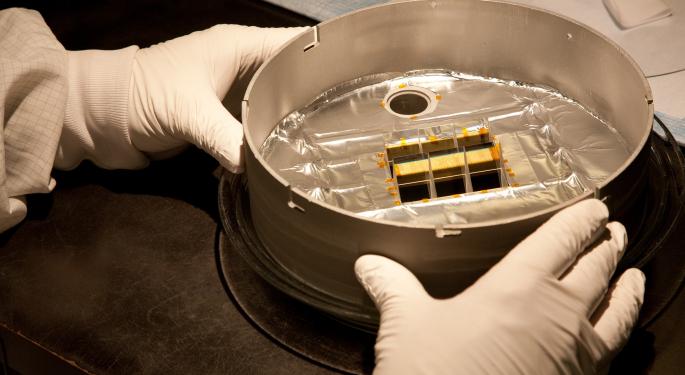 The size of investments in the cannabis industry is rising at an unprecedented level, as evidenced by the more than $730 million raised by marijuana businesses in the four months of the year — versus $124 million in the first four months of 2016.
One of the companies reaping the benefits of such a trend is Nemus Bioscience Inc (OTC: NMUS). Last week, the firm announced it signed a private placement agreement, through which Schneider Brothers Ltd, a global closed investment fund under the Schneider Electric (OTC: SBGSF) umbrella, would acquire $20 million in preferred stock.
The fund got 1 million shares of Series E Preferred Stock, convertible into shares of common stock at a conversion price of $0.30 per share. The proceeds will be mainly allocated to the funding of research and development activities.
Following the announcement, Benzinga reached out to Nemus' CEO, Brian Murphy, and asked him to walk us through the basics of the company and the deal.
'We Do Not Touch The Plant'
Nemus is a life science, biotech company focused on the development of cannabinoid-based therapeutics for the treatment of "diseases of urgent medical need," Murphy explained.
"What we are not is as a cannabis company," he clarified. "We do not touch the plant."
What he meant here requires some explaining. There are more than 100 cannabinoid molecules within the cannabis plant; however, many of these can be reproduced synthetically. And, this is what Nemus does: They produce synthetic molecules and "reengineer them biologically into patentable, new chemical entities that can be developed for therapy."
"Our research and development partner is the University of Mississippi, which is the only entity in the United States with a federal license to grow, cultivate, and research cannabis autonomously – and they have had that license since 1968," the CEO continued. "So, they have almost 50 years of intellectual capital related to the cannabis plant and cannabinoids."
Check what each of the company's drug candidates does below.
The Raise
There were several reasons for Schneider Brothers to invest in Nemus, Murphy assured, from the management team and global patent footprint, to the disruptive approach to cannabinoids.
"We feel that we have highly competitive, disruptive bioengineering on our cannabinoid technology that allows us versatility in getting the drug into the body," he added. "In fact, I believe, to my knowledge at least, that we are the only cannabinoid company with proprietary bioengineered compounds with a versatility of routes of delivery."
The Products
Benzinga: You have a few product candidates. Please walk us through them and the indications that each one targets.
Murphy: One indication is glaucoma. That involves the use of a prodrug of THC, which is actually the most prevalent cannabinoid extracted from the cannabis plant. We have reported a number of animal studies centered around validated animal models on glaucoma, and we've been able to show that the prodrug of THC significantly reduced intraocular pressure (IOP) in animals with glaucoma.
We've also been able to show that the drug is able to get into not only the anterior compartment of the eye but also the posterior compartment of the eye and that's important because there are organs within the eye, both in the front and in the back of the eye that help regulate IOP. Also because the main pathology associated with glaucoma, which can result in irreversible blindness or vision loss, is death of the cells that make up the optic nerve, and cannabinoids have been shown to possess neuroprotective qualities.
We are currently in the process of developing a clinical-grade formulation or an eye drop for this indication, and then from there, we will submit a research dossier to the FDA in a pre-IND meeting so that we could begin human trials. We project that we could be in our first human studies in glaucoma early next year.
The second indication also uses a prodrug of THC, for the treatment of chemotherapy-induced nausea and vomiting — CINV.
A significant number of patients, especially if they are getting a drug like cisplatin or a couple of other chemotherapeutic agents, develop nausea and vomiting to the point where the chemotherapeutic dose may either have to be reduced or stopped which of course is not good at curing the cancer. There are a couple of drugs already approved for this indication that are cannabinoid based. One is a drug called Marinol and the other is a drug called Cesamet, which are also THC-based drugs.
It is our plan, to use Marinol [another cannabinoid-based drug for this indication] as a reference drug in order to file a 505(b)(2) filing with the FDA. Our estimated timeline on that is towards the end of this year in the third or fourth quarter to go to the FDA.
The third area that we are involved in is using an analog of CBD. Now, the difference between a prodrug and an analog is that a prodrug ultimately gets transformed in the body into THC, while an analog of CBD does not get transformed into CBD, but actually has biologic activity of its own accord.
We're studying that drug for two indications: CIPN (chemotherapy-induced peripheral neuropathy) and anti-addictive therapies. That drug is preclinical, it's in the synthesis formulation stage and animal testing. So it might be a few more months until we can release guidance on that
Lastly, we are using a series of proprietary cannabinoid-based mixtures against both bacteria and fungi. Our first set of data is against MRSA, and we are anticipating presenting that data at an upcoming peer-reviewed medical conference.
Valuation & Uplisting
BZ: Why do you think your market capitalization is so low? We understand you're preclinical in every one of your assets, but just being patent holders and intellectual property owners, shouldn't there be higher valuations?
Murphy: I will not disagree with that. I think there are a number of factors here.
Probably first and foremost is the fact that we are on the OTC Bulletin Board. By virtue of being on the OTC, you do not get that much liquidity, and you don't get analysts' coverage – and that really hurts.
Also by being on the OTC large funds, whether it's retirement funds or large hedge funds, by virtue of their trading rules, they cannot trade companies on the OTC.
I will say, I can safely say that with $20 million financing that we will aggressively look at uplisting either to the Nasdaq or the NYSE. We think it's very important to ultimately uplist so that we can get analysts' coverage.
Obviously from a developmental perspective we want to move the pipeline along so that we can get in the human trials, but from a company financial perspective we definitely want to uplist as effectively as we can.
On a quick footnote, Nemus announced on Tuesday that it had been granted an additional U.S. patent for its "proprietary prodrug of THC, THC-valine-hemisuccinate (THCVHS), as well as other amide-ester forms of cannabinoid-based molecules, for use in the treatment of glaucoma."
More From Benzinga:
Pennsylvania Sen. Daylin Leach Talks Marijuana Legalization: Prohibition Is A Cruel, Heartless Policy
View Comments and Join the Discussion!
Posted-In: Biotech Cannabis News Health Care Financing Management Exclusives Interview Best of Benzinga