Cannabis Industry Has Already Raised Over $730 Million In 2017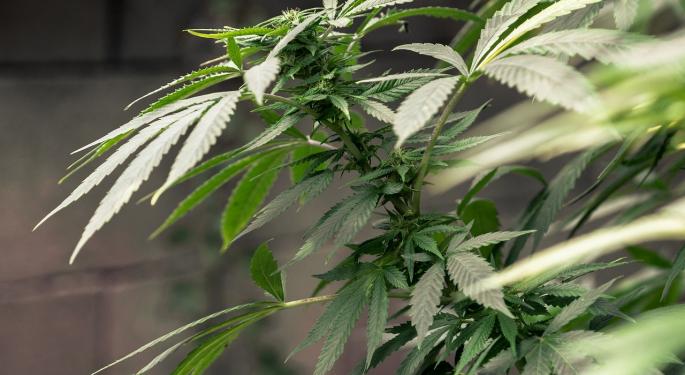 The cannabis industry is growing at an unprecedented pace, showing signs of expansion across the board. In fact, 2017 has seen marijuana-related companies raise more than $733 million in the first four months of the year, Viridian Capital Advisors Vice President Harrison Phillips told Benzinga in a recent chat.
This figure compares to $124 million raised over the first 4 months of 2016. However, the number of deals for the period year-to-year was pretty similar: 123 for 2017 versus 104 for 2016. What this indicates is the size of deals is increasing substantially. Viridian's data also shows there has been a considerable shift from debt raises to equity raises, suggesting increased risk tolerance in the capital markets.
"We tracked over $1.2 billion in capital raised by cannabis-related companies in 2016. A lot of the capital was raised in the second half of the year, around the elections," Phillips explained. "What we have seen so far this year is the opening up of new markets like California and Canada driving investor sentiment and additional capital raises.
Winning Sectors
As per Viridian's data, most of the raises are being done in the cultivation/retail and biotech sub-sectors of the cannabis industry, although investments/M&A and consulting services firms are also gaining traction.
"Biotech companies typically raise large amounts of capital to pursue clinical trials as these undertakings are expensive. However, the potential upside of a successful commercial therapeutic can be substantial," Phillips said. "On the cultivation/retail side, publicly traded LPs [licensed producers] are the ones really raising the money; that's a trend we've been seeing since the third quarter of last year."
What's interesting about this year, the analyst said, is that the biotech sector has been driven by companies other than GW Pharmaceuticals PLC- ADR (NASDAQ: GWPH) raising capital.
"GW Pharmaceuticals helped expand international awareness of the potential for cannabis biotechs. Obviously, Israel has done a lot of research into cannabis-based therapeutics, but GW has been one of the main cannabis-focused biotech firms in the public eye," Phillips said. "So, other firms have come out raising pretty significant amounts of capital to push cannabinoid drug candidates through the clinical trial process. Consequently, we're seeing increased awareness of the potential benefits of cannabis, as well as an increase in investment in companies that are developing these substances."
Institutional Investors
Benzinga asked about institutional investors coming into the cannabis space.
"We are slowly and steadily seeing more and more institutional (or more professional) investor groups getting involved," Phillips said. "However, these are funds dedicated to the cannabis space. None of the really big guys are getting involved on any really significant level; the industry is still pretty small for these groups to invest in it. Having said this, we are seeing more partners at these firms getting involved — VC partners and private equity group partners -investing personally. We've also seen many more family offices getting involved [since] they have the benefit of typically not having to go through such a rigorous diligence process internally to approve an investment as these families typically invest their own capital."
In fact, the recent launch of an ETF provides further evidence that this market has been mainly driven by retail investors, especially in Canada. Nonetheless, institutional investors are getting involved, focusing mostly on the biotech and real estate opportunities.
Consolidation And Venture Capital
Benzinga went on to ask about consolidation in the industry and venture capital. In the past, Viridian analysts said they were seeing various companies making acquisitions or developing their investment arms to bring some additional strategic value to their firms.
In the U.S., consolidation is a bit difficult, due to the illegality of interstate and international cannabis commerce. However, Canadian LPs have been raising a lot of money.
Much of this cash is going to real estate development and facility expansion, Phillips elaborated. Nonetheless, "a significant portion of the capital raised is also going to the strategic opportunities; and some of the LPs are actually investing down in the United States in various markets."
"We've seen some groups invest in medical states to do clinical research here in the U.S. and establish a presence. We've also seen some groups looking to invest in states that are going to be turning on their recreational markets to capture some of that upside," he noted. "These groups may have started in some jurisdiction that they were more familiar or more comfortable with and now they're looking to expand into various other jurisdictions to bring more value to their companies."
In addition, "we're seeing increased activity with regard to venture capital firms in the software and technology side of the industry. This is an ancillary product that has a lot of the characteristics that venture capital firms like typically they can scale well and do not have too much overhead — We're seeing these more familiar sectors as avenues through which these groups are getting increasingly involved in the space," he concluded.
Noteworthy Deals
Finally, Benzinga asked about some especially relevant deals.
"On the real estate side, some of the most interesting deals were the capital raises done by the Canadian LPs. A lot of the recent ones, especially some of the larger dollar raises, are noteworthy," Phillips said, highlighting two recent deals where Emerald Health Therapeutics Inc (CVE: EMH) (OTC: TBQBF) raised C$24.4 million ($17.8 million) and C$2.8 million — $2.04 million.
Another interesting deal seen in recent weeks was that of Aphria Inc (TSE: APH) (OTC: APHQF), which announced it was raising C$100 million ($72.9 million) with the primary goal of funding facility expansion and pursuing strategic opportunities.
"This is the trend we're really seeing with the Canadian LPs: they need to increase their capacity in expectation of the coming recreational market, and they're investing in various strategic opportunities to bring additional value to the firm," Phillips said.
Related Links:
Why Hemp Could Be The Future Of Plastics
Montel Williams Talks About His Cannabis Company And Its Emphasis On Patients
View Comments and Join the Discussion!
Posted-In: Biotech Cannabis Long Ideas News REIT Emerging Markets Financing Offerings Best of Benzinga