Emerging Cannabis Industry Presents Big Opportunities For Investors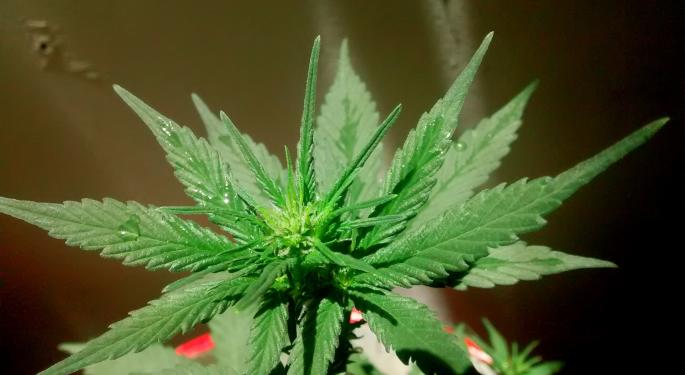 There's no denying enthusiasm surrounding the recent legalization of cannabis is continuing to spread across the country. The industry undoubtedly presents tremendous opportunities for investors.
Legal marijuana sales are projected to reach $20.6 billion by 2020, a significant increase from its current $7.4 billion level.
Uncertainty In Investing
Despite the excitement, many investors are unsure of how they can capitalize on this emerging trend. The end of prohibition of marijuana in the United States has the potential to be very lucrative for investors; however, many investors are hesitant to invest their hard-earned dollars in an industry where considerable uncertainty persists.
While investing in cannabis is nothing new, for years there has been significant gray areas surrounding the legality of profiting off this industry. Given recent legislation in California permitting recreational use, serious players are entering this space. Now that the sale of recreational cannabis is legal in several states, the issue companies face is regulations, or lack thereof, are left to not only the states but the municipalities to choose how they want to handle the sale and distribution of cannabis.
An industry previously only regulated by law enforcement leaves tremendous uncertainty for those looking to get into the industry from an investment perspective. Since there are no set regulatory enforcement agencies in the marijuana industry, there's a lot of uncertainty around the current investments in the market. Organizations like MJIC are stepping up to provide regulatory support and protection for marijuana operators.
MJIC's Seal Of Approval
"The state has provided tremendous power for city officials. While most cities have an infrastructure to issue licenses, it's not that different than what planning commissions and building departments do. They are not set up to monitor what is happening as operations begin. MJIC provides this critical interface between the city and the marijuana operators by providing a comprehensive set of services and products that assure legal, regulatory and financial compliance," explained Sturges Karban, CEO of MJIC.
"We provide a sort of good housekeeping seal of approval that is increasingly familiar to regulators, demonstrating to potential investors that the legal risks involved in operating a cannabis-related business have been preemptively minimized through an ongoing and structured compliance initiative. This generally enhances confidence in the enterprise, highlights management competency and commitment, and drives incremental value through the mitigation of attendant risk."
With over 200 different cannabis companies available for public trading, it is difficult for investors to know which company/companies to invest in. Not to mention, publicly traded companies in the cannabis industry are highly speculative — many are traded over the counter and do not have to file audited financial reports with regulators.
"It's a hyper involving space; you have to look at the competitive landscape pretty closely, it's this proliferation of so many companies. We're at an advent of the industry because there's no interstate commerce you have a very fragmented marketplace," added Karban.
"The cannabis industry has a unique valuation paradigm, the only thing you can look at is the top line. It's still a maturing industry; there's not a lot of traditional fundamental metrics one would use to value a company."
Although arguably the best companies in this space are privately held, like WeedMaps and Privateer, there is still a considerable number of public companies in the cannabis industry. Doing research on such businesses can be challenging given the lack of information currently available to the industry, meaning a "seal of approval" from an organization like MJIC will create more confidence for potential investors.
Related Link: Top Cannabis Industry Experts Share 17 Predictions For Marijuana
Related Link: What A Federal Crackdown Could Mean For The First Public Marijuana REIT
Related Link: Marijuana Stocks Are Having A Great 2017, Despite Sean Spicer's Comments
Posted-In: Biotech Cannabis News Commodities Topics Events Markets Trading Ideas Best of Benzinga
View Comments and Join the Discussion!