Alzheimer's Pipeline In Focus At Oppenheimer Conference As Neurotrope's Trial Results Approach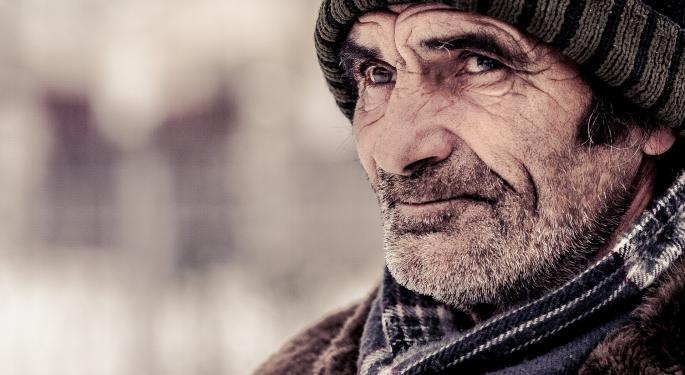 Neurotrope Inc (OTC: NTRP) was caught with other biotechs in a harsh, broad market selloff Tuesday that saw all major indices close lower. The company focuses on developing therapies for neurodegenerative diseases, most notably Alzheimer's Disease.
Neurotrope has this in common with Anavex Life Sciences Corp. (NASDAQ: AVXL), a clinical stage biopharma company, though its stock was still under pressure Wednesday.
Since last year's election, biotech investors have balanced bullish sentiment surrounding a Trump economic agenda perceived as market-friendly with repeated comments by the president on his determination to "bring down drug prices."
Tuesday's session saw an uncomfortable cross-section of these headline risk elements. Confirmation of an FBI investigation into Trump's presidential campaign was followed by increased uncertainty as to the timing of tax reforms and other pro-business initiatives.
These, mingled with Trump comments at a Kentucky rally late Monday suggesting he would tack on drug pricing legislation to the hotly-debated GOP healthcare bill, surely had some biotech bulls reaching for the Xanax.
The Oppenheimer Conference
And so it was that with the macro backdrop just described, Neurotrope CEO Dr. Susanne Wilke and President Dr. Daniel Alkon presented at Oppenheimer's 27th Annual Healthcare Conference Tuesday.
Dr. Wilke ran through a lot of material that Alzheimer's stakeholders, from patients to equities investors, would have heard about the company before.
Neurotrope's unique leading drug candidate, Bryostatin, has a mechanism of action focused on regeneration of brain synopses, which it expects to halt or even reverse the progression of AD even in advanced patients. Bryostatin activates an enzyme called protein kinase C (PKC) epsilon, deficits of which preclinical studies and autopsies have implicated as a cause of Alzheimer's.
The prevailing "amyloid hypothesis" of AD treatment is flawed, in their view, as its focus on the removal of amyloid plaque and tau tangles in the brain has failed in numerous clinical trials.
Bryostatin has been shown in some compassionate-use cases in severely demented patients to return motor skills, increase engagement, return language and vocalizations, among other benefits.
Fortunately for followers of the company yearning for fresh info, the presentation concluded with a Q&A session, highlights of which included:
Dr. Wilke cited encouraging "anecdotal evidence" that patients involved in the Phase 2 trial wanted to continue the trial.
Dr. Alkon said the company, in addition to plans for a Phase 3 trial, intends to do an open-label extension for all patients in Phase 2 "to get the best drug dose."
Neurotrope continues to expect to uplist to the Nasdaq in March, with top-line data from its Phase 2b trial of Bryostatin expected in April of this year.
Coming To The Stage
Anavex will present Wednesday at 2:10 p.m. ET, with a live and subsequently archived webcast available here.
The company's ANAVEX 2-73 has shown 57-week safety and tolerability, and Anavex is both currently developing it in a Phase 2a study, and preparing it for a Phase 2/3, placebo-controlled trial in AD.
ANAVEX 2-73, like Neurotrope's Bryostatin, seeks to halt or reverse the course of AD. It hopes to do so by activating the sigma-1 receptor (a kind of intracellular protein capable of modulating a variety of cellular processes relevant to neurodegeneration) to restore homeostasis by targeting protein misfolding, oxidative stress, and other factors.
Neurotrope Has An Admirer
Benzinga recently had a discussion with Dr. Maria Maccecchini, CEO of QR Pharma, another biopharma company hoping to develop a novel therapy for AD. QR Pharma is currently evaluating its Posiphen, an inhibitor of several disease-causing proteins (not just amyloid and tau), in a Phase 2A proof-of-concept study. Data is expected later this year.
Of Neurotrope, Maccecchini said, "The reason I kind of like Neurotrope is that I actually believe that attacking PCK (protein kinase C) has a chance. But that's a totally different approach, which means it's complimentary."
Dr. Maccecchini expressed doubts about the amyloid hypothesis, saying, "I think it is important to understand that AD is not Abeta and it is not tau and that a broader approach may be the way to go."
Related Link:
Neurotrope: A Company You Never Heard Of Might Have The Biggest Drug Ever In Biotech
Posted-In: Biotech News Health Care Events Top Stories Exclusives Trading Ideas Interview Best of Benzinga
View Comments and Join the Discussion!