Neurotrope: A Company You Never Heard Of Might Have The Biggest Drug Ever In Biotech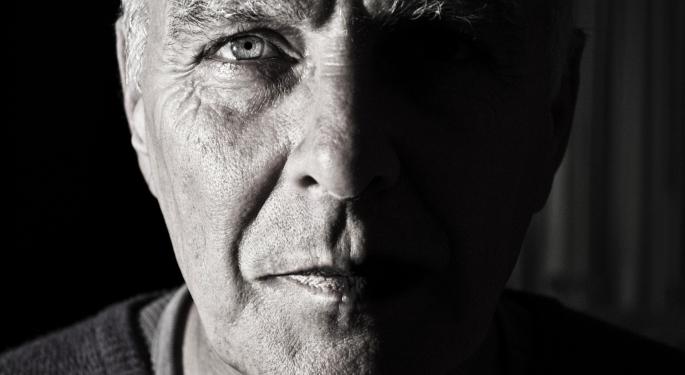 Neurotrope Inc (OTC: NTRP), a clinical stage biopharmaceutical company, may have found through its drug Bryostatin a unique solution to addressing Alzheimer's, one of the last major diseases with no cure.
Benzinga recently spoke with CEO Dr. Susanne Wilke, ahead of her appearance at the Noble Financial Annual Investor Conference on January 30.
The Runaway Disease
"It's a runaway disease at the moment," Dr. Wilke said of Alzheimer's. "Everybody has a story of somebody in their family who has Alzheimer's."
What sets Neurotrope apart from what it calls "the current hypothesis" of treating Alzheimer's by focusing on neuronal loss, is its choice to instead zero in on regenerative methods to replace lost synaptic networks that are consistently associated with the breakdown of human cognitive functions.
"In the current hypothesis," Wilke explained, "we take amyloid plaque and tau tangles - which kind of strangulate the neuron and then you have neuronal loss - as being causative for Alzheimer's. What we are saying is, maybe that is true, but it may not be causative."
Before you get to neuronal loss, you probably will have synaptic loss - the loss of synaptic networks - and that's where Neurotrope's Bryostatin looks to be revolutionary.
Bryostatin, by activating the system to restore these synapses, seeks to actually reverse Alzheimer's.
"This is a kind of a heresy in the field right now," Wilke said.
Looking Beyond Alzheimer's
"We believe that this mechanism is a fundamental mechanism for neurodegenerative diseases in general. We definitely want to go into Fragile X [syndrome], we are thinking about Rett Syndrome. There's other areas. Obviously stroke, Parkinson's, depression may be an area."
Neurotrope's Bryostatin, developed at the Blanchette Rockefeller Neurosciences Institute, has been shown to be effective even in Alzheimer's patients with gene mutations. It's currently being studied in a Phase 2 Clinical Trial with top-line data expected in April, a month after the company expects to list on the NASDAQ.
Market Opportunity
The market may be waking up to Neurotrope's potential, as over-the-counter shares of the company have risen more than 18 percent this week. When asked about the total addressable market for Bryostatin, Neurotrope's Director Of Corporate Communications Jeff Benison put it into perspective.
Last year, Benison recalled, Sam Isaly from OrbiMed spoke at the Bio CEO & Investor Conference, speaking about the biotech market in general.
"His comment was, when an Alzheimer's drug gets approved that actually does something to treat the disease and not the symptoms of the disease, that would be the largest drug in the history of pharmaceuticals," Benison said.
Posted-In: alzheimer's Alzheimer's diseaseBiotech Health Care Top Stories Exclusives Interview General Best of Benzinga
View Comments and Join the Discussion!