Taking A Clinical Road Less Traveled: Neurotrope Hopes To Succeed In Alzheimer's Where Competitors Fail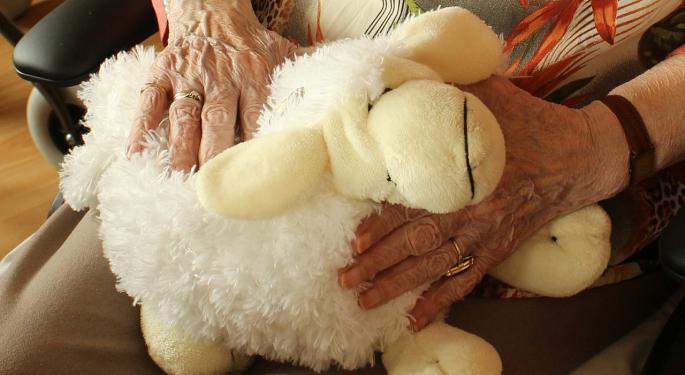 Alzheimer's has proven to be one of the most stubborn diseases known to modern medicine. An incurable, devastating illness that inspires frustration — even anger — against and from the scientific community itself, which has failed to develop new, effective therapies.
Susanne Wilke, Ph.D., CEO of Neurotrope Inc (OTC: NTRP), a biopharmaceutical company with an Alzheimer's treatment called Bryostatin currently in clinical development, described Alzheimer's to Benzinga as "a runaway disease" in a recent interview.
But some have begun to question whether the lack of progress has been due to a herd mentality among researchers, still operating under a ceiling of assumptions that date back to the 1980s as to what causes the disease and how best to treat it.
Eli Lilly's Failure Sends Tremors Through The Space
It seemed like the drug failure heard round the world. Last November, solanezumab, the much-touted Alzheimer's treatment from Eli Lilly And Co (NYSE: LLY), failed to meet its primary endpoint in a late-stage study, with patients not experiencing a significant slowing in cognitive decline.
Competitor Neurotrope even responded to the failure in a press release. Daniel Alkon, M.D., Neurotrope's chief scientific officer, commended Eli Lilly's dedication and persistence in attempting to find a cure. According to Alkon, Eli Lilly's drug failure was one of a succession of failed attempts to treat Alzheimer's by targeting amyloid plaques, an approach that continues to lead to disappointing outcomes.
Eli Lilly shares plunged more than 10 percent on the news, with pharmaceutical peers like Biogen Inc (NASDAQ: BIIB) and Merck & Co., Inc. (NYSE: MRK) falling 3 percent in sympathy before recovering. In the eyes of some, solanezumab's failure cast doubt on the prospects of the entire Alzheimer's treatment space, one that has an almost 100 percent fail rate.
Of Plaque And Proteins
This may be due in part to the fact that virtually all Alzheimer's treatments currently being pursued — including Biogen's aducanumab and Merck's verubecestat — all share the same clinical approach: treat the Alzheimer's pathology of neuronal loss by aiding clearance of amyloid plaque, a kind of toxic sticky buildup that accumulates outside nerve cells, leading to cognitive decline.
"In the current hypothesis," Wilke told Benzinga, "we take amyloid plaque and tau tangles as being causative for Alzheimer's." According to that prevailing theory, that buildup of plaque leads to neuronal loss, which causes Alzheimer's, but Neurotrope believes the existence of neuronal loss may not be causative.
There's data to back up this assertion. A 1991 study of autopsied brains of Alzheimer's patients showed only weak correlation between amyloid plague and tau tangles and cognitive impairment, while showing major correlation of cognitive impairment with synaptic loss.
"There's just enough evidence now from autopsies that there's no tight correlation between patients having amyloid plaque and tau tangles and having Alzheimer's. It's part of the issue, but there must be other forces," Wilke explained.
Neurotrope suggests that other force is synaptic loss. Its drug, Bryostatin, activates an enzyme called protein kinase C (PKC) epsilon, deficits of which preclinical studies and autopsies have implicated as a cause of Alzheimer's. "It's a slightly different approach. It doesn't mean we are discarding the neuron hypothesis, but it is just not as strong."
This approach is connected to another unique belief — that Bryostatin can reverse the effects of the disease rather than simply treating its symptoms. This belief is one reason the company chose to populate its Phase 2 trial with moderate to severe Alzheimer's disease patients, while other companies developing treatments look for patients with only mild cognitive impairment.
Jeff Benison, Neurotrope's director of corporate communications, says this is a significant difference. "Biogen's study is in mild cognitive impairment patients, not in Alzheimer's patients," Benison told Benzinga. "It might work, but what they did is go through 750 people and then they screened them. If they had Alzheimer's they took them out. They ended up with 150 people with mild cognitive impairment and plaque on their brains. Those are the people they have data on. Just because you have mild cognitive impairment doesn't mean you're going to get Alzheimer's."
The Brains Behind Bryostatin
Alkon has spent decades going against the prevailing theory and touting the efficacy of focusing treatment on synaptic loss while the industry-at-large remained focused on the removal of plaque.
Alkon told Benzinga, "We had in the compassion use patients seen rather dramatic improvement in very advanced disease. A patient who was semi-comatose and disoriented became oriented in space and time, started to speak. A patient who couldn't swallow, couldn't speak, couldn't recognize words, couldn't move, reversed all those things during our treatment."
For its Phase 2 trial of Bryostatin the company seeks to measure improvement in the Severe Impairment Battery — a neuropshycological test that measures dementia — as its primary endpoint. The SIB was chosen as the test best accepted by the industry to measure severe disease. Bryostatin, then, looks to not only reduce plaque and tau tangles, but regenerate synapses. "That's what we hope will reverse the disease in Alzheimer's patients," Benison said. "Not only are we stopping the plaque and the tau, but we're also activating these growth factors in the brain to increase the synapses."
Next Steps
More than $200 million dollars has gone into developing the science of PKC epsilon and Bryostatin, which thus far has a clean safety profile and has demonstrated a long efficacy (it only needs to be infused every other week). When the company sought to obtain $8 million in financing it succeeded in raising triple that amount, with a total of $24.5 million raised by the final closing of its private placement, giving an indication of the type of interest Neurotrope has begun to generate.
"We're very hopeful that the drug will give us good data in April, and that cash reserve will allow us to negotiate with pharma partners from a position of strength," said Benison.
With orphan drug designation for Bryostatin in Fragile X syndrome, Alkon described the clinical possibilities for Bryostatin if Phase 2 data meets expectations.
"Our hope is," Alkon said regarding the Alzheimer's indication, "if we get good data, reverse and regenerative data, the FDA will say 'Look, this is something that we can't sit on. Let's accelerate this.'" With fast-track status, Neurotrope would need fewer patients to get Phase 3 qualifications. "In which case, we will do a Phase 3 follow-up. We might do that with our own investor groups, we also potentially might do that in conjunction with a pharma partner. We certainly welcome a pharma partnership. There are many other indications that we think could be significantly benefited by this approach."
Bryostatin's Phase 2 data is expected in April. Treatments from Biogen and Merck are in Phase 3 trials currently, with data from Merck expected by year-end.
Over-the-counter shares of Neurotrope traded up 13.33 percent midday in Monday's session.
Posted-In: AducanumabBiotech Health Care Top Stories Exclusives Movers Interview General Best of Benzinga
View Comments and Join the Discussion!