AcelRx: Replacing Morphine With Department Of Defense Funding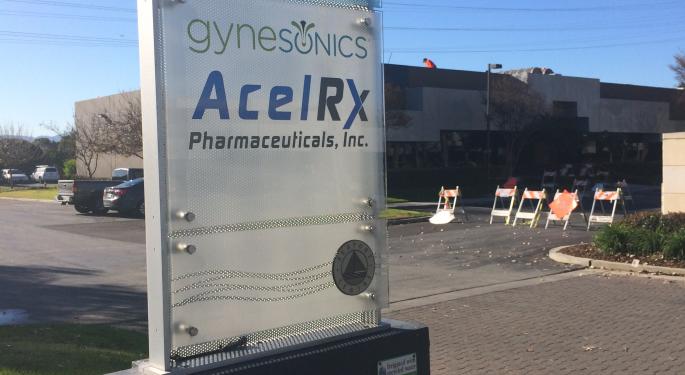 AcelRx Pharmaceuticals Inc (NASDAQ: ACRX) is a micro-cap company focused on the development and commercialization of therapies for the treatment of moderate-to-severe acute pain in medically supervised settings.
Benzinga recently learned that the U.S. Department of Defense (DoD) had funded the development of the company's lead product candidate, ARX-04 — BRANDED DSUVIA.
In order to understand what made the product unique and of particular interest for the DoD, Benzinga spoke with Timothy E. Morris, chief financial officer; and Gina Ford, RPh, vice president of commercial strategy, who explained DSUVIA's potential to replace I.V. morphine.
What's DSUVIA?
DSUVIA is a 30-microgram dose of sublingual Sufentanil presented in a single dose applicator. "The indication [that the FDA will approve] — we believe — will be moderate to severe acute pain in a medically supervised setting," Morris explicated.
"Think about DSUVIA as really a replacement for I.V. [intravenous] morphine or injections of morphine on the battlefield," he added, quickly helping us understand why the DoD was interested in the product. "The Department of Defense [was] looking to replace auto-injectors of morphine on the battlefield."
Related Link: AcelRx Pharmaceuticals Presentation at JAB Burn Symposium Highlights Potential of DSUVIA™ for Use in Burn Victims with Moderate-to-Severe Acute Pain
Getting A DoD Contact
What makes DSUVIA so special to deserve a DoD contract?
"The nature of the molecule lends itself to — I think — better pain management on the battlefield," Morris responded.
Modern soldiers tend to get hurt less frequently but more severely and traumatically than in the past. "They are losing legs and arms; that is a lot of blood loss," the CFO pointed out.
When treating the pain using I.V. morphine these soldiers often go into hypovolemic shock, which means the blood in circulation is not enough to make the heart an effective pump. In turn, this leads to the need of constant morphine injections to sustain pain relief, which can sometimes result in death from respiratory depression.
"The molecule of sublingual Sufentanil is highly lipophilic; it doesn't require as much blood flow," Morris expounded. "It crosses the blood brain barrier fairly quickly, but has a nice predictable duration of effect: about 90 minutes."
"So, the PK [pharmacokinetics] profile of sublingual Sufentanil — we believe — is better than injected morphine. And, I think that's where the Department of Defense got excited about it; so they actually asked us if we could develop it for that specific use," he concluded.
Beyond Military Use
While the DoD contract even includes an order, DSUVIA "won't be a multi-hundred-million-dollar product" in the military setting alone, Morris continued. So, AcelRx needed to find a civilian application.
This is where Gina Ford came in, noticing that the civilian equivalent to the battlefield is the emergency room.
"We think the product can be used in emergency medicine, which is pre-hospital," the CFO commented. "We also think the product could be used in a postoperative setting. We also think it could be used in-hospital for what we call painful conditions; those are folks that are in the hospital for pain not from surgery and/or painful procedures."
"Acute [pain] is really the key point about the product," Ford supplemented.
"Outside of the hospital," Morris went on, "we think it could be used in ambulatory surgery settings, doctors' offices where they are doing procedures now… But, we do want to keep it limited to administration by a healthcare professional in medically supervised settings," he concluded.
Combating The Opioids Epidemic
Finally, Benzinga asked about the role of DSUVIA in combating the opioid epidemic that's shaking up the U.S. – take into account that Sufentanil is a synthetic opioid analgesic drug.
"We understand the opioid epidemic and have equal concerns about the chronic use of opioids," Ford commented. "What we are really touting is this product that is used in a very short term way, in medically supervised settings, that is not available at all for home use. So, you can't go to Walgreens Boots Alliance Inc (NASDAQ: WBA), CVS Health Corp (NYSE: CVS) or Rite Aid Corporation (NYSE: RAD) and pick this product up."
"It's not available via prescription; we won't stock it; we won't be allowed to stock it on retail pharmacy shelves; and it won't be appropriate for a physician to hand DSUVIA to a patient leaving a facility," she ended. "So, I like to call it actually the doctor's opioid, because it is their only sort of treatment option that is only for them and their use in their setting for treatment of acute pain, and not available anywhere else."
Image Credit: By Jeanjung212 (Own work) [CC BY-SA 4.0 (http://creativecommons.org/licenses/by-sa/4.0)], via Wikimedia Commons
View Comments and Join the Discussion!
Posted-In: Biotech News Health Care Politics FDA Exclusives Interview General Best of Benzinga