Hemispherx BioPharma CEO Explains Chronic Fatigue Syndrome And How The Company Is Treating It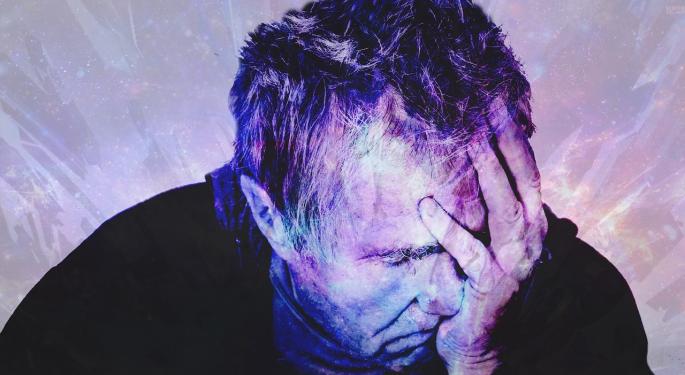 Hemispherx BioPharma, Inc (NYSE: HEB) is a nano-cap biopharmaceutical research and development company that focuses on the treatment of seriously debilitating disorders. Benzinga recently had the chance to speak with CEO Tom Equels, who explained what chronic fatigue syndrome is and how one of the company's drugs is used to treat it.
Not A Fancy Name For Laziness
"Hemispherx is focused on researching different indications for two immunological agents that have multiple indications," Equels said. "So, in a sense, it's basically two drug platforms based upon our two products, Ampligen and Alferon."
"Ampligen is a TLR3 agonist, and what it does is activate one of the basic components of the mammalian immune system, which is a part of the human immune system, and activates both the innate apnd the adaptive aspects of our immune system," the CEO explained. "This helps enhance and modulate the immune response, and it does so in a very well tolerated manner, as demonstrated by the almost 100,00 doses of Ampligen that have been administered in ME/CFS [myalgic encephalomyelitis or chronic fatigue syndrome]."
"In a sense, we were way ahead of the field, because 15 years ago, there wasn't a medical consensus that ME/CFS was a disease," he continued, adding that many physicians used to believe it was a psychosomatic or psychological ailment.
"However, over the past few years, a consensus has been reached in the medical community, as evidenced by the CDC pronouncement, the NIH pronouncement… that this is a disease with a biological disorder and, in a severe form, it's extremely disabling."
Ampligen's Potential In ME/CFS
Ampligen is now late-stage in the new drug application (NDA) process in the United States for the treatment of ME/CFS, and just recently obtained approval in Argentina.
"That's the first approval of any therapy for this disease, anywhere in the world – that we are aware of, and it's a very significant step in the right direction," Equels said.
"ME/CFS is a multi-billion dollar commercial application (…) In the US the people with the disease is estimates by the CDC, I believe, at one million people. We believe that there's probably between 150,000 and 200,000 that have the most severe form of the disease (…) In Japan, ME/CFS is estimated to afflict, in its serious form, about 80,000 people, and there is no therapy. And, remember, these governments are spending billions of dollars already because, in the severe form of the disease, people are disabled, they can't work, there's cash flow out of the social services systems."
"So, the therapy, while somewhat expensive, will have the effect of alleviating the social burden associated with not having a therapy and allowing the people that are responsive to Ampligen to return to having a life with their families and, in many cases, getting back to work and being productive citizens once again."
Other Treatments
While there is still no scientific cure for ME/CFS, products from Roche Holding Ltd. (ADR) (OTC: RHHBY) and Biogen Inc (NASDAQ: BIIB) have also been evaluated as treatments. As stated above, Ampligen remains the only therapy approved in at least one country.
View Comments and Join the Discussion!
Posted-In: Chronic Fatigue Syndrom ME/CFS myalgic encephalomyelitisBiotech Health Care Top Stories Interview General Best of Benzinga