Sensus Healthcare CEO Shares A Look Into Skin Cancer Treatment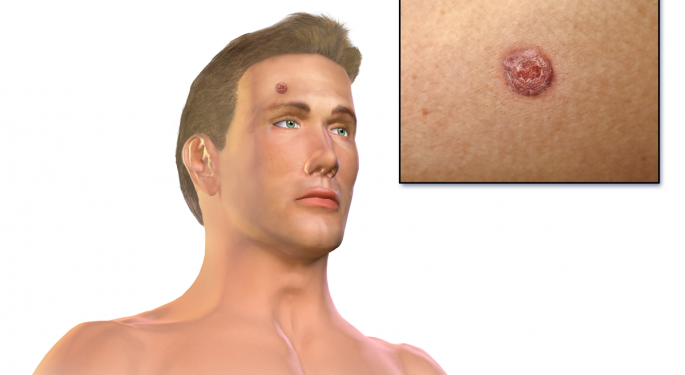 Sensus Healthcare Inc (NASDAQ: SRTS) is micro-cap manufacturer of superficial radiation therapy (SRT) devices for the treatment of skin cancer and keloids, which went public on the Nasdaq exchange in June. Benzinga recently had the chance to chat with the company's CEO Joseph C. Sardano, who shared some insight into the company and its IPO.
What Makes SRT Special
Unlike all other skin cancer treatment products in the market, Sensus' system (SRT) can be used by dermatologists in their offices, without the oversight of radiation oncologists and medical physicists, Sardano began. However, this does not mean that radiation oncologists are not using this machine as well.
In fact, he continued, radiation oncologists tend to agree that "superficial radiation therapy is the best way to treat skin cancer," a condition that affects about 6 million people per year in the United States, at an annual cost of more than $8 billion.
"Other modes of radiation are not the best way to treat skin cancer because of the radiation dose and because of how sensitive the skin is. Our system only penetrates 5 millimeters below the surface of the skin, which makes it perfect for basal cell and squamous cell [carcinoma]," the two most common kinds of skin cancer.
Beyond Skin Cancer
Beyond skin cancer, SRT can be (and is being) used to treat other skin conditions, such as keloids. When asked about Sensus' plans to expand the label of its SRT technology, the chief executive said that one of the potential ailments it could treat is psoriasis.
Every year, 19 million people in the United States are treated for psoriasis. "There is no cure for it, there are [only] remedies that can ease the pain and the discomfort," Sardano explicated. "So, these are things that we are looking into [as physicians already] have used superficial radiation therapy in the past, with much older products that have been abandoned by their manufacturers. So, we think we can bring that back with some development on our side and some cooperation with some of the physicians interested in doing such."
Questioned about the company's pipeline, he added. "We are continually working on other products that use the same technology. We can't talk about it now but, with our IPO, we are trying to increase the speed with which we bring new products to the market. So, we're investing a lot in R&D."
Overseas Expansion
Finally, Benzinga inquired about international expansion.
"Latin America is a big market for skin cancer as well as keloids," Sardano revealed. "We are working closely with Mexico [and] hope to gain access at some point in 2017. We are about half-way through the process with Brazil, [which has] a two-year process to work through."
In addition, Sensus opened up Russia, where they recently got regulatory approval. "However, economically, it's a very tough market these days, so I think it will be a while before we start seeing developments and results from Russia," the chief executive commented.
Not long ago, the company also received approval for Korea, and will ship its first unit soon. Finally, there's China. "We expect, at some point in 2017, to receive regulatory approval for the treatment of keloids," which is a huge market in China, Sardano voiced. "We are working closely with our distribution partner there, Chindex, a wholly-owned subsidiary of Fosun International Limited (HKG:0656), the largest public company in China. We are very pleased with our relationship with them and their distribution of our product throughout the Chinese market."
"We are currently pursuing distribution in India as well," he concluded.
Liked this interview? Now check out our conversation with Viridian Capital Advisors analysts, who explained why they are concerned about the vape sector and shared a look into recent M&A, capital raises and IPOs in the space.
Image Credit: By BruceBlaus (Own work) [CC BY-SA 4.0], via Wikimedia Commons
View Comments and Join the Discussion!
Posted-In: Biotech Long Ideas News Emerging Markets Health Care Markets Movers Trading Ideas Best of Benzinga