Opioid Addiction: What To Do When A Loved One Is Hooked, According To Science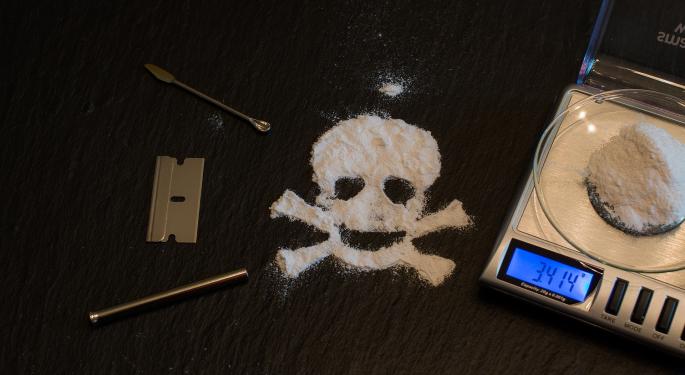 Opioid addiction — ranging from AbbVie Inc (NYSE: ABBV)'s Vicodin and Purdue Pharma's OxyContin to strait-out heroin — has become a very widespread and grave problem in the United States, and people still don't know how to cope with it.
To make things worse, treatment and support groups provide information that does not coincide with what current scientific data suggests.
"There's nothing professional about it [treatment], and it's not evidence-based," addictions specialist Dr. Mark Willenbring explained.
Related Link: Could Chili Peppers Be The Answer To Opioid Reliance For Chronic Pain?
In an article titled "What Science Says To Do If Your Loved One Has An Opioid Addiction," FiveThirtyEight's Maia Szalavitz shared some evidence-based pointers via a guide to help people help their loved ones when in trouble with opioids. "This guide is based on the best research data available in the addictions field right now: systematic reviews, clinical trials of medications and talk therapies, and large collections of real-world data from many countries — all using the highest level of evidence available, based on the standards of evidence-based medicine," she assured.
So, here's how to proceed:
Assess The Issue Accurately: Psychological dependence and full-blown addiction are very different things. "Physiological dependence is the normal response to regular dosages of many medications, whether opioids or others. It also happens with beta blockers for high blood pressure," Dr. Wilson Compton, deputy director of the National Institute on Drug Abuse explicated. However, being an addict implies a "life-threatening compulsive pattern of drug use," Szalavitz added. Younger people are more prone to addiction, same as those with pre-existing mental illnesses or personality disorders.
Be Gentle In Your Intervention: Tough love has proven counterproductive, while a more compassionate and supportive approach (Community Reinforcement and Family Therapy) have proven much more effective. Social and/or legal condemnations are not treatments!
Select Research-Supported Treatment: "Because opioid addiction rarely exists by itself, experts recommend starting any search for treatment with a complete psychiatric evaluation by an independent psychiatrist who is not affiliated with a particular treatment program," Szalavitz expounded.
Keep In Mind Relapse Isn't Failure: In fact, it is more normal for opioid addicts to relapse at least once… So don't give up on them, don't punish them, don't shame them! Just support them in their struggle!
"Although the media tends to present a hopeless picture of opioid addiction, studies suggest that most people eventually recover," Szalavitz concluded. "Families and loved ones can improve the odds for people with addiction by helping motivate them to get treatment; seeking evidence-based care; keeping naloxone on hand; and treating addicted people with the empathy, support and respect they'd offer if they faced any other life-threatening medical problem."
Related Link: FDA Approves New Opioid Addiction Treatment Tech
Some companies that make opioids include:
AbbVie
Purdue Pharma
Abbott Laboratories (NYSE: ABT)
Johnson & Johnson (NYSE: JNJ)
Pfizer Inc. (NYSE: PFE)
Novartis AG (ADR) (NYSE: NVS)
Endo International plc - Ordinary Shares (NASDAQ: ENDP)
Insys Therapeutics Inc (NASDAQ: INSY)
Did you like this article? Could it have been improved? Please email feedback@benzinga.com with the story link to let us know!
Disclosure: Javier Hasse holds no interest in any of the securities or entities mentioned above.
Posted-In: FiveThirtyEight heroinBiotech Health Care Psychology Top Stories Media General Best of Benzinga
View Comments and Join the Discussion!