A Portfolio To Support Cancer Treatments In Time For Prostate Cancer Awareness Month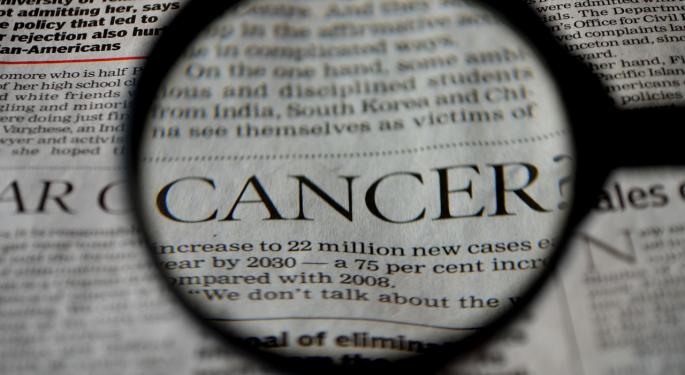 September is Prostate Cancer Awareness Month. In a recent press release, the Men's Health Network explained, "Prostate cancer is the most common cancer in males with one in seven men diagnosed in their lifetime, and an even higher incident rate among certain populations including African American men."
In fact, there are almost 2.8 million men that suffer from prostate cancer in the United States alone. Of those men, roughly 30,000 will die (or have already passed) this year.
The aim of the Prostate Cancer Awareness Month and the organizations and associations behind it is to encourage men to discuss the issue with their personal physicians and work toward early detection.
So, below is a portfolio containing companies that are somehow related to cancer treatment.
Battling Cancer
With cancer in general being the second-leading cause of death in the United States, there's a need for constant progress in its treatment. In fact, people at Motif Investing explain, "Biotech companies are redefining cancer treatments by developing targeted therapies and genetic analysis. Similarly, pharmaceutical and medical device firms have sharpened their focus on early cancer diagnosis and treatments.
"Among the Food and Drug Administration's 39 new products approved in 2012 (a 16-year high), cancer and rare-disease treatments led the pack. Clearly, the war on this disease continues to rage on."
Related Link: The Coming Drug-Patent Cliff Is Pushing This Portfolio Up
To support these developments, the people at the site constructed a portfolio including U.S.-listed stocks and ADRs of "pharmaceutical, biotechnology, medical devices and diagnostic companies providing cancer treatment drugs and solutions."
Performance And Allocation
Over the past year, this Battling Cancer portfolio has comfortably outperformed the market, delivering a 16.9 percent return, despite the 5.3 percent loss registered over the past month.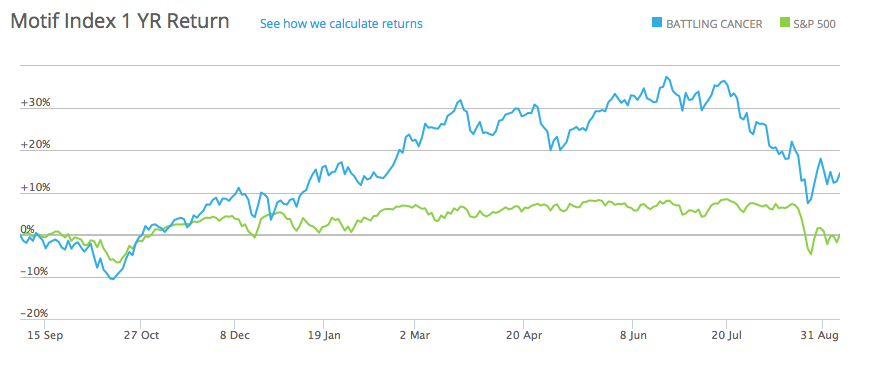 Source: Motif Investing
The motif allocates 31.1 percent of its assets to early-stage biotech companies, 26 percent to medical devices and diagnostics stocks, 22 percent to mature biotech businesses and 20.8 percent to pharmaceutical stocks – Novartis, specifically.
In terms of individual stocks, allocation goes as follows:
Check out the full portfolio here.
Image Credit: Public Domain
Posted-In: cancer Motif InvestingBiotech Long Ideas Health Care Top Stories Trading Ideas General Best of Benzinga
View Comments and Join the Discussion!