Exclusive: Cytori Therapeutics CEO Talks About Two Major Announcements In Two Days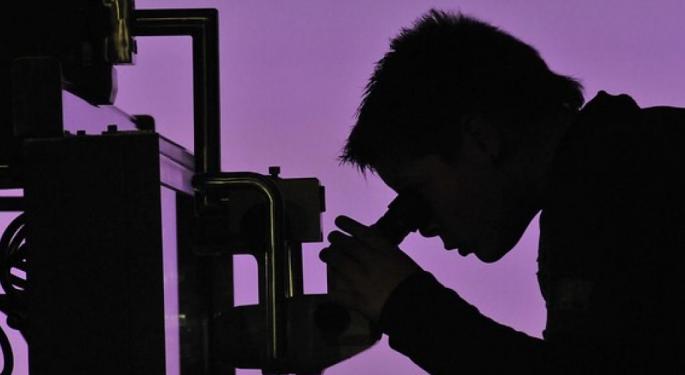 Cell therapy company, Cytori Therapeutics Inc (NASDAQ: CYTX) has had a lot to celebrate recently.
Cytori CEO Dr. Marc Hedrick spoke with Benzinga about the news and about the small San Diego medical technology company he heads.
Related: Cytori Receives Positive European Opinion on Orphan Drug Status
Two Announcements
On Monday, Hedrick said, Cytori and its exclusive licensee, Lorem Vascular, were granted regulatory clearance for distribution and sale of the Cytori Celution System by the State Food and Drug Administration of the People's Republic of China (CFDA).
Tuesday brought news that the European Commission had granted orphan drug status to Cytori's ECCS-50 cellular therapeutic, used to treat the symptoms of the rare disease scleroderma.
Treatment In About An Hour
The key to Cytori's success, Hedrick said, is a medical device (Cytori Celution System) about the size of a washing machine.
"We developed a cell therapy manufacturing setup," he said, "which is completely automated with a graphical user interface and all sorts of different electromechanical and biologic technologies. You put a little bit of the patient's fat tissue in one side, push a button and get a syringe of pharmaceutical grade cells to treat the patient out the other end - all in about an hour."
Most Advanced
Cytori, which has been around for more than a decade, is probably "the single most advanced cell therapy company" according to Hedrick.
He based this on the number of patients treated, the amount of capital invested and the regulatory approval the company has been able to garner.
Two Indications
Currently Cytori's cell therapy targets two indications.
"One," Hedrick said, "is an orphan indication for an autoimmune disease, predominantly in women, called scleroderma. The other one is osteoarthritis."
"We're in a Phase II trial in the U.S. for osteoarthritis," he noted, "and we'll be starting a Phase III trial in the U.S. for scleroderma in the next two or three months."
"We have other trials that are ongoing in Japan and in Europe."
Regulated As A Device
According to Hedrick, one unique aspect of Cytori's therapy comes from its technology.
"Even though we deliver a drug -- the patient's own cells -- we are regulated as a device," he said. "We get certain advantages because the drug part is captured in the device regulatory path."
Potential
In addition to the scleroderma and osteoarthritis therapies currently in clinical trials, Hedrick sees potential for treatment of a number of other diseases through use of the Celution System.
"One," he said, "is heart disease." In fact, according to Hedrick there have been Phase II as well as Phase I and II trials in the U.S. and Europe respectively.
In addition, the Japanese government, through Cytori, has funded research into treatment of urinary incontinence.
Entry into China provides additional opportunities to expand both quantity and type of treatment, Hedrick said.
The Big One And More
Cytori's cell therapy can also be used to reverse the effects of both chronic wounds and radiation burns, Hedrick said.
"We have a contract with the U.S. government," he said, "to provide for placement of devices around the country in case of a nuclear explosion."
In addition, Hedrick noted, Cytori's treatments are also potentially effective against diabetic ulcers and breast cancer treatment radiation wounds.
A Billion Dollar Bottom Line
Although the medical landscape seemed full of potential, Hedrick has continued to keep the primary focus of the company on its U.S. clinical trials on the orphan disease, scleroderma.
"If you look at what we are doing as a whole," he said, "and take that one thing that can really transform the company from an investor's perspective and from a patient's perspective that's the one thing because if that trial is successful that's a billion dollar market right there."
At the time of this writing, Jim Probasco had no position in any mentioned securities.
Image credit: Public Domain
View Comments and Join the Discussion!
Posted-In: BenzingaBiotech News Management Top Stories Exclusives Interview General Best of Benzinga