Fintech Sandbox Supports Its 100th Startup: 'Data Is The Lifeblood' For Entrepreneurs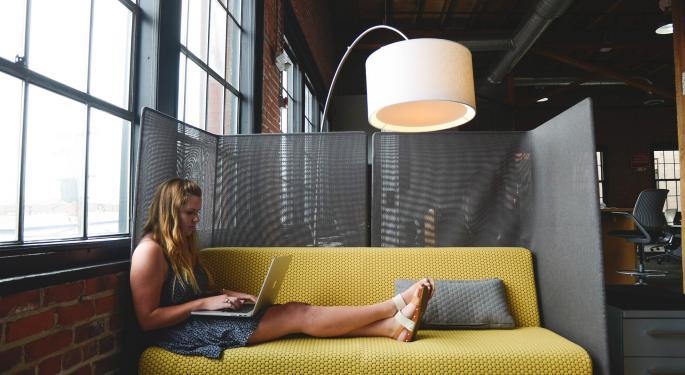 Michelle Bonat sensed a new market ethos.
"The way people are investing fundamentally has changed," Bonat told Benzinga. "Investors want to retire and make the world a better place."
In those disparate interests, she saw an opportunity, and soon enough, Data Simply was born. Now, Bonat's fintech company uses machine intelligence to mine and analyze semantic documents to create actionable signals and automate trades around environmental, social and governance values.
But it didn't become functional immediately or independently. The Silicon Valley startup joined the Fintech Sandbox shortly after its 2014 founding.
The Fintech Sandbox
Fintech Sandbox is a Boston-based nonprofit that supports startups by breaking down the biggest barriers to entry in financial services: the economical costs and access to quality data.
"That data is the lifeblood, and it's incredibly valuable to these entrepreneurs in building out, testing and proving that whatever product they're developing is market ready," Tatiana Urban, head of strategy and marketing at Fintech Sandbox, told Benzinga. "We are the access point for input and the entire hub for that."
Related Link: Man Or Machine? The Right Research Platform Will Use Both To Predict Markets
Through a free, six-month program, Fintech Sandbox provides a platform for product launching and free access to data, experts and instructional resources.
"We most benefited initially from the data access and then subsequently from being part of the community for connecting with potential partners and customers," Bonat said. "For the data access, we jumped right in and were able to experiment with data sets from nearly a dozen data vendors that we worked through as quickly as possible to learn what we needed, what was possible and what we needed to do long-term. As we built our solution out and got some visibility, we were able to connect with the community."
That community includes 100 fintechs — a milestone struck this January — and a number of well-established financial and data institutions.
Fintech Sandbox leverages the expertise and resources of 33 data partners and a group of sponsors including Fidelity Investments, F-Prime Capital, Thomson Reuters Corp (NYSE: TRI), Amazon.com, Inc. (NASDAQ: AMZN) Web Services, Intel Corporation (NASDAQ: INTC), Franklin Resources, Inc. (NYSE: BEN), State Street Corp (NYSE: STT) and Goodwin Procter.
An Industry Win-Win
The mentorships and customer-adviser relationships are critical to startups in that they enhance knowledge about targeted clients and markets and provide potential platforms for beta testing, feedback and quality "proofs of concept" with established financial institutions.
But the startups aren't the only ones that benefit. Sponsoring financial institutions and data providers get priority relationships with emerging fintech leaders and access to innovation.
"This is key from a product development perspective because it's important for the growth of the product, but it's also key from the sponsoring institution perspective because they get great insight into what sort of new technologies are being built, how technology is being leveraged, and they also have the ability to test their expertise and put it to work outside of their daily experience within the institution," Urban said.
And the industry benefits build on themselves. Fintech Sandbox recycles the resources it helps produce by requiring alumni to give back to the community through non-proprietary code or application programming interfaces; instructive content in the form of white papers or infographics; and community engagement. The mentees become the mentors.
"We grew our company and were the first startup in the program to come back and become data partners," Bonat said.
A Diverse Community
Fintech Sandbox began accepting early-stage startups in 2015 and recently welcomed its 100th participant — a business-to-business blockchain-based company focusing on derivative trading.
"We have early data organizations who have proved out the model for us and have seen incredible growth and transformation in our program throughout the course of those three years," Urban said.
Participants generally join the program in the friends-and-family or seed stages of funding with existing alpha products and engineering teams to build on.
"If a startup is later stage, between series A and series C, they tend to have the resources and funding to pay for the data themselves, so it's less of an incentive for the data partner to work with them," Urban said. "If they're too early and don't have an alpha product, they have nothing to focus the data into to create the inputs to test and build out their products."
Related Link: Wealthfront's Head Of Design Offers Her 2018 Fintech Predictions
Room For Everyone
The fintech community is abundant and expanding, but Urban says there's enough sand for everyone in the box.
"This industry is vast, it's massive, and it has many diverse complexities to it when it comes to the products and services and technologies it uses," Urban said, citing about $100 trillion in daily transactions in the financial services industry. "There is an extensive amount of opportunity there."
Fintech startups are differentiated by the problems and clients they target, which tend to shape their solutions. At Fintech Sandbox, between 65 and 75 percent are business-to-business facing, while the rest are business to consumer. Most are capital-market focused, primarily because the available data emphasizes fundamentals and market data.
As is such, the Sandbox cohort doesn't well reflect the financial industry's explosive interest in blockchain.
"Because blockchain is a core in open source technology for the digital age, it's basically creating its own data and the data tends to be more specific on whatever industry or sector it's focused on," Urban said.
Benzinga is a data partner of Fintech Sandbox. For more information about Benzinga's involvement in the fintech community, click here.
To check out companies like these for yourself, grab a ticket to the Benzinga Global Fintech Awards May 15-16 in New York.
View Comments and Join the Discussion!
Posted-In: Data SimplyFintech Education Top Stories Startups Exclusives Interview General Best of Benzinga