Wealthfront's Head Of Design Offers Her 2018 Fintech Predictions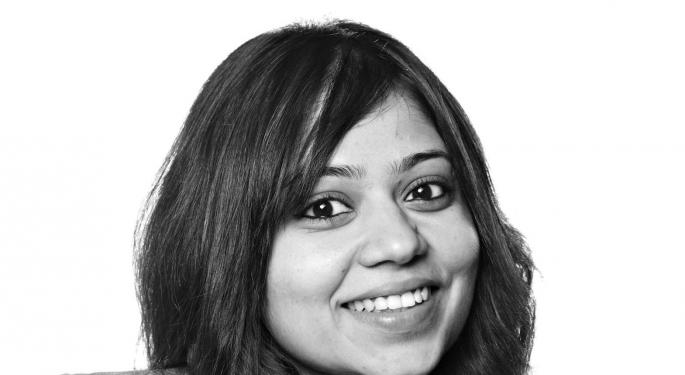 Benzinga is proud to introduce the Benzinga Women's Wealth Forum, a space where women can learn how to empower themselves through financial technology and be inspired by the stories of powerful women in finance.
Ahead of the March 21 event, we're highlighting the stories of some of the leading women in the financial services industry.
Our next installment is an interview with Apeksha Garga, head of design at Wealthfront.
What trends and ideas do you think will dominate the fintech discourse in 2018?
Software-only versus hybrid solutions
We think there's room for both in the near term. A common misconception in the financial services industry is that Wealthfront is trying to take clients away from financial advisors when, in fact, we aren't. There are two large consumer groups that need to be served who have very different goals and preferences. The baby boomer audience, who the traditional advisory firms serve, don't want a fully automated service like Wealthfront. They like talking to people, thus the rise of the low cost hybrid model among these firms. Wealthfront clients on the other hand quite literally tell us 'we pay you not to talk to us.' They want to run their finances the way the run everything else in their lives -- from their phones. Yet, no one else is automating financial services the way Wealthfront is. As such, in 2018 you're going to see Wealthfront continue to expand its market share of people 45 or younger and take the lead in this market.
Digital assistant
The uprise of the AI powered digital assistant is shifting what millennials expect from technology: on-demand information, instant delivery, automated services and other forms of convenience to manage everyday work and life. Millennials will have similar expectations of a modern fintech product to be at their service anytime, anywhere. All form of mobile and ubiquitous digital platforms will dominate in-order to seamlessly blend into the rhythm of the everyday life of consumers; to serve them insights, advice or decisions timely and contextually.
What surprised you the most in the fintech industry in 2017?
Financial software is usually designed as analytical tools and information is presented as data that should be rationally digested. Last year, we tried something unconventional and positioned our brand and product around the emotional drivers that motivate people to save, invest and plan for the long-term. We decided to stay away from absolute information in-product, and instead encourage exploration and foster curiosity.
We were taken aback by the extremely positive emotional response we received after we implemented these changes. Our savvy young adult clients want to have a relationship with a digital advisor, and would like to see this grow into a a long-term relationship. This was a big pleasant surprise and reinforced our working hypothesis. Investing in design and technology is a key imperative.
Successful fintech companies understand that user experience plays a critical role in the success of clients and the business. Our continued investment in elevating product quality and brand experience with the intent to build a long, trustful relationship with our clients, has had a concrete impact on our growth. Fintech companies will have to deliver on consumer technology expectations, and NOT the norms of the traditional financial industry. Successful fintech companies like Stripe, Square and Wealthfront understand this well.
Does fintech open up new financial opportunities for women? If so, how?
A third of American women are breadwinners for their families and control $14 trillion of personal wealth, but many still defer to their male counterparts on matters such as investing and long term planning. Why is that? We are plagued by centuries old societal norms where women weren't included in money matters. In addition, the traditional financial industry is a male dominated culture with aggressive, untrustworthy men in suits who are hustling to sell you more. Even worse is an invitation to their stuffy offices for a meeting, where you have uncomfortable conversations about very personal and emotional matters around money. Many of us would find that situation disconcerting, for a variety of reasons.
Digital solutions have a lower barrier to entry and create a level playing field. Women are smart, curious and responsible, but finance can be intimidating for anyone. Digital products offer a safe space to explore, learn, ask questions and feel like you're a part of a bigger community that shares your struggle and aspirations. Companies that will spend time deeply understanding the goals, aspirations and career paths of women and are intentional about creating more inclusive experiences will be able unlock this tremendous opportunity to help this large population of young women who are currently disengaged.
What about your company makes you excited to go to work?
In the Maslow's hierarchy of needs, I would consider access to sophisticated financial advice at the base of the pyramid. It's core to human existence. It also allows individuals to secure their ambitions, offers freedom for their imagination and enables them live a life that may also serve others. The future we imagine at Wealthfront should enable this. I am in meetings everyday that remind me of our commitment to build this future. It's powerful and deeply inspires me to do my best work.
View Comments and Join the Discussion!
Posted-In: Apeksha Garga Benzinga Women's Wealth Forum WealthfrontFintech Best of Benzinga