Nvidia Invests In Bay Area Artificial Intelligence Startup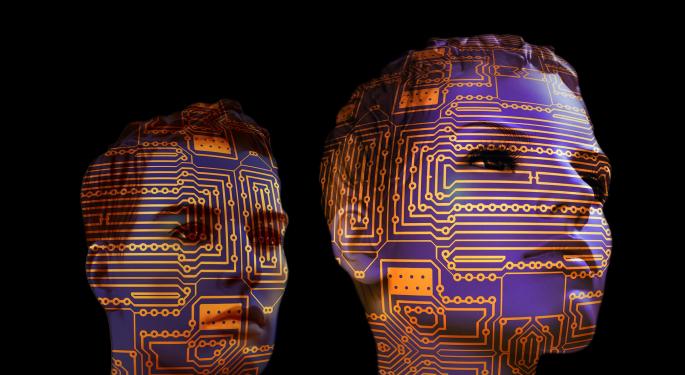 H2O.ai, an enterprise artificial intelligence startup, announced Thursday the completion of a $40 million funding round led by graphics processor NVIDIA Corporation (NASDAQ: NVDA) and Wells Fargo & Co (NYSE: WFC).
The Mountain View, California-based company has raised a total of $75 million to date, according to the announcement.
The new funding will be used to "further democratize advanced machine learning and for global expansion and innovation of Driverless AI, an automated machine learning and pipelining platform that uses 'AI to do AI.'"
Driverless AI "automates AI for non-technical users and introduces visualization and interpretability features that explain the data modeling results in plain English, thus fostering further adoption and trust in artificial intelligence," the company said.
For Nvidia's DGX systems, Driverless AI software has modeled data up to 30 times faster than traditional CPUs, according to H2O.ai.
Other participants in the Series C funding round were New York Life, Crane Venture Partners, Nexus Venture Partners and Transamerica Ventures, according to H2O.ai.
Advancing Data Science
H2O.ai cofounded the GPU Open Analytics Initiative with Nvidia in order to create an ecosystem for the advancement of data science, and launched H2O4GPU, a "collection of the fastest GPU algorithms on the market," according to H2O.ai.
"AI is eating both hardware and software," Sri Ambati, H2O.ai cofounder and CEO, said in Thursday's announcement.
"Billions of devices are generating unprecedented amounts of data, which truly calls for distributed machine learning that is ubiquitous and fast. Our focus on automating machine learning makes it easily accessible to large enterprises," Ambati said.
"Our maker culture fosters deep trust and teamwork with our customers, and our partnerships with vendors across industry verticals bring significant value and growth to our community."
The CEO said it's "quite supportive and encouraging" to see business partners such as Nvidia lead a funding round for the startup.
Sweeping The Landscape
Jeff Herbst, Nvidia's vice president of business development, said AI is "sweeping" across the technology landscape.
"H2O.ai is exceptionally well-positioned in this field as it pursues its mission to become the world's leading data science platform for the financial services industry and beyond. Its use of GPU-accelerated AI provides powerful tools for customers, and we look forward to continuing our collaboration with them."
H2O's community conference, H20 World, is Dec. 4-5 at the Computer History Museum in Mountain View.
Related Links:
Why Nvidia Will Play An 'Integral' Role In the Future Of Tech
These Bay Area Fintech Companies Are Leading The Artificial Intelligence Fintech Revolution
Posted-In: artificial intelligence H20.ai machine learningFintech News Contracts Startups Tech Best of Benzinga
View Comments and Join the Discussion!