What AI And Autonomous Driving Mean For Nvidia Investors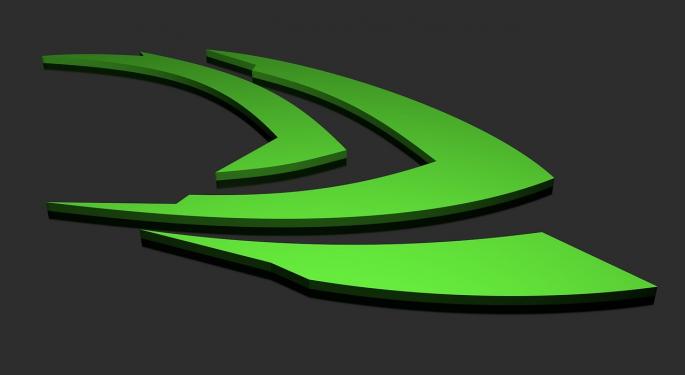 Nvidia Corporation (NASDAQ: NVDA) stock jumped 3.2 percent on Tuesday after the company issued two press releases related to Nvidia's role in two of the highest-growth technology fields in the world — artificial intelligence and autonomous vehicles.
First, Nvidia announced that Deutsche Post DHL Group and ZF will be launching a test fleet of autonomous delivery trucks equipped with the ZF ProAI self-driving system, which is based on NVIDIA DRIVE PX technology. DPDHL already utilizes the NVIDIA DGX-1 AI supercomputer in its data centers.
In a separate release, Nvidia announced the release of Pegasus, the world's first AI computer designed specifically to control autonomous taxis. Pegasus is capable of managing the workload of a Level 5 driverless vehicle and delivering over 320 trillion operations per second.
Supercomputing's Role In AV Technology
Nvidia has secured more than 200 partnerships with auto companies around the world in an effort to gain supercomputing market share in the driverless auto era. Driverless test vehicles are equipped with as many as 16 cameras, six light detection and ranging devices and a handful of other sensors. Self-driving cars require real-time processing of massive amounts of sensory data, and the capacity to handle that data means the machines need to be able to replicate the type of quick decision-making processes that human drivers do.
Related Link: What Is Machine Learning? Deep Learning? Here's Your AI Glossary
In addition to the massive amounts of data and speed required of these AV systems, they also need to be as small, light and inexpensive as possible. Nvidia isn't the only chipmaker pushing hard for market share in the AV market. Rival Intel Corporation (NASDAQ: INTC) has also made driverless vehicle technology a priority.
Nvidia's Auto Tech
Nvidia has a number of auto products available or in development, including the following technologies:
NVIDIA DRIVE PX, the AI computer that enables automakers to scale from a single processor capable of delivering AutoCruise capabilities to a combination of multiple processors capable of handling the processing loads of fully autonomous robotaxis.
NVIDIA DGX-1, a deep learning system that Nvidia says is an essential part of effectively integrating AI technology into a business or product.
NVIDIA DRIVE IX, an AI software assistant that coupes with DRIVE PX to leverage the power of sensor data.
HD mapping systems, a critical part of the data collection process for companies developing self-driving cars.
Advanced driver assistance systems, the type of classification technology that can differentiate a police car from a taxi, an ambulance from a delivery truck or a parked car from a moving one. These systems also aid in identifying pedestrians and cyclists.
A Major Opportunity
There is certainly plenty of money at stake in the driverless vehicle market. HIS Automotive estimates that there may be 21 million self-driving cars on the road by 2035. This shift to AVs could provide $1 trillion in social and consumer benefits as well. Research and Markets estimates that the autonomous vehicle market revenue will grow at a compound annual rate of nearly 40 percent over the next decade, reaching $126.8 billion by 2027.
Related Link: AMD Vs. Cypress Vs. Cavium: Which Semi Has Biggest Potential Upside
View Comments and Join the Discussion!
Posted-In: artificial intelligence autonomous vehicles Deutsche Post DHL GroupNews Education Travel Tech General Best of Benzinga