From App Store To Financing In 10 Minutes: AutoGravity Is Fintech's Answer To Car Shopping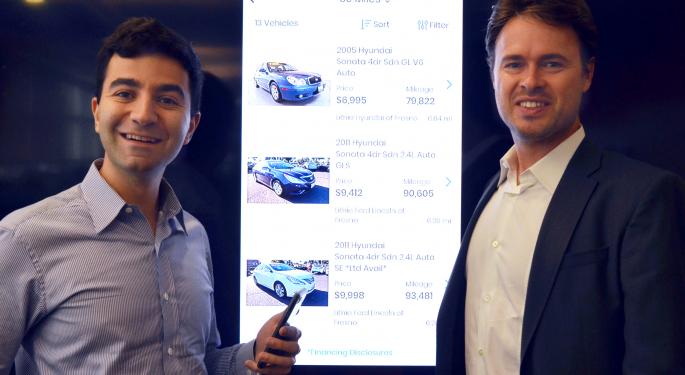 AutoGravity, a fintech platform for car shopping, has been nationally available for less than a year. The app's been downloaded more than 750,000 times and processed more than $1 billion in financing requests.
With the announcement last month that the Irvine, California-based startup has integrated new and used dealership inventories into its platform, AutoGravity now allows users to select, finance and locate their next vehicle on a smartphone. The app is available for both Apple Inc. (NASDAQ: AAPL) iOS devices and Alphabet Inc (NASDAQ: GOOGL)'s Android devices. The app's momentum is building: 100,000 of its downloads came in the month of August alone.
In its short existence, AutoGravity has had to field state-by-state regulations on the banking and automotive sectors. AutoGravity is now available in 49 states after kicking off with a soft launch in California.
"AutoGravity came out of this idea that purchasing a car should be something you can do from the comfort of your own home," chief technology officer Martin Prescher said during a visit to the Benzinga newsroom.
Users can complete the steps in AutoGravity's app in as little as 10 minutes.
"The key to delivering an outstanding consumer experience when it comes to buying a car is giving you realistic options," Prescher said.
CMO: AutoGravity Is Sector's 'Digital Glue'
Of the 20 largest automotive lenders, AutoGravity has some form of an agreement with 19, said chief marketing officer Serge Vartanov.
While AutoGravity doesn't disclose its overall lender portfolio, it has previously announced partnerships with Mercedes-Benz Financial Services and Hyundai Capital and a $30 million investment from Volkswagen and Daimler Financial Services.
For used cars, AutoGravity partnered with Black Book for valuations.
After entering their information — which can be sped up by scanning the barcode on the back of a driver's license with a smartphone — and choosing a vehicle, AutoGravity users receive offers from four lenders, complete with a monthly payment amount.
"These are the same banks the dealer works with," Varnatov said. "Instead of spending hours in the financial office, now it's down to minutes."
Varnatov calls AutoGravity the "digital glue" that binds automakers, dealers and lenders together. Half of AutoGravity's staff of 90 is developers.
"Our philosophy is really powerful innovation is fundamentally simple," he said.
Data Standardization In A Legacy Business
Vehicle inventory is foundational piece of the AutoGravity app, Prescher said.
"The consumer wants to go to the dealership and find the actual car they were looking for and then purchase that car with the financing option we connected that consumer with," Prescher said. "Adding inventory for us is … a very natural progression."
While there are existing data feeds in the automotive industry for inventory, AutoGravity had to build some of the architecture needed to make it possible to integrate the vehicle data into the app, Prescher said.
"The challenge that needs to be solved in the industry is data standardization," he said.
Related Links:
Online Auto Retailer Vroom Partners With Detroit's Rock Connections
MadDog Technology, A Fintech Incubator In The Heart Of The Rust Belt, Invests Millions In Cloud Platforms
________
Image Credit: AutoGravity Chief Marketing Officer Serge Varnatov, left, and Chief Technology Officer Martin Prescher with an inventory listing from the app. Photo by Dustin Blitchok.
Posted-In: AutoGravity daimlerFintech Travel Exclusives Tech Interview General Best of Benzinga
View Comments and Join the Discussion!