Finding Stocks That Will Survive The Market's Most Volatile Month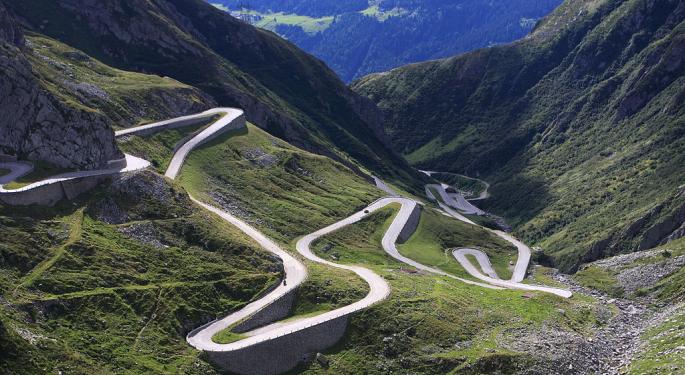 As most traders know, September has historically been the worst month for the stock market by a wide margin. There are a lot of potential reasons behind this, the main one being that traders returning from summer vacation rapidly pour volume back into the market. The best way to exercise due caution in this most volatile of months is to do your research.
One of the most consistently reliable and versatile ways of conducting research is through the use of a stock screener. Altering your screener strategy based on timely and relevant criteria can help weed out the most likely stocks to flame-out as the market exits the breezy summer months and braces for Autumn.
Turning to a few of the widgets on the stock research platform FinanceBoards, we can pair some of our results from the site's Stock Screener widget with a few other helpful tools to discover stocks and portfolio strategies that have the best chance of making this September as benign as possible.
One of the most intuitive approaches to hedging a position in the face of potential price upset is to look to how reactive a stock is or might be in the coming weeks. To do this, we can use the screener widget to search through those stocks with the highest implied volatility for the rest of the month on into October.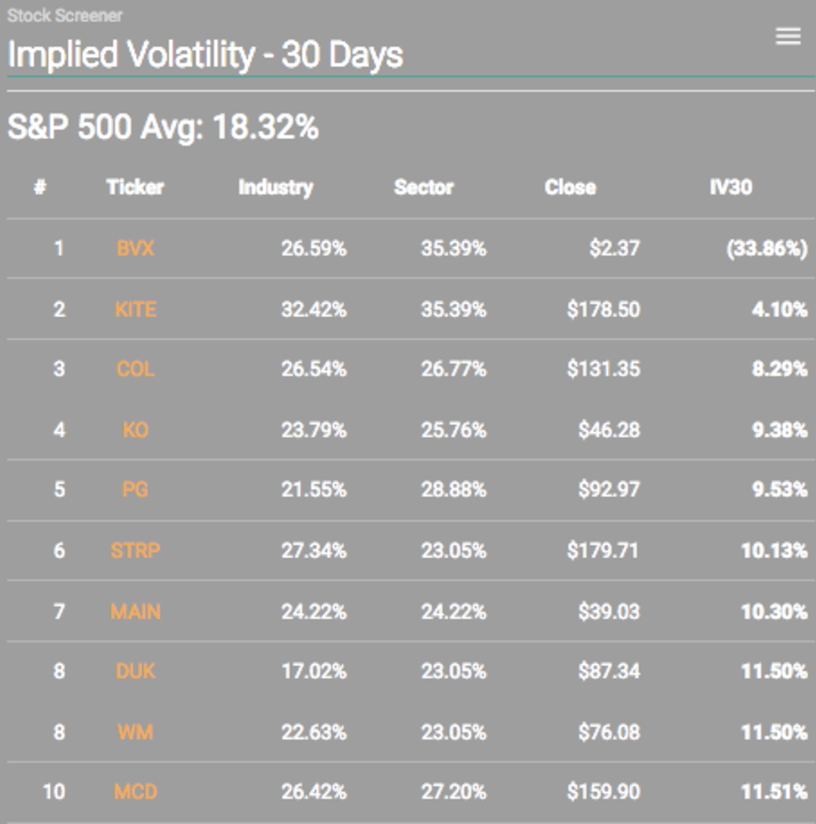 The screener widget provides the top ten stocks with the least potential for sudden changes in based on price and options trends. Additionally, you can get a broad sense of each stock's comparative performance in the desired criteria compared to sector and industry averages.
With this list, we can investigate some the current volatility trends within the listed stocks by hopping into the volatility indicators widget. Let's take a look at number five, Procter & Gamble Co (NYSE: PG), one of the traditional "consumer staples industry" safety stocks.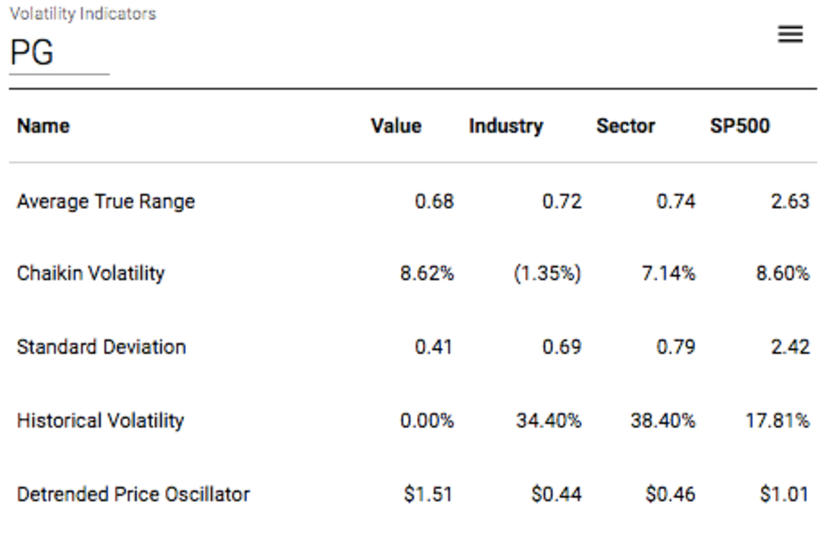 As you can see, by most of the indicators provided aside from the Chaikin Volatility measure, Procter and Gamble comes in below the average volatility throughout its classifications and the market at large. However, as shown by the Detrended Price Oscillator, recent intraday price changes have actually been fairly large, which might indicate other traders are also looking to safety stocks at the moment.
This FinanceBoards' widget is just one of tools you can use to maintain stability in your portfolio during this historically volatile month.
Photo credit: Wikimedia Commons
FinanceBoards is an editorial partner of Benzinga
View Comments and Join the Discussion!
Posted-In: FinanceBoards WooTraderFintech Entrepreneurship Topics Top Stories Startups General