Fintech Masters Unite At BZ Awards To Launch Retail Investment Technology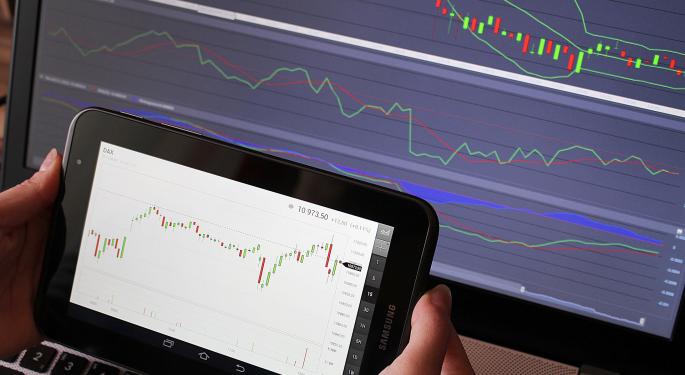 What do you get when you cross Michael Lamothe's ChartYourTrade.com, Leav Graves' Option Samurai and the Benzinga Global Fintech Awards?
Revolutionary stock technology.
"We actually developed our scanner, Chart Your Trade MRI, in part because of the Benzinga Fintech Awards," Lamothe told Benzinga.
Two years ago, Lamothe and Graves brought their respective ventures to the competition. They got to talking, shared a few their mechanisms and soon realized their specialties were complementary. Graves offered to automate a portion of Lamothe's three-year-old processes, and half a year later, Chart Your Trade MRI was born.
Chart Your Trade MRI
The stock analysis app allows retail investors to quickly scan growth stocks and glean key insights into the overall health of the market.
The technology runs eight scans over 55 fundamental and technical criteria, and users can then overlay the profile of a growth stock and filter by a chosen percentage pass rate.
Before collaborating with Graves, Lamothe's process cost $1,500 annually and three hours a week of manual scans and calculation. Now, the technique is fully automated, saving both time and money.
Related Links: You Might Not Want To Get Too Attached To The Term 'Fintech'
Time Is Money
By day, Lamothe is a fund manager for a research institution and handles research grants, philanthropy and research and development funds. By night, he's a family man. He knows the struggle of infusing that busy lifestyle with trading, and he's hoping to simplify the process for others.
"The product is targeting the retail investor who works a nine-to-five job, who doesn't have enough hours in a day to be in front of a computer all day, because that's who I am," Lamothe said. "I'm not a professional trader, I have a full-time job, I'm not even doing Chart Your Trade full-time yet. I want to show people you can do it successfully, and if you do do it, it can be life-changing."
The latest technological updates, combined with educational tools, webinars and analytical research from Adam Sarhan, allow investors like Lamothe to trade efficiently.
"The goal is to empower individuals to take financial control over their lives and to make the stock market accessible to them," he said. "A lot of people feel that the stock market is mystifying, that they should turn their money over to somebody else to manage for them, that they don't have enough time. There are so many roadblocks to why people feel they can't compete successfully in the stock market, and I'm trying to debunk a lot of that."
A Working Model
Lamothe knows the struggle all too well. He first began trading before he was married and invested up to 10 hours a week in studying the markets and "getting kicked around by them." He soon developed a routine and cut the time to about five hours before bringing it to professionals at an investment group, who attempted to emulate his model.
"Because they thought that it was impressive and wanted to emulate it, I thought I maybe had something worth sharing on a much grander scheme," he said. "Just being some guy that was interested in the stock market and having professionals interested in it just blew me away."
Five hours turned into 20, and after marrying and having his first child, Lamothe was having trouble balancing his personal trading and side business. "It was like having three or four full-time jobs, and I was completely burned out," he said.
But Graves' process automation freed up a significant bit of time. With the push of a button, upwards of six hours of scanning and filtering are now done in less than 30 minutes, making trading possibly not only for Lamothe but for his man-on-the-street clients, too.
"If you're somebody that has a full-time job, has a family, you absolutely can make time for the market," Lamothe said. "Anybody can do it. If you want to do it, you definitely can."
If you're looking for cool fintech startups and access to top financial institutions, and are sick of attending stuffy corporate conferences, the Benzinga Global Fintech Awards is the event for you.
Connect with us on social media — use the hashtag #BZAwards and #Fintech to spread the word!
Posted-In: Adam Sarhan Benzinga Fintech AwardsFintech Entrepreneurship Psychology Success Stories Interview General Best of Benzinga
View Comments and Join the Discussion!