Stock Picks From The Creator Of An All-In-One Stock Screening Platform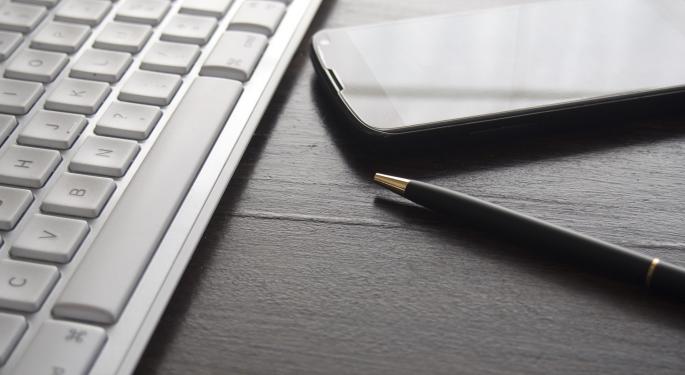 The 2017 Benzinga Global Fintech Awards is a competition to showcase the companies with the most impressive technology that are paving the future in financial services and capital markets. From its first year in 2015, the competition has grown to over 250 applicants and over 500 attendees in 2016.
The countdown continues for Benzinga's annual Global Fintech Awards, taking place May 11 in New York City. In preparation for the event, Benzinga has been featuring profiles and interviews of some of the 2017 award nominees.
Michael Lamothe, founder of the stock screening platform Chart Your Trade, stopped by on Thursday's edition of Benzinga's PreMarket Prep morning show.
Simple, Comprehensive Screening
Chart Your Trade, which is included among the nominees for the Fintech Award's research tools and apps category, is a stock screening platform that provides users technical metrics, analyst insights and professional support to help investors narrow down potential stock picks. The site is loaded with contributions from Park Capital CEO and veteran trader Adam Sarhan.
Lamothe explained that what sets Chart Your Trade apart from other screeners is the sheer number of metrics at their users' disposal. According to Lamothe, "What's unique about it is that it overlays what I call an ideal growth stock screen that users could set to test whatever kind of percentage they want and then it filters down even further and gives them anywhere from 12 stocks to focus on in a given week or, if they expand that ideal screen, they could have 100 or so stocks to focus on."
Further illustrating the appeal of Chart Your Trade, Lamothe compared the hours he spent researching stocks before starting the platform. "Doing that kind of screening before we invented this used to take me a couple of hours on the weekend." Lamothe said. "Now it's drilled down to: Click a button; here's your stocks."
Chart Your Trade's Picks And Pans
While he was on the show, Lamothe discussed some of the stocks that were on his screeners' radar, as well as the securities he's staying away from.
His first pick was Check Point Software Technologies Ltd. (NASDAQ: CHKP), a cybersecurity firm that Lamothe feels has recently begun to stand out. "CHKP is a leader in the space." Lamothe continued, "It's recently formed what looks like a pennant, and it's starting to break out. If it could get above and hold above a hundred I'd like to see that one continue to run."
The financial sector is also an area that Lamothe has kept his eye on since stocks in the industry began to rally in December.
He specifically pointed to Bank of America Corp (NYSE: BAC) and Meridian Bancorp, Inc. (NASDAQ: EBSB), the latter showing steady consolidation in the 50-day moving average and, in Lamothe's opinion, could show strong gains if it is able to overcome some short term resistance.
Among the stocks Lamothe was more bearish on was Twitter Inc (NYSE: TWTR). Although Lamothe was wary of any stock with a similar track record as the social messaging platform's. "I like to buy bullish stocks in a bullish environment," he explained. "Something like Twitter that's just been in a downtrend for a couple of years now, that's not something that I would be really interested in. I like to see a stock start to build a base and start to have some positive movement before I get into it. After it forms that consolidation, then I'll try and play the breakout."
The Screener's Forecast
Overall, Lamothe's market forecast matched the mood on Wall Street: "Until the market proves that it's tapping out, I'm long. it's been giving no signs of breaking down just yet. I'm long and I'm staying long until proven otherwise."
Tune in at the 16:55 mark in the media player below to listen to the full conversation with Karl Swierenga and click here for latest in Fintech news and developments.
PreMarket Prep is a daily trading ideas show that focuses on technical analysis and actionable short term trades. You can listen to the show live every morning from 8–9 ET here, or catch the podcast here.
Posted-In: Fintech Entrepreneurship Technicals Startups Markets Tech Media Trading Ideas Best of Benzinga
View Comments and Join the Discussion!