Fintech Means Freedom: Meet The VP Who Brings Pavlov And Seligman Influences To The Investment Workplace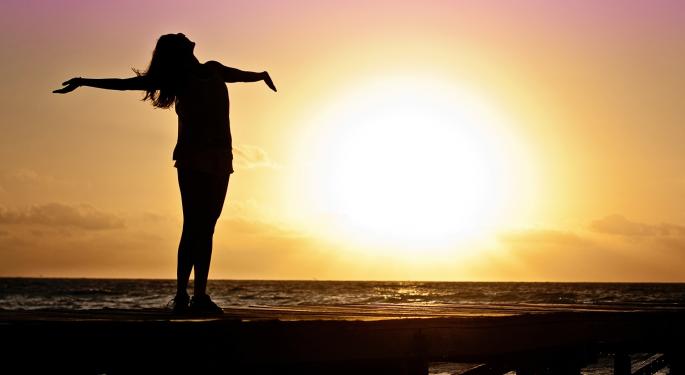 As a psychologist who applies scientific principles to organizational issues, Vicki Walia finds that fintech provides positive reinforcement for consumers. Fintech, she says, is freedom.
"I like the accessibility it creates. I do see it as a democratization tool," said Walia, a senior vice president and head of digital investment solutions at AllianceBernstein L.P.
"Some firms just want to make a buck. I like firms that make things more transparent for the consumer."
Walia earned a Ph.D. in industrial-organizational psychology, the scientific study of working and the application of that science to workplace issues facing individuals, teams and organizations. She is among the judges of the Benzinga Global Fintech Awards on May 11 in New York.
What's Next In Fintech?
Her interests in fintech range from the ergonomics of ATMs to applications using artificial intelligence. After a hot streak, the sector is definitely cooling, she said, but she expects a second round of booming investment.
The next step for fintech? Scaling, the practice of firms continuing to see revenue growth without increasing their operating costs. "How do you create scale in firms that have spent billions and billions of dollars building their brands?" she asked.
Walia, who lives her husband and son in the New York suburbs of northern New Jersey, cites as influences the principles of physiologist Ivan Pavlov, known primarily for his work in classical conditioning; and Martin Seligman, known as an adherent to the field of positive psychology.
A native of Toronto, she is an ardent aficionado of yoga and serves on the New York board of Citizen Schools, a nonprofit educational initiative for children from low-income families.
She finds her work has a cumulative effect that carries over into each new project.
"I constantly have moments where I get ideas and incorporate them into what I am doing next – that's the fun part of growing up!" she said.
_____
If you liked this profile, check out these articles from our "Day In The Life" series:
If you're looking for cool fintech startups and access to top financial institutions, and are sick of attending stuffy corporate conferences, the Benzinga Global Fintech Awards is the event for you. From its first year in 2015, the competition grew to over 250 applicants and over 500 attendees in 2016.
Connect with us on social media — use the hashtag #BZAwards and #Fintech to spread the word!
Posted-In: Fintech Psychology Top Stories Success Stories Exclusives Tech Interview General Best of Benzinga
View Comments and Join the Discussion!