A Day In The Life Of A Real Estate Fintech CEO Who's Returned Over $60 Million To Investors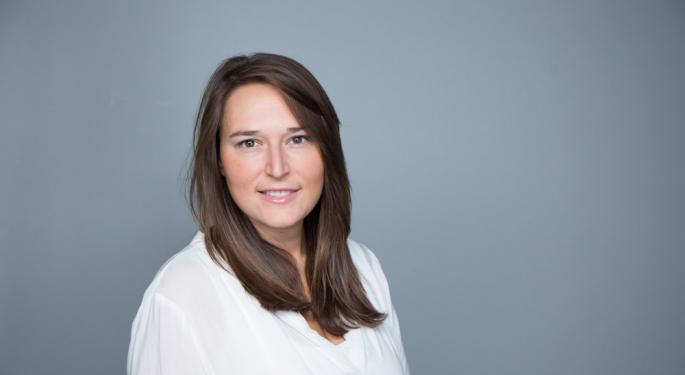 To get you prepared for the 2017 Benzinga Global Fintech Awards, Benzinga will profile the daily schedules of select fintech leaders whose companies have applied.
For this installment, we spoke with RealtyMogul CEO Jilliene Helman.
RealtyMogul
Jilliene Helman is the 30-year-old CEO of RealtyMogul, one of the first online marketplaces for commercial real estate investments. Members have access to a wide range of commercial real estate investment opportunities, from individual properties to REITs, that allows investors to invest in a diversified pool of commercial real estate.
Since launching in 2013, RealtyMogul has invested over $260 million in real estate, returned more than $60 million to investors and has more than 110,000 registered investors on the platform, according to Helman.
What's a day in your life like as the CEO of RealtyMogul?
Jilliene Helman:
7 a.m. — I usually wake up around 7 and check my emails, key performance indicators and my schedule for the day right away. My schedule is packed so I'll often text or email my assistant to move anything that is conflicted or if I need her to arrange any conversations that I know need to happen during the work day.
7:15 — Once I have a good sense of what's to come for the day, I make my bed. It's a little thing, but it makes me feel organized right from the start.
7:30 — Next, I prepare a green smoothie. While I'm drinking the smoothie, I'll also read the Harvard Business Review management tip of the day email. I'm always looking for ways to be a better leader and HBR is one of my favorite publications.
8 — Around this time I drive to work. Our company is based in Los Angeles, where traffic can be challenging so I use this time in the car to gather my thoughts for the day ahead.
8:45 — A couple of times a week at RealtyMogul, we hold corporate stand-ups where the leadership from each department talks about what their goals are and whether there are any roadblocks holding them back from accomplishing them. I like to keep internal meetings like these short, so it's only 15 minutes, but it helps all our teams keep an open line of communication and solve problems together.
9 — After the corporate stand-up meeting, I make my rounds and say hello to everyone throughout the rest of the office.
9:30 — Greenlight Meeting – After I connect with my staff, I'll start meeting with individual departments. I'm closely involved in the deals that are being funded on the platform. Our Greenlight Meeting provides an opportunity to meet with the Lending Team to discuss potential investments for the platform and greenlight the best opportunities for our investors.
10–Noon — Throughout the day I have 10–15 meetings, which can range from one-on-ones with my direct reports to calls with investors.
Noon — One of the most important parts of my job is making sure I am speaking with each member of my staff on a regular basis. Once a week, I take a group of five people from different departments out to lunch so we can catch up. A big part of being a CEO, for me, is serving as head of Human Resources. I want to know what's working, and what's not, for each member of my staff.
1 p.m. — Meeting with the chief technology officer, Sameer Shamsuddin. Throughout the week, I have regular one on one meetings with all my direct reports where we talk through what each department is trying to accomplish and how we're progressing toward our goals. We built RealtyMogul on the principal that technology can open investing opportunities that were never before available, so Sameer and I often talk about how we can continue to innovate.
2 — Meeting with Investor Relations Team. Our investor relations team speaks with the individuals using our platform every day, so it's important to me to connect regularly with them to understand what they're hearing. Their feedback informs our approach and the steps we take as a company.
3–6 — Meetings.
6 — If I don't have a business dinner or event scheduled in the evening, I like to relax by going to a SoulCycle class. I find the atmosphere really motivating and it's nice to end the day with an endorphin rush.
7 — After a full day, I like to relax by having some friends over for dinner on my rooftop to enjoy the Southern California weather.
9 — To unwind before bed, I like to read or meditate.
10 — Bedtime.
What is your morning routine?
I usually wake up around 7 and, like most millennials, check my emails right away. I also look at key performance indicators giving me a broad overview of the company so I can see if there's anything I'll need to specifically focus on for the day. I have a pretty demanding schedule during the week, so I'll also look at my schedule and reach out to my assistant for help moving meetings around if needed.
After checking emails, I'll make my bed and have a green smoothie. It honestly tastes terrible, but it lets me pretend that I'm healthy. I've been on a huge health kick over the past year or so and changing my eating and exercising habits has helped me to balance the stress that can come with life as a CEO.
How many meetings do you have a day?
I have about 10–15 calls or in-person meetings throughout the day. It's important for me to be in regular contact with all teams across the company. To keep my schedule organized, I like to make sure meetings start right on time.
What gets you excited about what you're doing?
Commercial real estate is a type of investment that wealthy people have had access to for years. What is so exciting about the work that RealtyMogul is doing is that it's bringing those opportunities to nearly any investor. We've brought $60 million in returns to investors since launching in 2013, with $0 in principal lost. Investments on the platform can be as low as $1,000 for our REIT, so we are seeing investors who are entering commercial real estate for the first time.
The value of building wealth and achieving financial freedom was instilled in me from a young age, and I saw first-hand the returns that real estate could generate when I earned my first million before the age of 27. It's a powerful feeling to know that your financial future is secure, so I love being able to bring those opportunities that I saw to nearly any investor through our platform. I often hear stories of individuals who have tens of thousands of dollars at their disposal that they otherwise wouldn't have had, so that's very motivating to me.
What do you do to relax?
Relaxing is a huge priority for me, and it's something I've really focused on recently. I go to classes for meditation and often meditate in the evenings. I also love reading and recently finished Tim Ferris's' newest book, "Tools of Titans."
________
Check more articles in this series:
Interested in a Benzinga CEO profile? Send an email to events@benzinga.com. Want to get involved with the 2017 Benzinga Global Fintech Awards? Submit your company here.
________
Image Credit: Provided by and used with expressed permission from Jilliene Helman.
Posted-In: A Day In The LifeFintech News Success Stories Exclusives Interview General Real Estate Best of Benzinga
View Comments and Join the Discussion!