Gene Munster And His Crazy Crystal Ball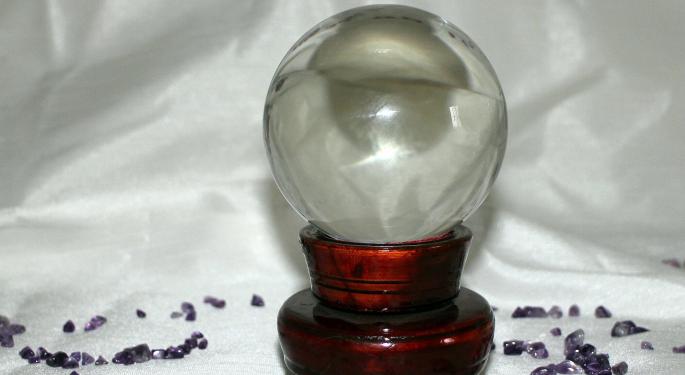 Your local ATM could recognize your face within five years. Your taxes could be prepared by a robo-accountant. Your lawyer might be reduced to an algorithm fully versed in legal precedent.
Your ear canal is a better form of identification than a fingerprint, let alone a driver's license, and might become the prevailing form of preventing cyber fraud.
Welcome to the futuristic world of Gene Munster, 45, a venture capitalist who specializes in the worlds of virtual reality, augmented reality, robotics and artificial intelligence.
"We've only scratched the surface," said Munster, a managing partner and co-founder of Loup Ventures in Minneapolis.
Before leaving at the end of last year to form Loup, the Tony Stark of investors spent 21 years as a top analyst for Piper Jaffray, where he covered tech companies such as Apple Inc.(NASDAQ: AAPL), Alphabet Inc (NASDAQ: GOOG) (NASDAQ: GOOGL) and Facebook Inc. (NASDAQ: FB). He's perhaps best known for picking Apple to take off in 2004.
The difference with the new job? A lot of mundane administrative work.
"It's so far, so good," he said. "I would say 70 percent of what I do is what I did before. The part I don't like is the business operation side (human resources, legal issues, etc.)."
The Price Of Intelligent Robots: People
Augmented reality and artificial intelligence are keys to future breakthroughs in fintech, said Munster, one of the judges at the Benzinga Fintech Awards to be held in New York on May 11. "How people interact and how they work is going to radically change in the next 30 years," he said.
But there is a price for swapping out people with robo-replacements, he added. "I think a majority of people will benefit and many people will be displaced [...] As a culture going forward, we will have to deal with that."
"Accountants are going to go away. A lot of lawyers will go away."
Augmented reality wearables might soon identify a person you should recognize but can't recall the name.
During a panel of college students assembled for input on augmented reality, he said a young woman described an angst-filled dream in which every person she met was viewable as a set of likability metrics.
"That probably is a point of anxiety for some people who grew up surrounded by social media," he said.
Wearables May Replace Telephones
He said the telephone as the prime engine of augmented reality is good for the next five years, after which a wearable device — one that projects images and information back to the eye like an all-purpose screen — will eventually supplant the phone.
Biometrics — the ear canal has been proven as an almost conclusive way — &rlquo;are the best ways to authenticate people" and reduce cyber fraud. Augmented reality will almost certainly be used to direct people to their seats at stadiums or concerts. Light fields — often confused with holography — are good bets in telecommunications.
Eventually, he believes, the human interface with technology will be reduced a single screen.
"The crazy part of all this is that today we are surrounded by screens," he said. "In the future we will probably have one screen."
Munster's endeavor is headquartered in his native Minneapolis, with considerable time spent in New York and San Francisco. He and his wife have a 10-month-old daughter. "Fitness is my hobby," he said, and a Moscow Mule — vodka and ginger beer — his beverage of choice.
_____
If you liked this profile, check out these articles from our "Day In The Life" series:
If you're looking for cool fintech startups and access to top financial institutions, and are sick of attending stuffy corporate conferences, the Benzinga Global Fintech Awards is the event for you. From its first year in 2015, the competition grew to over 250 applicants and over 500 attendees in 2016.
Connect with us on social media — use the hashtag #BZAwards and #Fintech to spread the word!
View Comments and Join the Discussion!
Posted-In: Benzinga Fintech Awards Benzinga Global Fintech Awards fintech judgesFintech Success Stories Exclusives Tech Interview Best of Benzinga