A Day In The Life Of The Fintech CEO Attacking Student Loan Debt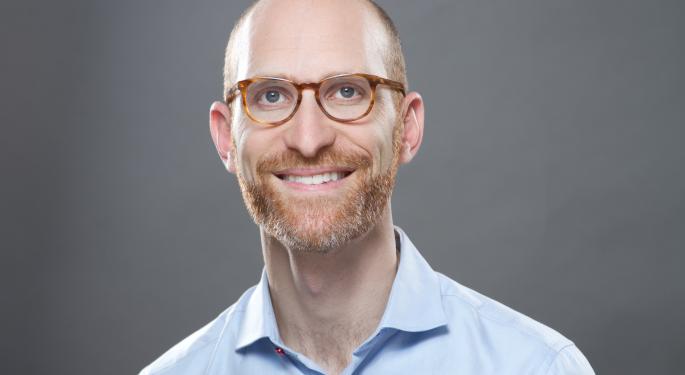 To get you prepared for the 2017 Benzinga Global Fintech Awards, Benzinga will profile the daily schedules of select fintech leaders whose companies have applied.
For this installment, we spoke with CommonBond CEO David Klein.
David Klein is the CEO and co-founder of CommonBond, a fintech company that uses data and technology to lower the cost of student loans. Klein is currently focused on hiring, strategically growing CommonBond, and what's happening this week on Saturday Night Live.
What's a day in your life like as the CEO of CommonBond?
David Klein:
7:30 a.m. — Wake up. Before I get out of bed, I think about what I have to do for the day. That helps me set the tone for what's to come, and understand what I should wear that day — a tieless suit for investor meetings or something more casual for a day of meetings with the team.
8:15 —Take the subway. During my commute, I check emails and jot down thoughts for the day. I live in Prospect Heights in Brooklyn, so I usually take the B or Q train to our office in SoHo.
8:45 — If I have enough time before my first in-person meeting of the day, I'll stop by the Juice Generation on Prince and Crosby and grab a Hail to Kale juice — it makes me feel like I slept an extra hour.
9 — We're hosting a welcome breakfast for new team members. Today was Valentine's Day, so I grab a red bagel with pink cream cheese and meet our new hires: one on our product team and one on our marketing team.
9:30 — I hop on a call with one of our investors, who wants to check in. Everything's going well, so it's a quick call. He reminds me that he'll be in New York next week for a conference; we plan to meet up.
10 — I have a one-on-one meeting with Keryn, our VP of people, to discuss the new hire pipeline. We review all open positions and our progress in hiring for each. We've added eight people to our team in 2017 so far, so we're off to a great start!
11 — Time for our executive team meeting. We discuss performance over the last week, what each team has on its plate and blockers to remove.
Noon — Another one-on-one, this time with Phil, our CMO. CommonBond is launching a student scholarship, so we discuss the key audiences for the scholarship and how best to get the word out.
12:30 p.m. — I have a one-hour strategy session with an investor and company advisor to talk about our roadmap for the next few months, and where he and his team can help.
1:45 — I grab a quick lunch at Chopt, where I throw as many healthy toppings as possible onto a bed of kale and romaine lettuce. I include grilled chicken and hard-boiled egg for some protein.
2 — I meet to review current milestones for our Social Promise. Our Social Promise is one of the reasons I wake up excited and energized to come into work each day — for every loan we fund, we also fund the education of a child in need through our partnership with Pencils of Promise.
3 — Time for some interviews! I speak with two candidates in their final round today, one for a creative director position and another for an enterprise sales director.
4 — Coffee with our tech team. It's a good time to catch up on what's working well and what's not, so I can help remove blockers wherever we may have some.
5 — I get pulled into a few end-of-day meetings, first with our finance and then with our capital markets teams. Final decisions need to be made in both sessions: accounting treatment in one case, counter-party terms in the other.
6 — I check emails for the day, responding to the highest priority ones first. I have two general email rules: Respond to an email within 24 hours, and if I open an email then I answer it right then.
8:30 — I head out of the office! On the way, I order dinner from the Meatball Shop: four meatballs, penne pasta and salad.
9 — I Facetime with my nieces, who live in California. They're 4 and 1 ½, and talking with them is one of the highlights of my day.
9:30 — Meatball Shop order has arrived, and I enjoy dinner at home with my fiancee, Erica. Afterward, we watch a show on Roku — Our favorites are Homeland, Blackish and the Man in the High Castle. Stranger Things might be next on the list.
10:30 — Erica goes to bed, which means more emails for me to get through!
Midnight — I catch up on the news of the day with Apple's News app, Twitter and Facebook. I also check out promos for this week's SNL show. I'm a huge fan. I try never to miss a week. (I think I've seen every episode since I was a kid.)
1 a.m. — Lights out!
What is your morning routine?
Wake up. This part is very important. Beyond that, I try to get out the door as soon as possible, in time to get that kale juice before my first in-person meeting of the day.
When do you first check email?
Within 30 minutes of waking up, but I try not to grab my phone first thing. This has about an 80 percent success rate.
How many meetings do you have a day?
A lot. Having two free hours between 9 a.m. and 6 p.m. is a good day!
What gets you excited about what you're doing?
Building something great that helps a lot of people. Companies have a tremendous amount of influence that can drive social good, and as such have a responsibility to make the world a better place. Our Social Promise is our way of delivering on that.
What do you do to relax?
Read a physical book. I'm currently reading "Give and Take" about how helping others can lead to our own success. Oddly enough, I also find ironing to be very relaxing — yes, ironing!
______
Learn success tips from other fintech leaders in our Day in the Life series:
_______
Interested in a Benzinga CEO profile? Send an email to events@benzinga.com. Want to get involved with the 2017 Benzinga Global Fintech Awards? Submit your company here.
Image Credit: Photo courtesy of David Klein
View Comments and Join the Discussion!
Posted-In: A Day In The LifeFintech Education Success Stories Startups Exclusives Interview General Best of Benzinga