A Day In The Life Of An InsurTech CEO Who Just Raised $5 Million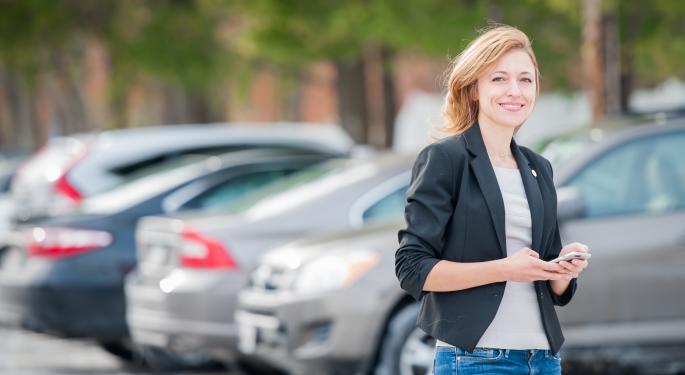 To get you prepared for the 2017 Benzinga Global Fintech Awards, Benzinga will profile the daily schedules of select fintech leaders whose companies have applied.
For this installment, we spoke with Insurify CEO Snejina Zacharia.
Snejina Zacharia is CEO and founder of Insurify, an InsurTech startup that uses artificial intelligence and natural language processing to make it easier to buy car insurance online. The company recently announced a $4.6 million fundraising round and a product expansion allowing customers to shop for auto insurance via Facebook Inc (NASDAQ: FB) Messenger.
What's a day in your life like as the CEO of Insurify?
Snejina Zacharia:
6:30 a.m. — I wake up and check my email first. Every morning I take a few minutes to plan my day and reflect on the important business growth drivers we need to work on. I also try to exercise two-three times a week in the mornings at home.
7:30 — I have breakfast with the kids, ages 7 and 9, and my husband.
8 — My husband and I drive together to work, and on the way in, we drop off the kids at school. We take advantage of the commuting time to discuss the family and some opportunities or challenges we're facing at work. When I drive on my own, I listen to Bloomberg or BBC, or sometimes I'll call my mom and dad, who live in Bulgaria, to see how they're doing.
9 — I try to have my mornings clear of external meetings or calls. I start the day by reviewing the overall performance of the business: revenue, spend, ROI, performance of key partners, and product performance. I touch based with the team to check if there are any issues or outstanding projects.
10 — I move on to working on my key priorities which may include board presentations and follow-up presentations with investors and strategic partners.
Noon — I rarely have time for lunch, but when I do, my team and I try to eat together. We're a small team and we have a great time hanging out. We feel like we're part of one family and we can discuss both work and personal issues, ideas, movies or events. That openness brings us closer. I sometimes use lunch meetings to catch up with an advisor or other entrepreneurs to share ideas.
1 p.m. — I have a couple of conference calls to discuss partnership opportunities. We are constantly adding new carriers and new agencies which can help us expand the comprehensiveness of quoting to our customers and provide a better user experience. We also work with associations and membership groups that are interested in providing our platform to their members.
2 — I have an interview with a potential hire. As a small team, we've accomplished impressive growth, and in 2017, we expect to grow the team by about a third. I'm proud that we've retained our original team, and we're always on the lookout for new talent. We make a point to hire A+ players who continue to challenge themselves and the team, and who love what they do.
3 — I will meet with my team to discuss product and marketing strategies, which include our immediate, short-term and six-month roadmap. These meetings are the best part of my day, because we focus on brainstorming new ideas. We identify the drivers which can make the biggest impact on our business and build a plan to execute on them.
6 — I leave work to spend time with my kids and family.
7 — We have a family dinner and we talk about our day. My husband and I both have demanding jobs and it's sometimes difficult to not talk about work at the dinner table. However, we try to focus on the kids and their needs in the evenings, and they do pick up on the conversations. For example: my nine-year-old daughter has a plan to start a business when she grows up – she will be publishing math books, and she has decided that she will skip the fundraising part, and just grow the business by making money from the sales of her books!
8:30 — Kids' bed time. One of the best parts of my day is reading stories in Bulgarian to my kids. My daughter is really into Harry Potter and we're now finishing the 5th Harry Potter book in Bulgarian.
9:30 — Back to work. I spend a few hours each evening sending emails, working on presentations, and planning the next day.
12:30 a.m. — Time to go to bed.
What is your morning routine?
I wake up at 6:30 a.m. I have breakfast with the kids and get them ready for school. I plan my day. I try to exercise a couple of times a week.
When do you first check email?
I check my email as soon as I wake up.
How many meetings do you have a day?
We have a no-nonsense-meetings rule. We use Slack to discuss issues or questions internally and only meet when there are deeper issues to discuss, for example product or marketing-acquisition planning and roadmaps.
What gets you excited about what you're doing?
We are building a business that can impact the lives of millions of people in the world. We help them save money on their insurance, so they can use the savings on things they love.
I feel honored to work with a team of very bright individuals and see the fruits of the collective intelligence of the team.
What do you do to relax?
I love to spend time with my kids — there is nothing more rewarding than seeing how they think and analyze life! We love skiing together as a family or hiking together in the summer.
________
Check more articles in this series:
Interested in a Benzinga CEO profile? Send an email to events@benzinga.com. Want to get involved with the 2017 Benzinga Global Fintech Awards? Submit your company here.
Connect with us on social media — use the hashtag #BZAwards and #Fintech to spread the word!
View Comments and Join the Discussion!
Posted-In: InsurifyFintech Education Success Stories Startups Exclusives Interview General Best of Benzinga