This Fintech CEO Provides Brokerages With Data By Day And Brings Hockey To Disadvantaged Kids By Night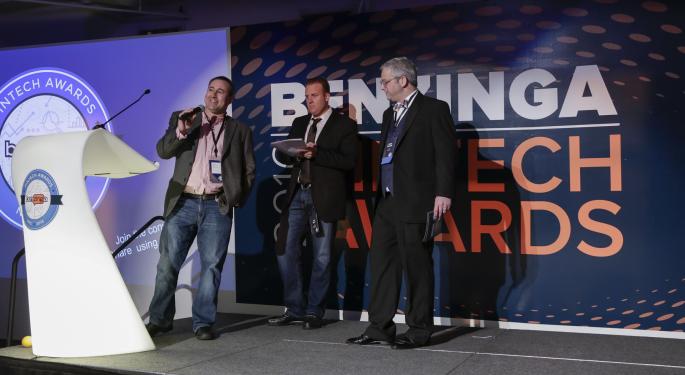 To get you prepared for the 2017 Benzinga Global Fintech Awards, Benzinga will profile the daily schedules of select fintech leaders whose companies have applied. For this installment, we spoke with Tradier CEO Steve Ehrlich.
Ehrlich is the CEO of Tradier, a brokerage firm and vendor supplying a full suite of brokerage APIs, including market data and execution APIs, to brokerages and financial advisors. Ehrlich manages his team remotely, which has its own joys and challenges, and he spends his spare time bringing ice hockey to disadvantaged kids in Connecticut.
What's a day in your life like as the CEO of Tradier?
Steve Ehrlich:
7 a.m. — I tend to wake up around 7, as I am a late starter but a late finisher in the day!
7–7:30 — I spend this time reviewing emails and game planning as to what I want to accomplish for the day.
7:30–8:30 — My workout, mainly treadmill work with my phone close by. I listen to some of my favorite '70s and '80s classic hits and rock.
8:45 — I begin the workday by checking in with members of the team — mainly over Skype. As I work remotely, it's important to check in with the team to start the day.
9:30 — Start working on things on my to-do list, focusing on the more pressing issues. Turn on TV and use Bloomberg TV on as my daily resource of news.
11 — This is usually the first outside conference call of the day, or meeting if I am headed into NYC. I like to try and clean some of the plate off before endeavoring on new items that would be added to the ever-growing to-do list. Many of the outside calls are with our partners who utilize the Tradier infrastructure or new prospects looking to connect to Tradier's ever-growing ecosystem.
Noon — At this point, I'm usually on my fourth cup of iced coffee for the day. It's not like I need the caffeine, but it's always good to have extra motivation!
2:30 p.m. —This is when I work on strategic items and start mapping out and crafting different ideas for the future — where I would like to see Tradier in the next 12 months, 24 months and five years.
4 — Flip over to CNBC to get the recap of the day and check in on the kids via text. My daughter works in NYC and my 18-year-old son is playing hockey out in Minnesota. So, I try to catch up with them via the only mechanism these kids know! Also, I review late day emails and complete any last things needed for day.
6 — Cook and eat dinner with my wife. Since I work out of my house (predominantly), the cooking falls to me — you never know what you'll get, but it's a great way to unwind from the day.
7 — I sit down at kitchen counter, turn on the Rangers, Knicks or Yankees, then read some daily news from WSJ, Barrons or Benzinga and watch the games. Next, I review what's new in fintech, research companies and ideas.
10 — Start planning the next day.
11 —This is my reading time (love MJ Arlidge or James Patterson books), or I'll watch Netflix Inc. (NASDAQ: NFLX) or Hulu.
Midnight — Call it a day and get ready to do it again tomorrow!
Related Link: Key2Options Partners With Tradier Brokerage
Talking One-On-One
BZ: What gets you excited about what you do?
Ehrlich: I really enjoy finding niche ideas and creating full-blown companies from these ideas. Tradier is a great example of that. We see a niche in the fintech and brokerage space and feel that we can make the business mainstream. Through my years in the financial services, dating back to 1994, every company I was with was a niche player before becoming mainstream. What drives me is when people say, "It can't be done." Hearing that makes it that much sweeter when you accomplish the goal.
BZ: How do you relax?
Ehrlich: My wife and I like to binge watch certain TV shows, but sports is my main relaxation point. As a NY Ranger season ticket holder I watch as many games as possible. I enjoy the Knicks (as frustrating as they can be) and the Yankees and Giants.
In our free time, my wife and I built a youth hockey organization in Norwalk, Connecticut, with over 200 kids. We spend time building the Hockey in Norwalk Foundation, which allows us to teach young kids who normally don't have access to hockey equipment and ice time how to play hockey. Last year we partnered with the NY Rangers and helped bus kids into Sono Ice House in Norwalk as part of gym class.
_______
Check more articles in this series:
Interested in a Benzinga CEO profile? Send an email to events@benzinga.com. Want to get involved with the 2017 Benzinga Global Fintech Awards? Submit your company here.
Posted-In: A Day In The Life Steve Ehrlich TradierFintech Success Stories Interview Best of Benzinga
View Comments and Join the Discussion!