A Day In The Life Of A Fintech Executive: Acorns Chief Commercial Officer Manning Field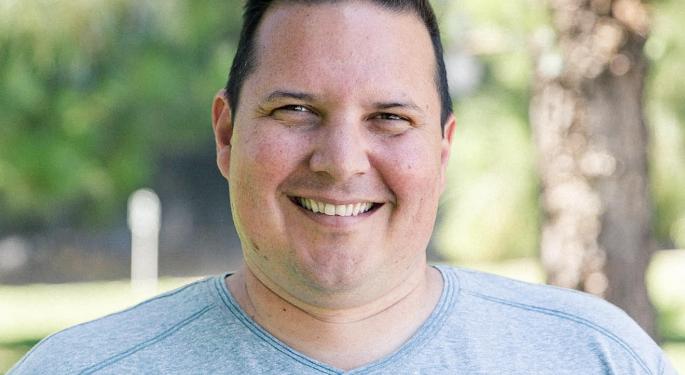 To get you prepared for the 2017 Benzinga Global Fintech Awards, Benzinga will profile the daily schedules of select fintech leaders whose companies have applied.
For this installment, we chatted with microinvesting app Acorns Chief Commercial Officer Manning Field.
A Day In The Life
4:45 a.m. PST: Wake up, usually no alarm. First, I read overnight and East Coast emails — respond to a few high priority emails, check news on phone, tap out a new idea about motivating customers and the fresh start effect into my Evernote app. Something I'm particularly focused on now is generating new partners for our Found Money program and creating relevancy for our customers with a broad range of partners that share our values.
5:15 a.m.: Pack breakfast for work (grilled chicken breast and Trader Joe's steamed lentils). *Mental note: Need to get Trader Joe's as a Found Money partner!
5:40 a.m.: During drive to Equinox on Highway 73, call with potential data science candidate in New York about joining Acorns.
6–7 a.m.: Olympic weightlifting with my trainer, BJ. Focus on snatch and snatch accessories.
7:30 a.m.:Arrive at Acorns headquarters, peek at where the market is, drop breakfast in the microwave and check in with my customer service team on caseloads, productivity and generally how the day is going so far. At Acorns, our customer service team is the pulse of the company. They sit within shouting distance from our design, engineering, marketing and product teams. When we learn things from our customers directly, it's easy to share that feedback for updates to our product or communications.
7:50 a.m.: Review business metrics from the day prior and look at App Store and Google Play reviews and rankings. I also check our Twitter channel for feedback and any pressing customer issues. Finally, I scan Techmeme and the Daily Mail for insight into what's going on in the world outside of Acorns.
8 a.m.: Post an update to the team in Slack about the business. I use it to reinforce our priorities and what progress we made the prior day against these priorities.
8:10–9 a.m.: Strategy work in my office by myself with whiteboard focused on the 2018–2020 roadmap.
9–10 a.m.: Walk the floor.
10–10:25 a.m.: Lead the weekly business review with the leadership team. This week's agenda includes a share-out of month-end financials, marketing acquisition performance and a Found Money business development update.
11:30 a.m.: Company all-hands meeting, which is held once a week. At the meeting, team members share progress and ask questions. This week, we discussed our Rapid Cycle Experimentation process results. We permanently dedicate 10 percent of our engineering resources to experimentation and are always testing many things within the product itself to drive customer engagement. We often partner with our board member, Shlomo Benartzi and other academics to design these experiments.
Noon–12:30 p.m.: Team lunch in the office — tacos!

Click here to see how other fintech leaders spend their day.

1–2 p.m.: Weekly product roadmap update with product team.
2–2:30 p.m.: Call with Found Money prospect. We are keen to add them to our growing list of partners: Casper, Jet.com, Boxed, Hulu, Dollar Shave Club, Blue Apron, Jackthreads.
3–4:30 p.m.: 3X a week: 1:1s with some of my direct reports focused on problem solving and career development. One of them happens over a walk to a local coffee shop for an Americano.
4:30–5 p.m.: Review upcoming regulatory exam schedule with operations, compliance and broker-dealer teams. At Acorns, we have a vertically-integrated investment capability, so we do all our own trading and are overseen by the SEC and FINRA.
5:30 p.m.: Daily revenue stand-up to discuss progress on revenue driving initiatives.
6 p.m.: Have cocktail (old fashioned) with team member.
6:45 p.m.: Arrive at home. Check in with kids on how their day was and begin dinner prep, making Blue Apron's Spicy Beef Torta and pour a glass of red wine. Winning! They're already a Found Money program, so that's money added to my Acorns account.
7:30 p.m.: Eat dinner with family.
8:30 p.m.: Put little kids to bed while my oldest scampers away to her room to play with Instagram.
8:35–9 p.m.: While listening to the Tony Kornheiser podcast, I return emails, check in on customer service levels for the day, look at schedule for the next day and mentally prepare my subconscious to problem-solve while I sleep.
9–10 p.m.: Watch "Young Pope" on my Roku. Bonkers!
10 p.m.: Read the "Last Lion."
10:01 p.m.: Fall asleep.
4:45 a.m.: Start over.
What Gets Me Excited
I get excited about having the unique opportunity to make an impact on our society. Working within large financial services companies for most of my career, I came to understand customer needs and how traditional approaches don't always meet the needs of the consumer, especially younger ones. A significant portion of consumer financial product p&ls are built on customers either making mistakes or not paying attention, i.e., late fees, the pace in which interest rates change in products like savings and checking. There are lots of reasons why — inertia, fear and an unwillingness to advance or purge old systems, but these barriers fuel short-term Wall Street product development, and society suffers.
As CCO at Acorns, my team and I are building a new financial model rooted in financial wellness, and when our customers benefit, Acorns benefits. It's hard to imagine a more profound opportunity to leave a mark. We want to make sure that everyone — whether you're paying attention to your finances or not — is financially secure in the future. That's what gets me excited and up at 4:45 a.m. every day!
Relaxing
I prefer solitary, Zen-like activities like cooking. When my family travels to new places, I always take a local cooking class, so we can enjoy memories of our travels through food that I prepare and we share long after the exhilaration of the trip itself subsides.
Interested in a Benzinga CEO profile? Send an email to events@benzinga.com.
Want to get involved with the 2017 Benzinga Global Fintech Awards? Submit your company here.
Image Source: Acorns' Manning Field.
Posted-In: A Day In The Life Acorns Manning FieldFintech Success Stories Startups Interview General Best of Benzinga
View Comments and Join the Discussion!