Artivest: Streamlining Access To Private Equity And Hedge Funds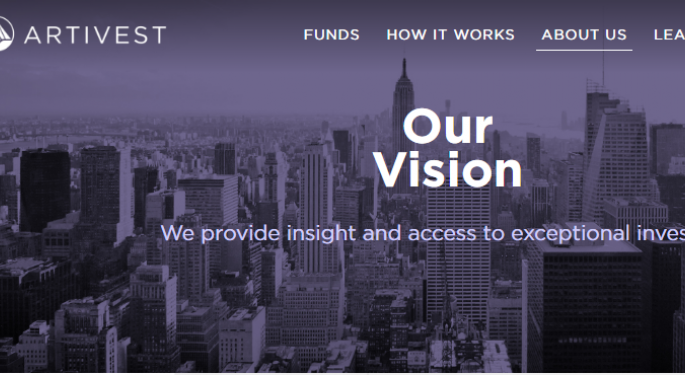 It's almost that time of year.
The 2017 Benzinga Global Fintech Awards is a competition to showcase the companies with the most impressive technology that are paving the future in financial services and capital markets.
To get you prepared for this year's awards, Benzinga will profile each fintech company that has applied. Want to get involved? Submit your company here.
For this installment, we spoke with Artivest CEO James Waldinger (answers have been edited for length and clarity).
What is Artivest?
Artivest is a tech-driven investment platform for alternatives. We streamline access to vetted private equity and hedge funds for HNW advisors and investors in the United States. Artivest provides a turnkey solution, handling fund screening, administration and reporting so advisors can concentrate on building and growing client relationships.
Who are your customers?
Artivest is a fintech company that seamlessly connects leading private equity and hedge funds to a wider audience of financial advisors and high net worth community.
How long have you been in business?
The platform was founded in 2012 with financing from PayPal founder Peter Thiel. Artivest secured $15 million in early round funding from Kohlberg Kravis & Roberts and RRE Ventures in the spring of 2015.
Where are you located?
New York, New York, in the Flatiron district — a.k.a. Silicon Alley.
Who is your company's leadership?
James Waldinger: Founder, CEO, president and board member.
I am the CEO and president of Artivest Holdings, Inc. and subsidiaries. I serve on Artivest Holdings, Inc.'s board of directors. Before founding Artivest, I ran an emerging markets portfolio at Peter Thiel's Clarium Capital Management, LLC's approximately $8 billion global macro hedge fund. Previously, I was a venture associate at Clarium Capital Management, LLC where I advised on investments in technology startups.
Adrian Czebiniak: Chief technology officer.
Czebiniak oversees the building and implementing of Artivest's technology and developing the Company's long-term technology strategy. Before joining Artivest in 2012, he was a Senior Software Developer at Bridgewater Associates and previously a Senior Systems Engineer at FactSet Research Systems.
Tania Das Wright: Chief operating officer.
Wright oversees strategic partnerships and business operations of the company. She began her career as a fixed income trader at Goldman, Sachs & Co. in New York before moving to Goldman Sachs Asset Management in London. She has worked at PIMCO, the Federal Reserve, the United States Treasury and within social investments at the Kresge Foundation.
Is there anything else Benzinga should know about your company?
We were featured in the December 2016 issue of Worth Magazine as "The Disruptor." As one of 10 "Portraits of Excellence" in finance, we believe radical change starts at home with a culture of innovation. From town hall meetings and "hackathons" to employee recognition programs, I have created an environment where all team members feel comfortable voicing opinions and sharing ideas.
In 2016, Artivest won the Wealthmanagement.com Award for Outstanding Achievement in Technology Disruption and the 2016 Private Asset Management Award for Best Fund Product for HNW Clients. In December 2016, the firm was shortlisted for the 2017 Family Wealth Report Award – Innovative Investment Solution.
If you're looking for cool fintech startups and access to top financial institutions, and are sick of attending stuffy corporate conferences, the Benzinga Global Fintech Awards is the event for you. From its first year in 2015, the competition grew to over 250 applicants and over 500 attendees in 2016.
Connect with us on social media — use the hashtag #BZAwards and #Fintech to spread the word!
Image Credit: Screenshot from artivest.co
Posted-In: Artivest James WaldingerFintech Top Stories Interview Best of Benzinga
View Comments and Join the Discussion!