AQMetrics: Leading RegTech Company Delivering Regulatory And Compliance Solutions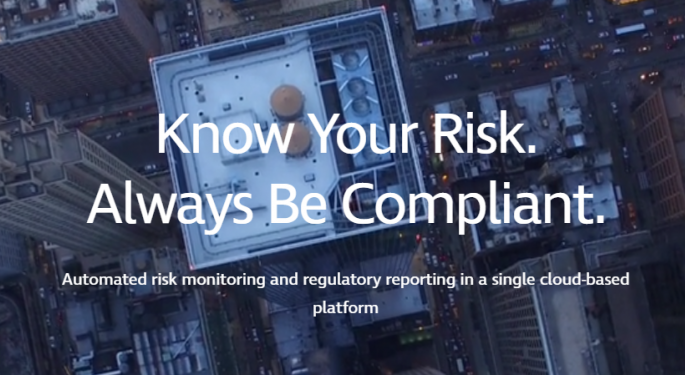 It's almost that time of year.
The 2017 Benzinga Global Fintech Awards is a competition to showcase the companies with the most impressive technology that are paving the future in financial services and capital markets.
To get you prepared for this year's awards, Benzinga will profile each fintech company that has applied. Want to get involved? Submit your company here.
For this installment, we spoke with AQMetrics CEO Geraldine Gibson (answers have been edited for length and clarity).
What does your company do? What unique problem does it solve?
AQMetrics is a leading RegTech company focused on delivering regulatory risk and compliance solutions for financial professionals. We recognized that the accepted methods of managing risk and compliance were slow, outmoded and inefficient.
Who are your customers?
Alternative investment fund managers, fund management companies and fund administrators use AQMetrics' automated regulatory reporting service. Asset managers and fund administrators use AQMetrics' reporting as well.
How long have you been in business?
AQMetrics was founded in 2012 by a blended team with deep experience in delivering regulatory risk and compliance solutions.
Where are you located?
We are headquartered in Kildare, Ireland, with a New York City office and a global sales team.
Who is your company's leadership? What kind of experience do they have?
The AQMetrics management team has a world of experience in the financial services arena. More importantly, we have the hunger to be excellent every day, constantly improving what we provide for our clients.
Gibson, CEO: I am the CEO and have a distinguished 20-year career in the financial services software market. Prior to AQMetrics, my most recent role was as head of professional services at BAE Systems. Previous to BAE, I served on the management team of the risk and compliance software company Norkom, which BAE acquired in 2011. Before Norkom, I was a software developer at the U.S. high-frequency trading firm, Susquehanna, and a software developer at ORACLE.
Claire Savage, chief operations officer: Savage has a stellar background in defense, risk and regulation. An engineer, her experience includes country manager for software solution delivery with BAE Systems. She has also played key business roles in two successful Irish fintech software companies.
Is there anything else Benzinga should know about your company?
Last month, AQMetrics announced new enhancements to our end-to-end risk and compliance solution as part of our award-winning cloud-based platform. These enhancements will help both buy-side and sell-side firms better prepare for Markets in Financial Instruments Directive II a year in advance of the regulatory deadline of Jan. 2018.
The recent enhancements include:
An updated Supervisory Control Portal and Risk Register to provide client classification and product appropriateness factors and scoring.
Additional risk monitoring analytics to cater to best execution and transaction cost analysis.
A new regulatory reporting solution whereby AQMetrics is authorizing as an approved reporting mechanism under MiFID II. AQMetrics is currently reviewing several market data processor specifications from national competent authorities to enable passporting of MiFID II regulatory reporting into all European regulators.
If you're looking for cool fintech startups and access to top financial institutions, and are sick of attending stuffy corporate conferences, the Benzinga Global Fintech Awards is the event for you. From its first year in 2015, the competition grew to over 250 applicants and over 500 attendees in 2016.
Connect with us on social media — use the hashtag #BZAwards and #Fintech to spread the word!
Image Credit: screenshot from AQMetrics
Posted-In: AQMetrics Geraldine GibsonFintech Success Stories Interview General Best of Benzinga
View Comments and Join the Discussion!