How Can Athletes Keep Making Money Once They're Off The Field?
How Can Athletes Keep Making Money Once They're Off The Field?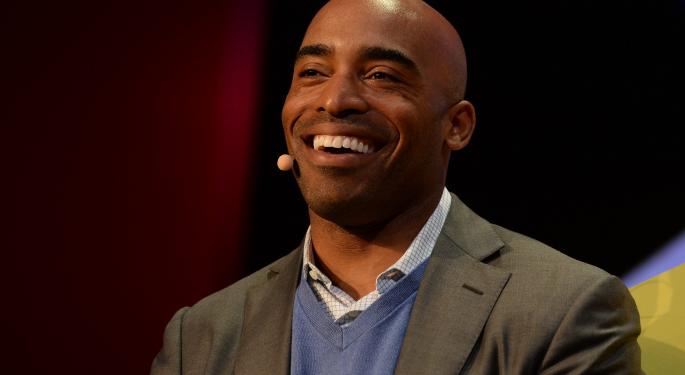 The 2016 Benzinga Fintech Awards will feature experts from around the fintech space speaking about how their work is impacting the finance world.
In a special presentation, Tiki Barber and Mark Gerson, co-founders of Thuzio Executive Club, will have a "fireside chat" at the event, discussing how they work together to promote athletes and network in finance.
Gerson and Barber first met over cigars at Club Macanudo in New York. Mark's brother Rick, the manager of hedge fund Falcon Edge Capital, was a friend and classmate of Tiki's from University of Virginia -- and he introduced them.
Gerson and Barber will chat about networking on Wall Street, building a brand, innovative strategies for real client relationships and how to create a successful business.
They will also discuss the importance of networking in the business world, specifically for athletes.
"Like people in any other activity, there is a wide variety of ways that different athletes can relate to entrepreneurship," said Gerson. "They can identify problems to be solved and opportunities to be realized from their own unique experience set, [and] they generally have the special ability to be highly effective brand ambassadors for the businesses they start."
Related Link: The Big Players Are Getting Into Fintech
Barber said he hopes the interview is both entertaining and informative. It will include behind-the-scene stories that add perspective and context to events that shaped his football career, his insights on dealing with failure, and the power of relationships.
Thuzio provides a network for companies to book talent for their events. Thuzio 360, one of the company's services, offers a comprehensive profile list of musicians, television personalities, and other celebrities for clients to browse through.
Thuzio's flagship project, the Executive Club, is a special membership option for networking opportunities that partner business leaders looking to bring athletes to corporate events. Members can join as an individual, team, or enterprise.
Members are invited to events ranging from watching games in a sports bar to one-on-one coaching sessions from pro athletes in a gym or field setting.
You can see Mark and Tiki in action at the Benzinga Fintech Awards May 24. Get your tickets here.
Image credit: Web Summit, Flickr
Posted-In: Benzinga Fintech Awards Mark Gerson Thuzio Tiki BarberFintech Sports Personal Finance General Best of Benzinga
View Comments and Join the Discussion!