Utility ETFs Face Difficult Interest Rate Environment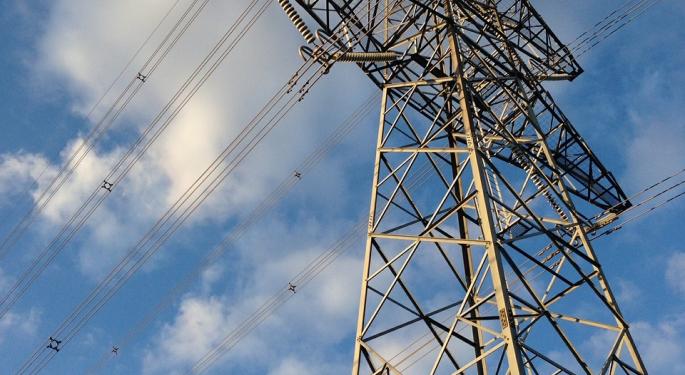 The utility sector has cooled significantly this year as rising U.S. Treasury yields threaten to sink share prices even lower. The Utility Select Sector SPDR (Utilities SPDR (ETF) (NYSE: XLU)) is the largest fund in this space, with over $6.3 billion in total assets.
A Closer Look At XLU
XLU tracks 32 large-cap utility companies engaged in traditional electric and gas services.
Top holdings in this ETF include:
The majority of the holdings within XLU are prized for their high dividend streams, which translates to an aggregate 30-day SEC yield of 3.43 percent. In addition, this fund charges a net expense ratio of 0.15 percent.
Related Link: Are Electric Utilities Actually Embracing Disruptive Startups?
Over the last four months, the share price of XLU has been sinking and is now down more than 10 percent from its 2015 high. To put that in context, XLU has lost over 6 percent in total return and is the worst performing sector in the S&P 500 Index this year.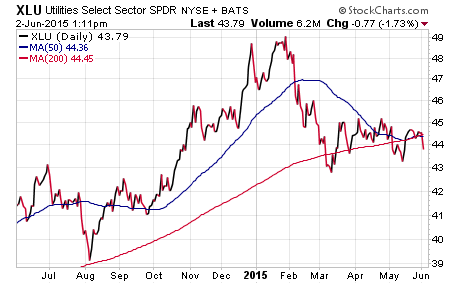 The primary cause of this drop can be attributed to the volatility in interest rates. The CBOE Interest Rate 10 Year T Note (INDEXCBOE: TNX) has risen from a low of 1.65 percent to a current yield near 2.27 percent.
Utility Sector Profile
Utility stocks are typically quite sensitive to interest rate fluctuations because their business models are heavily dependent on capital financing. In addition, these stocks are seen as a "safety" trade similar to Treasury bonds, which makes them more favorable in a falling interest rate environment.
With the Federal Reserve mulling its first interest rate hike, the rapid price swings in U.S. Treasury yields may become a significant factor in capping gains across this sector.
Yet despite this drop, ETF investors have been reluctant to throw in the towel on utility stocks. XLU has only seen $580 million in outflows this year, which is relatively minor for a fund of this size.
To put that in perspective, the Financial Select Sector SPDR (Select Sector Financial Slct Str SPDR Fd (NYSE: XLF)) has experienced over $2.9 billion in outflows so far in 2015 and XLF is trading near the flat line for the year.
Other similar ETFs that have been impacted by this volatility include:
These two funds, along with XLU, are currently trading below their long-term moving averages and are exhibiting weak price action relative to the broad-market indices.
Image Credit: Public Domain
Posted-In: S&P 500 UtilitiesSector ETFs Broad U.S. Equity ETFs Federal Reserve Trading Ideas ETFs Best of Benzinga
View Comments and Join the Discussion!