'The Little Guy Won': PreMarket Prep Breaks Down The Retail Squeeze, Shorts Running Scared And More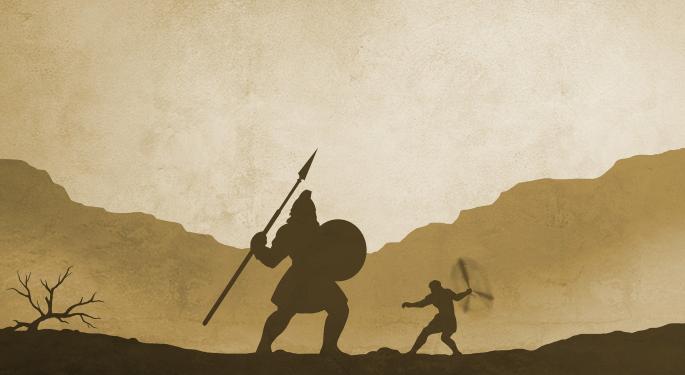 The S&P 500 dropped 1.3% on Wednesday morning, while shares of video game retailer GameStop Corp. (NYSE: GME) and other highly shorted stocks once again skyrocketed.
Broken Pricing Mechanism: On Wednesday morning's Benzinga PreMarket Prep show, co-host Dennis Dick discussed the crazy trading action in these popular short squeeze stocks.
"We have a broken pricing mechanism on a lot of stocks right now," Dick said. "Where this party ends, we have no idea."
Dick said he had friends texting him about buying puts on GameStop. But while Dick said there's no way GameStop is worth $300 per share, put buying is far from a safe strategy at this point.
"I don't even know if anything is safe. When the pricing mechanism completely breaks down, is completely disconnected from fundamentals, we've talked about this, price can go anywhere. You don't have shorts controlling it. You don't have shorts saying ok this is stupid. It's going to come back in."
Related Link: How Retail Option Traders Are 'Supercharging The Short Squeeze' In GameStop And Other Potential Bubble Stocks
Shorts Running Scared: The first issue that has broken the market pricing mechanism is that borrow fees are through the roof if shares are available to borrow at all. The second problem in the market right now is that short sellers are leery of touching GameStop, AMC Entertainment Holdings Inc (NYSE: AMC), BlackBerry Ltd (NYSE: BB), Bed Bath & Beyond Inc. (NYSE: BBBY) or any of the other short squeeze stocks being pumped by online armies of retail traders, led in large part by the Reddit WallStreetBets community.
"I don't have the guts to short it. Not at all! I had multiple texts asking if I am shorting GameStop. Are you nuts?" Dick said.
Dick said the silver lining to all this crazy trading action is to see who's winning and who's losing from the short squeeze phenomenon.
"What's really awesome to see for once is that the little guy won! If Melvin Capital and Citron really did cover, at probably enormous losses, that money went straight into Robinhood accounts...The little guy never wins, and they're still winning on AMC. I don't know where this is going. There's a lot of people, don't kid yourself, getting rich."
Dick said he has seen dozens of short squeezes in his 25-year career, but he's never seen anything like what's happening in the markets right now.
"There is money being made and money being lost here, and that money is being directly transferred from the hedge funds to retail. The hedge funds are losing here," Dick said.
Watch today's PreMarket Prep below:
The Bad News: But good news for WallStreetBets may also be bad news for the rest of the market, particularly high-growth tech stocks like Square Inc (NYSE: SQ), which is down 7.1% in the past month.
"You have a lot of hedge funds that are short low-growth garbage companies and long high-growth companies. Those hedge funds that are getting blown out in these positions have got to sell other stocks to meet margin calls," Dick said.
"This is the type of action that can start a crash. It really is."
Dick said he wouldn't be surprised to see GameStop stock halted not for volatility, but by the exchange due to concerns about potential risk to the overall market.
Benzinga's Take: Traders should be extremely careful trying to time these historically volatile short squeezes and any potential pullbacks. Short squeezes are notoriously volatile and unpredictable, even to some of the most experienced stock traders.
PreMarket Prep is a daily trading show hosted by prop trader Dennis Dick and former floor trader Joel Elconin. You can watch PreMarket Prep live every day from 8-9 a.m. ET Benzinga's YouTube channel, and the podcast is on Spotify, iTunes, Google Play, Soundcloud, Stitcher and Tunein.
View Comments and Join the Discussion!
Posted-In: Short Sellers Education Hedge Funds Psychology Top Stories Markets Movers Trading Ideas Best of Benzinga