The Investing Upsides, Downsides Of A Biden Presidency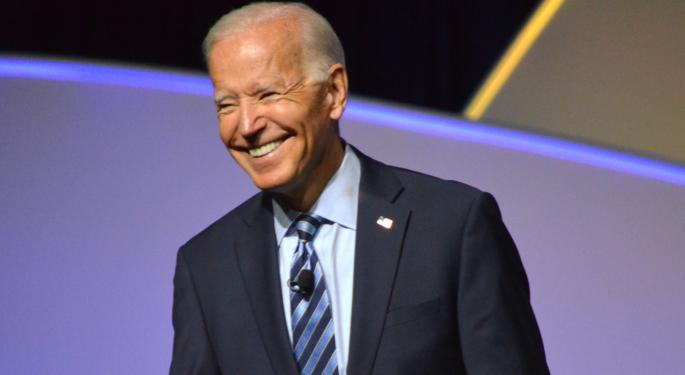 Personal politics aside, savvy investors are looking ahead to the 2020 U.S. presidential election as the next major stock market catalyst.
The latest national poll by the Wall Street Journal and NBC News shows Democratic nominee Joe Biden leading President Donald Trump by 9%. While 2016 proved polls are far from perfect, at this point it's at least wise to contemplate how a potential Biden presidency might impact certain stocks, sectors and industries.
LPL Financial chief market strategist Ryan Detrick recently outlined the impact he believes a Biden victory would have on the stock market.
Right off the bat, Detrick said markets have historically performed slightly better under Democratic presidents than Republican ones. Since 1950, the S&P 500 has averaged a 10% annual return during Republican administrations and a 15% annual return under Democratic ones, according to Detrick. That history certainly bodes well for the SPDR S&P 500 ETF Trust (NYSE: SPY).
Biden Headwinds: However, Biden would certainly create some potential headwinds for investors to deal with. Trump lowered the corporate tax rate from 35% to 21%, but Biden has pledged to raise it back to 28%. Detrick said Democrats would likely need control of both houses of Congress to get a tax hike passed.
When it comes to personal taxes, Detrick said the biggest wildcard under Biden would likely be a corporate gains tax hike, the impact of which would vary depending on the earnings of the individual investor.
Another potential negative outcome of a Biden administration could be regulation. Trump has made deregulation a centerpiece of his administration, but Detrick said Biden could crack down particularly hard on the financial sector, the energy sector and the health care sector.
Biden Bump? While a Biden administration may create business hurdles for certain companies and sectors, Detrick said others could get a major shot in the arm. Infrastructure spending seems to have bipartisan support in Washington, yet it hasn't been a top priority for Trump. Democrats have also been more aggressive in their COVID-19-related stimulus plans and could do more to help support state and local governments as well.
At the end of the day, Detrick said investors shouldn't jump to the conclusion that an end to the pro-growth Trump administration would be a guaranteed negative for the stock market.
"Economic forces tend to dominate policy, though policy still matters, and historically, markets and the economy have shown little preference for either Republican or Democratic leadership," Detrick said.
"While there are risks associated with potentially higher taxes and increased regulation, and specific industries may experience a meaningful impact from policy shifts, for markets overall, there's a real possibility that it may be just business as usual."
Benzinga's Take: There were plenty of analysts and experts that predicted a Trump victory back in 2016 would destabilize the stock market and create economic chaos around the world. In reality, the S&P 500 performed relatively well during the first six months of both the last two administrations, gaining 8.8% under Trump and 22.6% under Barack Obama.
Related Links:
This 2009 Playbook Predicts S&P 500 Is Headed To 3,800
5 Takeaways From A Surprisingly Strong Earnings Season
Joe Biden. Benzinga file photo by Dustin Blitchok.
View Comments and Join the Discussion!
Posted-In: Analyst Color Government Regulations Broad U.S. Equity ETFs Futures Politics Top Stories Markets Best of Benzinga